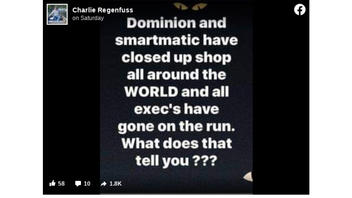 Have Dominion Voting Systems and Smartmatic closed up shop and are all their executives on the run after the 2020 vote count? No, that's not true: Neither Dominion nor Smartmatic has shuttered. Citing safety concerns, Dominion has encouraged employees to work remotely and to protect their social media. But, otherwise, both companies continue to operate as normal. Executives remain in their roles.
The claim appeared in a Facebook post (archived here) on November 21, 2020. It read:
Dominion and smartmatic have closed up shop all around the WORLD and all exec's have gone on the run. What does that tell you ???
This is what the post looked like at the time of writing:
(Source: Facebook screenshot taken on Mon Nov 23 14:53:40 2020 UTC)
Dominion and Smartmatic are competitors in the marketplace of election technology. They've both been in the headlines since the 2020 election. President Donald Trump and others making claims about widespread voter fraud frequently talk about Dominion and Smartmatic as culprits in the scheme, accusing them of everything from flipping votes to having ties to leading Democrats.
On its website, Dominion addresses a number of those allegations, including the claim that it's closing. In a statement, it said:
DOMINION IS NOT SHUTTERING ITS OFFICES. EMPLOYEES HAVE BEEN ENCOURAGED TO WORK REMOTELY AND PROTECT THEIR SOCIAL MEDIA PROFILES DUE TO PERSISTENT HARASSMENT AND THREATS AGAINST PERSONAL SAFETY.
Similarly, Smartmatic has no intention of shutting down. It continues to operate, issuing statements and responding to claims. In one such statement, Smartmatic affirmed that two of its founders, Antonio Mugica and Roger Piñate, continue to run the company. They are not on the run.
Lead Stories has written about Dominion and Smartmatic before. Here's a look at our latest coverage: