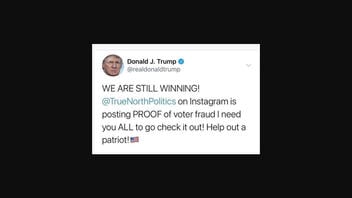 Did President Donald Trump tweet "WE ARE STILL WINNING!" and urge his followers to check out the Instagram account of a group called True North Politics? No, that's not true: The purported presidential tweet is not real. Trump never tweeted that.
The claim appeared in an Instagram post (archived here) published by "proud_conservative" on November 17, 2020. The post looked like a tweet from Trump and read:
WE ARE STILL WINNING! @TrueNorthPolitics on Instagram is posting PROOF of voter fraud I need you ALL to go check it out! Help out a patriot!
This is what users saw on social media:
The tweet in the post is fake. A search of "WE ARE STILL WINNING" in Trump's official account turned up no results.
Alongside the fake tweet, "proud_conservative" posted a message admitting it wasn't real. The message read:
Wow! @truenorthpolitics is leaking election information and Trump is trying to get as many people to see as possible!🇺🇸 TRUMP 2020 *FAKE TWEET**
But most people scrolling through their Instagram timelines would miss that message. The post is highly misleading.
True North Politics is a group that says it offers a Canadian perspective on current events. It supports Trump, as evidenced by its Instagram account, which is set to private and has nearly 140,000 followers.