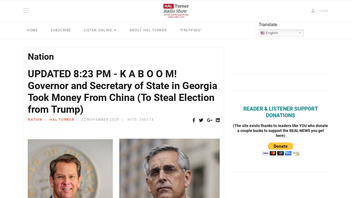 Did the governor and secretary of state in Georgia take money from China to steal the election from Donald Trump? No, there's zero proof that's true. Lead Stories reached out to the person making the accusation, radio host Hal Turner, to ask for evidence. He did not respond. Turner, a convicted felon, has a history of making false and unsubstantiated allegations. Furthermore, there's no proof the election was stolen. Georgia's secretary of state has repeatedly defended the integrity of the vote.
The claim appeared in an article (archived here) published by halturnerradioshow.com on November 22, 2020. Titled "K A B O O M! Governor and Secretary of State in Georgia Took Money From China (To Steal Election from Trump)," the article opened:
Georgia's Republican Governor Brian Kemp and the Georgia Secretary of State Brad Raffensperger both allegedly took money from Communist China, perhaps to intentionally THROW or STEAL the November 3 Election in that state, to Joe Biden.
Users on social media saw this:
UPDATED 8:23 PM - K A B O O M! Governor and Secretary of State in Georgia Took Money From China (To Steal Election from Trump) https://t.co/FbpPZbgeTf

-- Scotty (@StLHandyMan) November 23, 2020
The article continued:
According to very high level sources from my years working National Security Intelligence with the FBI Joint Terrorism Task Force, the feds have PROOF of the payments to both Kemp and Raffensperger.
Lead Stories reached out to Turner to ask about that purported proof. What did it consist of? Had he seen it? Turner did not respond. He named no sources in his story. Turner was convicted in August 2010 of threatening to kill three Chicago judges whose gun rights rulings he disagreed with. He was sentenced to 33 months in prison, appealed and was denied.
Lead Stories has covered allegations published by Turner in the past. He claimed that Chinese soldiers were massing on the Canadian border ahead of an invasion of the United States; he claimed that fake driver licenses were implicated in a voter scheme fraud; he claimed that the Virginia governor ordered plans to cut off electricity, telephones and Internet communications ahead of statewide gun confiscations. None was true.
It's also important to note that Turner was never an employee of the FBI. His article suggested otherwise and failed to note his actual role. According to court files and research by the Southern Poverty Law Center (SPLC), Turner was an informant between 2003 and 2007, "providing information on white supremacist groups for the same government he frequently railed against." Here's more from the SPLC:
On his radio show, Turner has ranted about "bull-dyke lesbians," "savage Negro beasts," "f------," and even joked about a "portable n----- lyncher" machine. He has a nasty history of threatening political enemies, saying that they deserve to be killed and posting their addresses online. That practice caught up to him in August 2010, when he was convicted of threatening to assault and murder three federal judges. Jurors' confusion about his FBI role seems to have been behind two earlier mistrials.
Finally, there's no evidence supporting the claim that the election was stolen from Trump in Georgia, a major battleground state in the 2020 presidential election. Gov. Brian Kemp, a Republican, has expressed concern about the process, but stopped well short of saying the election was stolen. Secretary of State Brad Raffensperger, also a Republican, has repeatedly defended the vote and taken steps to assure skeptics of its integrity. Georgia conducted a hand recount, which affirmed the original outcome of the vote. Raffensperger also ordered a voting machine audit, which turned up no signs of foul play. In a statement, his office said:
Coupled with the risk-limiting audit of all paper ballots relying solely on the printed text of the ballots, these steps confirm the assessment of the Cybersecurity and Infrastructure Security Agency that there are no signs of cyber attacks or election hacking.
Lead Stories reached out to both the governor's office and the office of the secretary of state. We will update this story, as needed, if we receive a response.