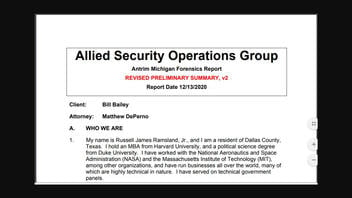 Did a computer analyst prove voting software used in Antrim County, Michigan was designed with inherent errors to create systemic fraud? No, that's not true: The expert making the claims has not been put under oath nor cross-examined, provides no witnesses and officials say he does not have access to the data needed to make the calculations he presents. Michigan's Director of Elections declared in a sworn court filing that Trump partisan Russell James Ramsland, Jr.'s claims describe software features not in use in Michigan and said Michigan's audit on December 17, 2020 will prove the claims false. The spokesman for Michigan's secretary of state said Ramsland's Allied Security Operations Group report includes fabricated statistics that would require access to ballots, which Ramsland does not have. Under oath, on December 15, 2020, the founder and CEO of the company that makes Michigan's balloting and tabulation software directly refuted the claims about fraud and vote-switching, saying Dominion Voting Systems software only operates with paper ballot systems, so that tallies can be audited and as proof of Ramsland's lack of expertise, that the system does not offer the fractional vote recording Ramsland claims is proof of fraudulent intent.
Ramsland's claims were made in a report (archived here) created by Allied Security Operations Group and posted to DocumentCloud on December 14, 2020 titled : "Antrim Michigan Forensics Report" which opened:
We conclude that the Dominion Voting System is intentionally and purposefully designed with inherent errors to create systemic fraud and influence election
results.
Users on social media only saw this title, description and thumbnail:
This is what the report looked like on DocumentCloud, where it was placed by Epoch Times and linked to by multiple publications:
(Source: DocumentCloud screenshot taken Tue Dec. 15 23:57 UTC 2020)
This fact check does not cover all of the claims in Ramsland's document, many of which will be settled by a December 17, 2020 audit of Antrim County vote tallies.
Central to Ramsland's claims is the theory that Michigan's voting software is intentionally programmed to create a high number of "ballot errors" that can then be "adjudicated" by local election officials, who, Ramsland's report claims, use that function to skew results to their preferred candidate:
Ballots sent to adjudication can be altered by administrators, and adjudication files can be moved between different Results Tally and Reporting (RTR) terminals with no audit trail of which administrator actually adjudicates (i.e. votes) the ballot batch. This demonstrated a significant and fatal error in security and election integrity because it provides no meaningful observation of the adjudication process or audit trail of which administrator actually adjudicated the ballots.
Dominion Voting Systems founder and CEO John Poulos, testifying under oath December 15, 2020 before the Michigan Senate Oversight Committee said that's not how Michigan's system works. Video of his testimony can be downloaded here. Following is from his prepared remarks, which very closely follow what he said at the hearing.
...The adjudication claims are entirely false. Let me take a minute to explain this bizarre claim. First off, adjudication only occurs on absentee ballots, and only in States that require it... A common mistake is when a voter fills in the wrong oval, and then tries to correct it...some states, like Michigan, call for bipartisan review committees to review these ballots for common mistakes, to see if they agree on voter intent.

All decisions are made by local officials and a bipartisan committee. In some counties, election officials do this using a digital adjudication system, whereas other counties conduct this process manually... With digital adjudication, the original ballot is never changed, and a full audit trail shows the original image, shows who the bi-partisan adjudicators were and what they agreed on, and ultimately captures any changes they made per State law.
In Antrim county, ballots are reconciled manually. What the report is alleging is impossible because Antrim County does not license nor use digital adjudication. Furthermore, digital adjudication requires the use of ballot images. Antrim County did not record absentee ballot images.
Jonathan Brater, Michigan's Director of Elections declared, under oath, that Ramsland's claims about changing vote totals ignore the actual characteristics of the voting system and the claims ascribe to the machines minor 2020 errors which have been amply proven to be human errors, which were caught and corrected:
...the report makes a series of unsupported conclusions, ascribes motives of fraud and obfuscation to processes that are easily explained as routine election procedures or error corrections, and suggests without explanation that elements of election software not used in Michigan are somehow responsible for tabulation or reporting errors that are either nonexistent or easily explained.
Michigan Attorney General Dana Nessel and Secretary of State Jocelyn Benson on December 14, 2020 took active steps to ensure public release of the ASOG report, which was filed in a lawsuit over a local election and calls into question Michigan's certified results in the 2020 presidential election. The two Michigan officials said they want it public so that people can see it is "another in a long stream of misguided, vague and dubious assertions designed to erode public confidence in the November presidential election." Included in their statement is an implicit threat to have Ramsland's report stricken from the court record as unproven and inexpert:
The qualifications of those who authored the report are suspect, with no evidence or credentials provided to back up their "expertise." Authors in the report also make unverified and unsupported claims that "fraud," "intentional errors" and "bad faith" decisions made by election officials led them to their conclusions in the report. Moreover, many of their assertions are unsupported by evidence, with some even constituting hearsay and clearly show that the authors lack first-hand knowledge of events...

Past court rulings have found that the trial court has a fundamental duty to ensure that all expert testimony is reliable (Gilbert v DaimlerChrysler Corp), and that the knowledge of the testimony must be more than "subjective belief or unsupported speculation" (Daubert v Merrell Dow Pharmaceuticals). At the conclusion of discovery, the Department of Attorney General will have the opportunity to request that the plaintiff's report be stricken from use in these proceedings.
Ramsland also asserts in his report, without citing documentation, witnesses or other evidence, that Dominion's software is licensed from Smartmatic, which he calls a Venezuelan owned and controlled company and that Dominion operates voting systems using servers located in Serbia, Canada, Spain and Germany. Lead Stories has previously debunked the claims about Smartmatic and about storage of votes on overseas vote servers.
In his testimony, Dominion CEO Poulos said, under oath, that all those claims are false:
Dominion is not and has never been a front for communists. It has no ties to Hugo Chávez, the late dictator of Venezuela. There are no ownership ties to any political parties nor to foreign governments. Dominion has no ties to the Pelosi family, Feinstein family, Clinton family, or George Soros.

Dominion does not have any servers in Germany or Spain, and no votes are sent overseas. Let me be clear - ballots aren't sent anywhere. Not overseas, not over state lines,
and not even over county lines. All votes are counted by local, bipartisan U.S. election officials in the United States. It is technologically impossible to "see" votes being counted in real-time or to "flip" them.
The comments about our Company being started in Venezuela with Cuban money with the intent to steal elections are beyond bizarre, and are complete lies. My Company started in my
basement, which happened to be in Toronto Dominion and Smartmatic are two separate companies. We do not use or license Smartmatic software...We certainly do not use any of their Intellectual Property or Source code.
Ramsland, operating as Allied Security Operations Group, made significant factual errors in a similar "report" used by Trump lawyers in an earlier election fraud suit tossed out by a Michigan judge. In that Detroit case, ASOG listed numerous voting districts with perfect 100% voter turnout, a rarity. But, that report on Michigan voting listed dozens of Minnesota precincts. Michigan circuit judge Timothy M. Kenny said, in throwing out the case, that it was "rife with speculation and guesswork."
Ramsland was an unsuccessful Republican candidate for the U.S. House from a Dallas County district and in 2020 has provided reports like this one in support of lawsuits filed by the Trump 2020 campaign, seeking to overturn the results of the election, which Trump lost. Ramsland says in the Antrim county report that he is a Harvard MBA with a political science degree from Duke University. Lead Stories reached out to Harvard Business School and to Duke University and will update this article with their replies, when they arrive. Here's how he describes his professional credentials:
I have worked with the National Aeronautics and Space Administration (NASA) and the Massachusetts Institute of Technology (MIT), among other organizations, and have run businesses all over the world, many of which are highly technical in nature.
In his Ballotopedia profile for his 2016 congressional run, Ramsland said he worked for NASA and MIT.
NASA's public affairs office responded December 15, 2020 to Lead Stories attempt to confirm with the following email message:
We have no record of an individual by the name of Russell James Ramsland having been employed by NASA. This does not preclude the possibility that Mr. Ramsland worked for a company with which NASA contracted, but we would not have those employment records.
Lead Stories has followed up to ask if he ever had clearance to work at NASA facilities and will update this article when NASA replies.
Lead Stories similarly reached out to MIT to seek confirmation of Ramsland's work there and will update this article when the university responds.