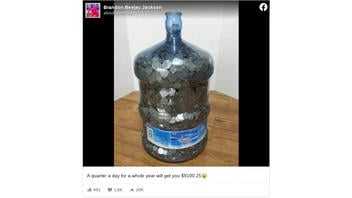 If you save a quarter a day will you end up with $9,100.25 after a year? No, that's not true: If you save a quarter a day for a year you will end up with $91.25. Saving 25 cents a day, multiplied by 365 days in a non-leap year, yields $91.25, not $9,100.25. To reach that figure with compounding interest would require interest rates several hundred times higher than any in recent memory.
The claim appeared in a Facebook post (archived here) where it was published on November 20, 2019. The caption read:
A quarter a day for a whole year will get you $9100.25
This is what the post looked like on Facebook at the time of writing:
(Source: Facebook screenshot taken on Tue Dec 1 15:01:16 2020 UTC)

It would take over 99 years to accumulate $9,100.25 by saving a quarter a day. The sum of $9,100.25 divided by 25 cents equals 36,401 days, and 36,401 divided by 365 equals 99.728 years.
Several websites offer calculators by which to include compound interest. At calculators.org, one estimate indicates a year of saving .25 per day would yield $9,100.25 only at an annual interest rate of 651.8481 percent.