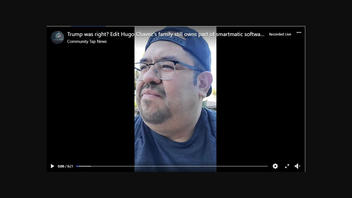 Is a video discussing purported voter fraud in Arizona factual? No, it's not: The video contains falsehoods and unproven claims. Specifically, 35,000 votes were not added to Democratic candidates, as Lead Stories has previously reported, and there's no evidence that 1.9 million votes in Maricopa County are in jeopardy of being tossed because of signature verification issues. The county has "a three-tier signature verification process and 100% of signatures are verified by trained staff," according to a spokeswoman for the Maricopa County Elections Department.
The claims appeared in a video (archived here) posted to Facebook on November 30, 2020. In the video, an unidentified man said:
Our 1.9 million votes are in jeopardy here in Maricopa County of being thrown out -- that's whether you voted for [Donald] Trump or [Joe] Biden. There's also that little fact that they added 35,000 voters per Democrat.
This is what the post looked like at the time of writing:
The man in the video continued:
Not to mention, Dominion, the software company that is in charge of the election integrity, 28% of that is owned by Hugo f*****g Chavez, a goddamned communist in Venezuela.
He made other claims as well in the video that runs more than six minutes, but this fact check is limited to what the man alleged about voter fraud in Arizona. We'll address his claims in the order he made them, starting with the allegation about the 1.9 million votes in Maricopa County.
This first claim mirrors claims made in a public meeting, attended by Rudy Giuliani, President Trump's lawyer, and some Republican lawmakers. At that meeting, Giuliani questioned Phil Waldron, a retired Army colonel, who said that an official in Maricopa County has claimed that the county did not validate signatures on "write-in ballots." Waldron did not provide the name of the official, who has not produced an affidavit, according to Fox News.
Lead Stories reached out to the Maricopa County Elections Department to ask about Waldron's claim. Spokeswoman Megan Gilbertson responded:
1.9 million voters cast an early ballot, and in doing so had to be signature verified. In Maricopa County, we have a three tier signature verification process and 100% of signatures are verified by trained staff.
The Maricopa County Board of Supervisors has certified the election results, as has Arizona Secretary of State Katie Hobbs. Both have repeatedly defended the security and integrity of the 2020 vote. According to Gilbertson, state law provides a five-day window for court challenges of the election, and a challenge has been filed in the Maricopa County Superior Court.
Second, the man in the video claimed that 35,000 votes were added to the tallies of Democratic candidates in Arizona. That's not true. Lead Stories has debunked that claim before.
Finally, the man in the video claimed that Dominion Voting Systems is owned, in part, by Hugo Chavez, the former president of Venezuela who died in 2013. Later in the video, the man stated that Chavez is dead, but that his family owns the company. That's false. Dominion is a U.S. company based in Denver, Colorado. On its website, it said:
Dominion has no company ownership relationships with the Pelosi family, Feinstein family, Clinton Global Initiative, Smartmatic, Scytl, or any ties to Venezuela or Cuba. Dominion works with all U.S. political parties; our customer base and our government outreach practices reflect this nonpartisan approach.
Lead Stories has written about Dominion, Arizona and the 2020 election before. See some of our latest coverage here: