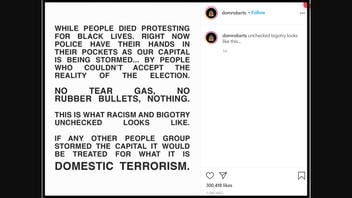 Did police withhold tear gas when insurrectionists stormed the U.S. Capitol building on January 6, 2021? No, that's not true: There has been criticism of the police response to the rioters and the chief of Capitol police resigned in the aftermath of the chaos, but tear gas was used on the mob of Trump supporters who interrupted Congress' ceremonial counting of Electoral College ballots in hopes of preventing the declaration that Trump was the loser of the 2020 election. One pro-Trump rioter was fatally shot by law enforcement after she tried to enter the House chamber through a broken window.
The claim appeared in from an Instagram post (archived here) where it was published by @domrobxrts on January 6, 2021 with the caption "unchecked bigotry looks like this...". The post opened:
WHILE PEOPLE DIED PROTESTING FOR BLACK LIVES. RIGHT NOW POLICE HAVE THEIR HANDS IN THEIR POCKETS AS OUR CAPITAL IS BEING STORMED... BY PEOPLE WHO COULDN'T ACCEPT THE REALITY OF THE ELECTION.
NO TEAR GAS, NO RUBBER BULLETS, NOTHING.
This is what the Instagram item looked like at the time of writing:
Consequences came quickly for Capitol security leaders,who failed to prevent the breach of House and Senate offices and the Capitol building. On the afternoon of January 7, 2021, the US Capitol Police Chief Steven Sund announced his resignation amid questions about his force's decisions during the riot. House Sergeant-at-Arms Paul Irving and Senate Sergeant-At-Arms Michael C. Stenger also resigned on the same day as Sund.
Meanwhile, there is abundant evidence that tear gas was used at the Capitol during what some have called an attempted coup, whether or not the use of such crowd-control measures were timely or powerful enough to prevent Congress from being overrun on its own turf. Here are just a few examples:
Police used what appeared to be tear gas to clear rioters at the U.S. Capitol pic.twitter.com/lEgetyQKch

-- Bloomberg Quicktake (@Quicktake) January 6, 2021

As evidenced by the video directly above, tear gas was sprayed inside the Capitol building, which is the reason members of Congress and the media who were present for the hearings had to wear plastic bag-like gas masks.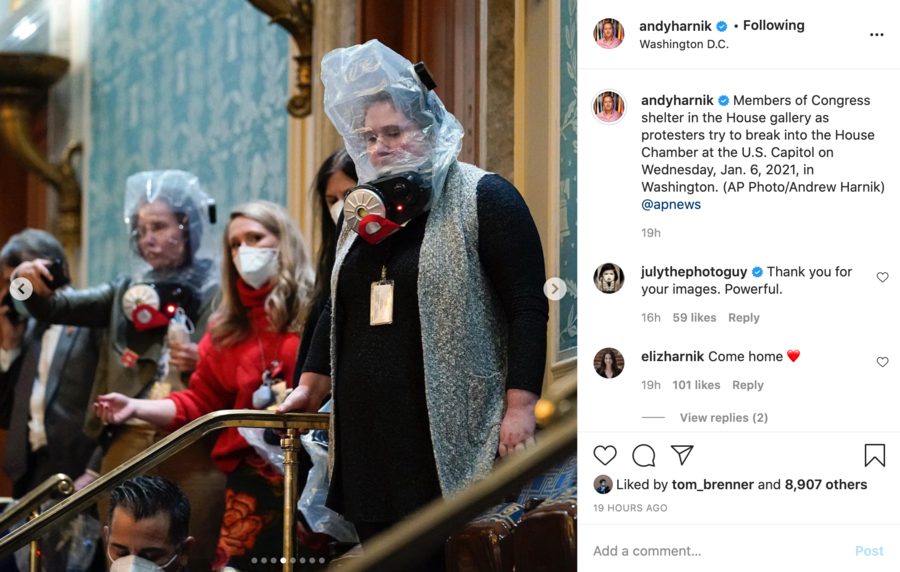 The mayor of Washington, D.C., Muriel Bowser, said at a January 7, 2021, press conference she's curious how so many pro-Trump protesters were able to breach the security meant to protect the House and Senate in a building that has its own 2,300-member security force:
Well I think that there's gonna be a lot of time for us to figure out what happened. Obviously it was a failure or you would not have had police lines breached and people enter the Capitol building by breaking windows and terrorizing the people, the members of congress who were doing a very sacred constitutional requirement of their jobs. so clearly there was a failure there... There's gonna have to be a real investigation into what happened.
Mayor Bowser also added that posing with rioters taking selfies, letting rioters walk out of the Capitol and other law enforcement decisions are subject to investigation.
Prior to the protest, Metro Police Department's acting Chief of Police Robert Contee III, stated that the D.C. National Guard would be present at the protest, but CNN and the New York Times reported, without named sources, that President Trump resisted deploying the National Guard once chaos and violence broke out.
How widespread the use of rubber bullets was remains unclear. At least one officer fired live ammunition, killing a female protester.
Lead Stories has reached out to MPD and the U.S. Capitol Police to check the record on rubber bullet use and will update this article, as appropriate, when they reply..
The false claim that tear gas was not used at the Capitol has been an element of criticism that compares the police response at the Capitol January 6, 2021 to the police presence and response to during 2020's racial equality protests sparked by the death of George Floyd asphyxiated by a Minnesota police officer who kneeled on his neck. Law enforcement in several cities met the summer's protests, 93% of which were proven to be peaceful, with tear gas, rubber bullets, and other less-lethal measures as well as lethal force.