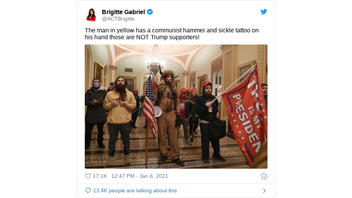 Did one of the people who stormed into the U.S. Capitol building on January 6, 2021, have a communist hammer and sickle tattoo on his hand? No, that's not true: The man pictured inside the Capitol building has been identified by Lead Stories as Will Watson, and additional photos of his hands show that his tattoo is from the video game "Dishonored." The symbol is called an "Outsider's Mark."
The communism claim appeared in several social media posts including this tweet (archived here) published January 6, 2021, with the caption:
The man in yellow has a communist hammer and sickle tattoo on his hand those are NOT Trump supporters!
This is what the post looked like on Twitter at the time of writing:
(Source: Twitter screenshot taken on Thu Jan 7 21:42:27 2021 UTC)
The man wearing the yellow sweatshirt, identified by Lead Stories as Will Watson, is a video game streamer on Twitch and his Instagram account has many photos clearly showing his tattooed hands and bearded face. He identifies himself as "Patriot" in his profile, a term adopted by many Trump supporters.

In the Lead Stories montage that follows, the upper right image, showing Watson's hand holding a steering wheel, is from a January 15, 2020, Instagram post. In another post from November 19, 2020, the tattoos on the back of each of his hands are visible and match with the photo taken inside the Capitol. The symbol on the back of Watson's left hand is not a hammer and sickle, but an "Outsider's Mark" from the video game "Dishonored," a single-player game set in a dystopic past.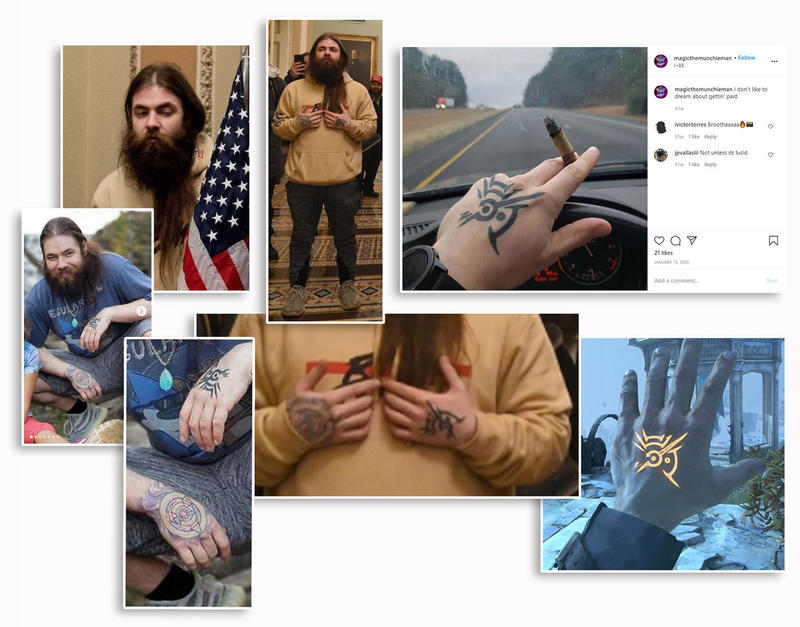 source: Screenshots from Instagram account of @magicthemunchieman
illustration of Outsider's Mark screenshot from Dishonored.fandom.com
Photo inside the capitol: Getty image by Saul Loeb
The focus of Will Watson's Instagram account is currently mostly coronavirus concerns -- activism against masks and against the COVID-19 vaccine, and distrust of reporting on COVID. Several of the items he has posted have been fact-checked. In the video captured in the screenshot below, he offers advice on how to avoid wearing a mask in a place which strictly requires masks. The image is reversed because the video camera was in the mirror mode, causing the tattoo to appear to be on Watson's right hand in this screenshot.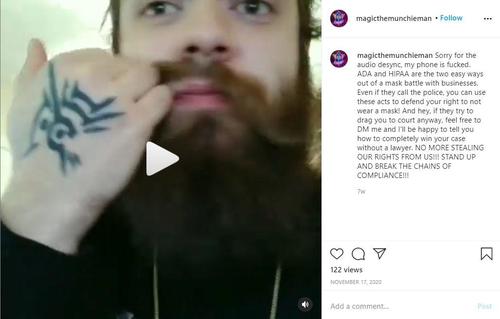 On December 21, 2020, he posted an image (archived here) from the Mel Gibson movie "The Patriot" with his own caption, "Who's ready??"
(image source: Instagram screenshot 1/7/2021 17:00 EST)
Other social media posts and claims have presented a photo of Will Watson inside the Capitol building standing near Jake Angeli, known as "The QAnon Shaman," pairing that photo with another photo of a man who has been identified as Jason Tankersley, and claiming they are the same person. They are not the same person. Lead Stories wrote about that situation in this article.