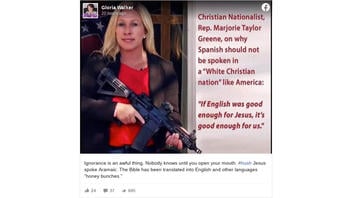 Did U.S. Rep. Marjorie Taylor Greene say, "If English was good enough for Jesus, it's good enough for us?" No, that's not true: There is no evidence the Republican freshman from Georgia ever made that comment. It is a quote that is often attributed to the first female governor of Texas, Miriam Amanda "Ma" Ferguson, who was elected in 1924, but there is no proof that she ever said it, either.
The claim appeared as a post (archived here) published on Facebook on February 2, 2021. It opened:
Ignorance is an awful thing.
This is what the post looked like on Facebook at the time of writing:
(Source: Facebook screenshot taken on Wed Feb 3 19:23:16 2021 UTC)
The caption in the post read:
Ignorance is an awful thing. Nobody knows until you open your mouth. #hush Jesus spoke Aramaic. The Bible has been translated into English and other languages "honey bunches."
A picture of Greene had this text next to the photo:
Christian Nationalist, Rep. Marjorie Taylor Greene, on why Spanish should not be spoken in a "white Christian nation" like America: If English was good enough for Jesus, it's good enough for us."
There is no record of Greene ever making this comment, and searches of her social media and published reports and videos show no results of her saying that.
The quote has been attributed to several different politicians over the years.
The phrase has been misattributed to "Ma" Ferguson for decades, and former President Jimmy Carter gave a speech in 2001 where he recounted the quote:
Before I talk about promoting peace, I will tell a story that illustrates a basic cause of conflict. There was a hot argument in Texas in the 1920s--one that is still going on in several states, particularly in California--about whether Spanish should be used in the classroom to teach kids who came from Mexico, or whether only English should be permitted. Miriam "Ma" Ferguson had become the state's first woman governor, after her husband, Governor "Pa" Ferguson was impeached. She ended the debate quite quickly when she held up a Bible and proclaimed, "If the King's English was good enough for Jesus Christ, it's good enough for the children of Texas!"
A New York Times article from 1881 titled, "PREACHING ON THE BIBLE; PULPIT OPINIONS OF THE NEW VERSION," has a preacher telling a joke, likely about the Revised Standard Version released in 1880. The article says a preacher told his congregation a joke that ended with, "'What's the matter with the good old King James version?' An old farmer replied. 'That was good enough for St. Paul, and it's good enough for me.'"
Mon, May 23, 1881 - Page 8 · The New York Times (New York, New York) · Newspapers.com
Politifact debunked a similar claim about former Rep. Michele Bachmann. She was accused of criticizing a Coca-Cola commercial that had seven languages during an appearance on Fox News.
"If English was good enough for Jesus when he wrote the Bible it should be good enough for Coke," Bachmann was falsely quoted as saying, but the site noted she never made the comment and did not appear on Fox News that day.