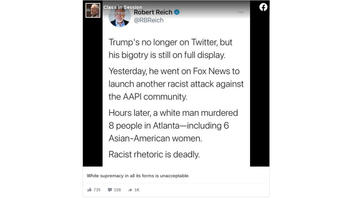 Did the Atlanta spa shootings happen hours after a Donald Trump interview on Fox News? No, that's not true: Although they took place on the same day, March 16, 2021, Trump's interview, in which he referred to COVID-19 as "the China virus", aired after the Atlanta-area shootings that left eight people dead, including six women of Asian descent.
The claim appeared in a Facebook post (archived here) published on March 17, 2021. The post was a screenshot of a tweet by former U.S. Secretary of Labor Robert Reich. The Facebook post included a brief introductory message that read: "White supremacy in all its forms is unacceptable." The tweet stated:
Trump's no longer on Twitter, but his bigotry is still on full display. Yesterday, he went on Fox News to launch another racist attack against the AAPI community. Hours later, a white man murdered 8 people in Atlanta -- including 6 Asian-American women. Racist rhetoric is deadly.
This is what the post looked like on Facebook at the time of writing:
(Source: Facebook screenshot taken on Thu Mar 18 14:36:07 2021 UTC)
This fact-check does not encompass all of the claims in the post. It's limited to checking the chronological order of the shootings and the interview. On the timing point, the post is 100% wrong.
The first shooting, which took place in Cherokee County, north of Atlanta, was reported shortly before 5 p.m. ET on March 16, 2021. Four people died in that shooting, according to the Cherokee Sheriff's Office.
Officers in Atlanta responded to a robbery call, which turned out to be the second shooting, at 5:47 p.m. ET. While at that location, they were advised of shots fired across the street. According to Atlanta police, three women were found dead at the first location, while a fourth woman was shot and killed at the second.
All three shootings took place at massage parlors. Six of the eight victims were women of Asian descent, sparking questions about whether the shootings were a hate crime. As of March 18, 2021, authorities said it was too early to make that determination. They arrested and charged 21-year-old Robert Aaron Long with eight counts of murder.
You can watch a briefing on the investigation below:
APD gives an update on multiple shootings that occurred on Tuesday, March 16, 2021 involving massage parlors: https://t.co/N7lSo5j2CU

-- Atlanta Police Department (@Atlanta_Police) March 17, 2021
Trump's interview on Fox News took place the same day as the shootings but not, as the post claims, before them. The former president spoke to Fox's Maria Bartiromo by phone during a live segment that started at 7 p.m. ET on March 16, 2021.
You can watch the interview below:
In the Fox News interview, Trump addressed a number of different topics, including immigration, the economy, COVID-19 and taxes. Referring to the economy, at 4 minutes, 43 seconds, he said:
It was recovering under my administration, twice. We got it to a level that the world has never seen before. We were the envy of the world and then when we got hit by the, as I call it, the 'China virus,' COVID, it obviously went down along with every other economy. And then we were the first to get it back up.
Bartiromo did not ask Trump about the Atlanta shootings, and it's not clear whether he knew about them at the time of the interview. What is clear is that the shootings took place before Trump spoke to Fox News.