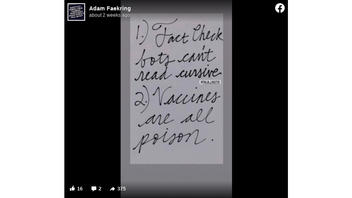 Are vaccines poison? Can fact checkers not read cursive? No, both claims are not true: the Center for Disease Control (CDC) has a listicle on its website titled, "14 Diseases You Almost Forgot About (Thanks to Vaccines)," describing diseases eradicated through vaccination campaigns. If vaccines were poison, the U.S. would have seen the biggest mass die-off on record, since more than 3 million have had at least one COVID shot. Some diseases on the list include diphtheria, mumps and rotavirus.
The claim appeared in a Facebook post (archived here) where it was published on April 8 2021. It opened:
1.) Fact Check bots can't read cursive, 2.) Vaccines are all poison.
This is what the post looked like on Facebook at the time of writing:
(Source: Facebook screenshot taken on Mon Apr 19 13:43:28 2021 UTC)
Fact-checkers can also read cursive because there are real people, not bots, behind the online fact checks, visible in photos of fact checker gatherings such as this one and in the writer bio at the end of each fact check, including this one.