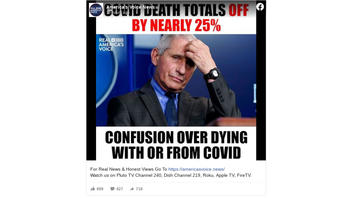 Are COVID-19 death totals off by nearly 25%? No, there's no evidence that's true. A post making the claim provided no sourcing except to urge users to check out a news website. Lead Stories found nothing on that site to back up the claim. At the time of writing, April 19, 2021, more than 560,000 people have died from COVID-19 in the United States.
The claim appeared in a Facebook post (archived here) published by America's Voice News on April 18, 2021. The post included a photo of Dr. Anthony Fauci, director of the U.S. National Institute of Allergy and Infectious Diseases, and read:
COVID DEATH TOTALS OFF BY NEARLY 25% CONFUSION OVER DYING WITH OR FROM COVID
This is what the post looked like at the time of writing:
(Source: Facebook screenshot taken on Mon Apr 19 13:57:12 2021 UTC)
The post provided no sourcing for its claim, except to urge users to check out americasvoice.news for "Real News & Honest Views." One might reasonably assume, then, that the claim about COVID-19 deaths came from that site, but we found nothing there to back up the post's claim.
Lead Stories conducted a Google search on "site:americasvoice.news '25%'". The search produced eight results, none of which had anything to do with how COVID-19 deaths are reported. We also reached out, via Facebook and email, to America's Voice News to ask about the claim. We will update this story, as needed, if we receive a response.
The U.S. Centers for Disease Control and Prevention tracks COVID-19 deaths and cases. At the time of writing, April 19, 2021, those numbers stood at 31,444,706 and 563,980, respectively, for the United States. Worldwide, an estimated 141,525,400 cases and 3,022,126 deaths have been reported, according to Johns Hopkins University, which also tracks COVID-19's devastating toll.