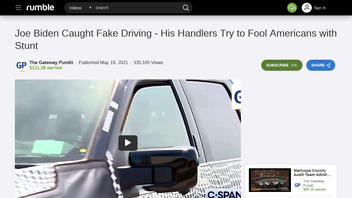 Was Joe Biden caught "fake driving"? No, that's not true: Footage from various news organizations show the president in control, behind the wheel, on May 18, 2021, when he test-drove Ford's electric F-150 Lightning pickup. Claims to the contrary are based on illogical leaps from snippets of video. "This rumor is badly misguided," a spokesperson for Ford told Lead Stories.
An example of the claim appeared in a video (archived here) published on Rumble by The Gateway Pundit on May 19, 2021. The post was titled "Joe Biden Caught Fake Driving - His Handlers Try to Fool Americans with Stunt." In a matching article, The Gateway Pundit claimed:
Following his speech, the declining septuagenarian was put in an electric vehicle where he pretended to be driving.




This was all a show by his handlers to make Joe Biden look like he's in charge.
Users on social media saw this title, description and thumbnail:
Joe Biden Caught Fake Driving - His Handlers Try to Fool Americans with Stunt
The 45-second video on Rumble did not include narration. It was in slow motion and had red arrows drawn atop the footage, seemingly to illustrate what was declared in the video caption: that the wheels didn't move when Biden turned the steering wheel and that the passenger in the president's car had his hand on a second set of controls.
Neither suggestion is true.
Video from news organizations present at the event show what happened from different angles. Footage from The Associated Press showed what the passenger likely grabbed when the president accelerated: a camera. That seems to be what was mistaken by some for alternative controls. Video published by CNN showed Biden moving the steering wheel to both the left and right, before straightening out and hitting the gas.
Lead Stories reached out to Ford to ask about the claim that the president wasn't driving. In an email, dated May 20, 2021, a spokesperson responded:
This rumor is badly misguided. There was only one steering wheel in the vehicle the President drove on Tuesday.