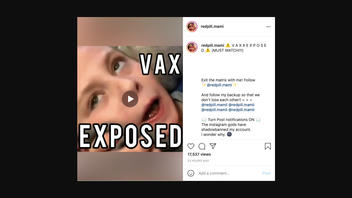 Does a video about COVID-19 vaccines and their supposed side effects contain only factual and proven statements? No, that's not true: It's a mash-up of false, unproven and cherry-picked claims. Among the allegations are that the vaccines are not FDA-approved, that they could kill you, alter your genetic code and cause a severe allergic reaction. The first three claims are not true and the fourth is missing important context. Although a small number of people have had a severe allergic reaction to the shot, serious safety problems are rare. Medical experts widely consider the COVID-19 vaccines to be safe and recommend that people get them as soon as they are eligible.
The video appeared in an Instagram post (archived here) published by "redpill.mami" on May 20, 2021. It features footage of famous people getting the COVID-19 vaccine and shows other people experiencing what are alleged to be severe adverse reactions to the shot. The video included a voiceover, which opened:
These celebrities and politicians and all these other scumbag, piece of sh** a**holes aboard the propaganda train trying to convince you, the unsuspecting citizen, to inject yourself with an experimental mRNA pathogen device that isn't even FDA approved and could quite literally kill you, or change your genetic code, causing a severe allergic reaction.
Users on social media saw this at the time of writing:
Contrary to what the post claims, the COVID-19 vaccines available in the United States are not experimental. They have been authorized for emergency use by the U.S. Food and Drug Administration (FDA). Here's what the agency says on its website:
The FDA evaluated data from clinical studies that included tens of thousands of people for each COVID-19 vaccine. The FDA authorized the vaccines because the data from these studies clearly showed that the known and potential benefits of the FDA-authorized COVID-19 vaccines outweighed the known and potential risks.
Lead Stories has covered the claim that the COVID-19 vaccines are experimental before. See here for that story, in which we also found that the messenger RNA (mRNA) shots are not gene therapy and don't revise human genetic codes. In a related debunk, Dr. Douglas Drevets, chief of infectious diseases at Oklahoma University Health Sciences Center, explained in a February 3, 2021, email to Lead Stories how COVID-19 vaccines work:
Vaccination, e.g. mRNA vaccination, does not alter any genes/DNA. It simply instructs our immune cells to make an immune response against a germ, or against a part or a product of a germ (e.g. a toxin - such as in tetanus or diphtheria).
The U.S. Centers for Disease Control and Prevention has also addressed the question of whether the COVID-19 mRNA vaccines affect DNA. They don't. See here for the CDC's explanation: Messenger RNA never enters the nucleus of the cell, which is where genetic material is kept.
So far, more than 272 million doses of COVID-19 vaccines have been given in the United States (between December 14, 2020, and May 17, 2021). The CDC, which recommends that people get the shot as soon as they are eligible, considers the vaccines to be safe and notes that the vaccinations have taken place "under the most intense safety monitoring in U.S. history."
That's not to say that people will not experience side effects from the shot. Common side effects can include a headache, fever and tiredness, but serious safety problems are rare. Again, here's the CDC:
To date, the systems in place to monitor the safety of these vaccines have found only two serious types of health problems after vaccination, both of which are rare. These are anaphylaxis and thrombosis with thrombocytopenia syndrome (TTS) after vaccination with J&J/Janssen COVID-19 Vaccine.
The video in the Instagram post includes footage of various people experiencing what was alleged to be severe adverse reactions to the COVID-19 vaccine. They are not identified and the facts of their cases are not provided, making the snippets of video difficult to fact-check. That said, we recognized at least one of the people, as Lead Stories has written about her video before. See here for that story, in which we found that there were no corroborating reports of her claim that the Moderna COVID-19 vaccines caused her convulsions.
To be clear, this fact-check does not conclude that serious side effects don't happen, but they are rare and that's important information to include in any video about potential side effects from the COVID-19 vaccines. The Instagram video, which plays ominous music, is lacking context and is clearly trying to scare people.
Perhaps the scariest suggestion the video makes is that the COVID-19 vaccines could kill you. That's not true. At the time of writing, on May 25, 2021, there have been no documented deaths due to the Pfizer, Moderna and J&J/Janssen vaccines. The CDC looks into any report of death following vaccination. It says on its website:
A review of available clinical information, including death certificates, autopsy, and medical records has not established a causal link to COVID-19 vaccines. However, recent reports indicate a plausible causal relationship between the J&J/Janssen COVID-19 vaccine and a rare and serious adverse event--blood clots with low platelets--which has caused deaths.
The CDC and other federal agencies will continue to track the safety of the COVID-19 vaccines and will update recommendations as more information becomes available.