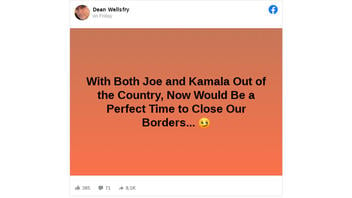 Were President Joe Biden and Vice President Kamala Harris both out of the country at the same time in June 2021? No, that's not true: although there appears to be no law stating that at least one has to remain in the country while the other is abroad, Biden and Harris have not been out of the country at the same time since the Biden administration began its service on January 20, 2021.
The claim appeared in a Facebook post (archived here) published on June 11, 2021. It read:
With Both Joe and Kamala Out of the Country, Now Would Be a Perfect Time to Close Our Borders... 😏
This is what the post looked like on Facebook on June 14, 2021:
(Source: Facebook screenshot taken on Mon Jun 14 17:37:09 2021 UTC)
Although Biden and Harris each took international trips during the week of June 6 - June 12, 2021, Biden was in the U.S. when Harris was abroad and vice versa. Harris went on her first international trip as vice president, a diplomatic tour of Latin America, on June 6. Photographs of Harris here show her boarding Air Force Two back to the U.S. from Mexico on June 8, 2021. By the time the Facebook post making the false claim was published, Harris was undeniably back in the U.S.
Biden left the country on June 9 and headed to Europe, where he is at the time of this writing attending the 2021 NATO Summit in Belgium.
The expectation that at least one of the country's top two leaders needs to remain in the U.S. while the other is abroad appears to be a formality. In an email to Lead Stories on June 14, 2021, Philip C. Bobbitt, Herbert Wechsler Professor of Federal Jurisprudence at Columbia Law School, said:
I know of no provision, constitutional or statutory, that would prohibit the president and vice-president from travelling abroad at the same time. If Congress did attempt to pass such a statute, I doubt it would be constitutional.

Having said that, there are good reasons of prudence to keep the vice-president at home during the president's foreign travels: Harding died a week after returning from Canada, Wilson seems to have had mini-strokes while in Paris. Moreover, an assassination of a president while overseas is not out of the question. These facts counsel that the vice-president might want to be close to the center of government when the president is out of the country although with modern communications even this suggestion if [sic] hardly decisive.
Similarly, Matt Dallek, a political historian and professor at the Graduate School of Political Management at George Washington University, said in an email to Lead Stories on June 14, 2021:
I've never heard of any law that requires the Vice President and President to be in the country at the same time. It sounds as if the charge is both verifiably false--and even if it were true, which it sounds like it isn't--there is nothing I know of that prevents them from being out of the United States simultaneously. With modern communications, I can't even see why the prospect of them both being away together would be a serious issue. Sounds to me like the whole thing is a red herring.
On March 19, 2013, Biden, then vice president, was returning from Italy and then-President Barack Obama was headed to Israel. The arrangement potentially created a small time frame during which both of the leaders were not in the U.S.
Lead Stories previously debunked a false claim about the president and vice president's travel arrangements. The claim incorrectly suggested that Biden and Harris flew on Air Force One together on March 19, 2021, which they are supposed to avoid.