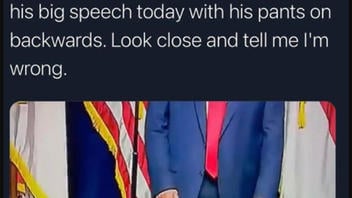 Was former President Donald Trump wearing his pants backwards on stage at the state Republican convention in Greenville, North Carolina, on June 5, 2021? No, that's not true: One copy of the video, with extra saturated color, makes it appear as if Trump's pants do not have a fly typical in the front of men's pants. Other press photos and videos from the same event clearly show that these dress pants had typical tailoring with a fly, while other professional videos of the event have similar artifacts of video compression causing some details of the suit's tailoring to be temporarily indistinct.
The claim began with a tweet by Brandon Friedman showing a short video clip by @ACjunior. A screenshot of Friedman's tweet appears in this instagram post (archived here) where it was published by @moistbuddha on June 6, 2021 with the caption, "Please explain" The Text of Friedman's original tweet said:
Others are noting this, but it can't be shared enough: Donald Trump gave his big speech today with his pants on backwards. Look close and tell me I'm wrong.
This is how the post appeared on Instagram on June 7, 2021
(Source: Instagram screenshot taken on Mon Jun 07 15:04:57 2021 UTC)
Forty minutes after making the first tweet, Brandon Friedman tweeted again. He said, "If this turns out to be a fake video I'm gonna be so mad." He followed with one more tweet that said, "NOOOOOOOOOOOO" and linked to a June 6, 2021, Snopes article about the mix-up, "No, Trump Did Not Wear His Pants Backwards at Rally". Within 16 hours Friedman had issued a correction to his original tweet, even before the screenshot of his first tweet was posted to instagram.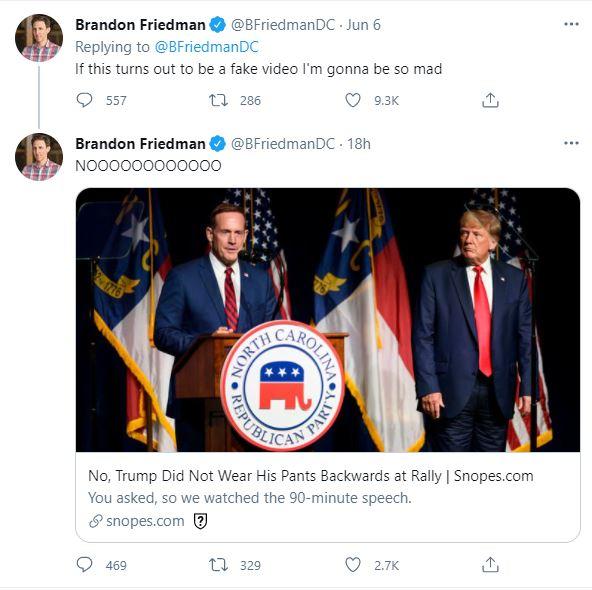 The Getty image by photographer Melissa Sue Gerrits, which appears in the social card of the Snope's article above, shows that the true colors on stage were much more subdued than what shows in the video, it also clearly shows that Donald Trump's pants are tailored with a fly in the front. The person who first posted this video online, @ACjunior posted a tweet explaining that they did not intentionally alter the video, they used their phone to record the Newsmax video from their TV, and that even original footage from Fox Carolina News shows the same thing.
Although the phone video was cropped to focus on Donald Trump's fly, a similar effect can be observed at the lapels of both Donald Trump and Rep. Ted Budd's jackets, yet social media was not amazed by the disappearing lapels. In the first seconds of the video the shadow at the edge of the lapels is not apparent -- but in different angles it is visible.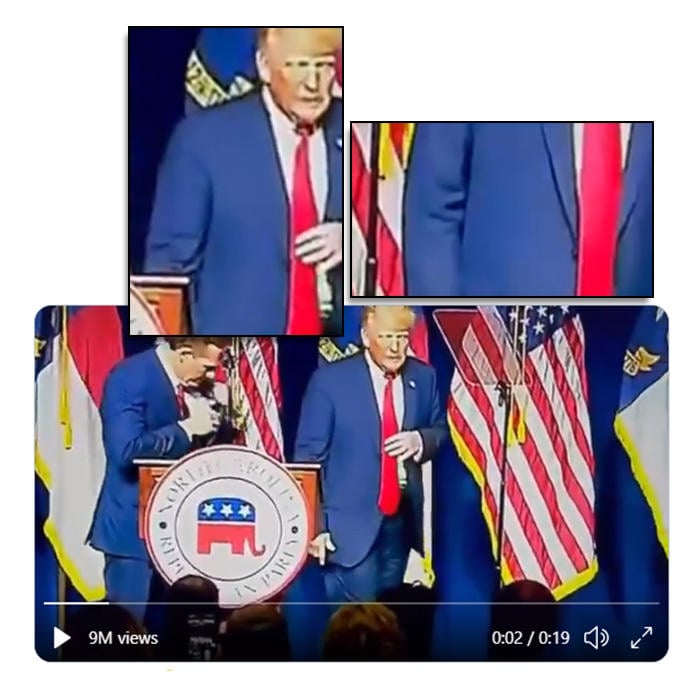 (Source: Twitter screenshots of @ACjunior phone video Mon Jun 07 16:39:58 2021 UTC)