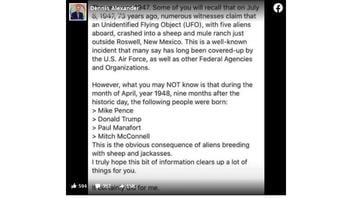 Were Republican Party leaders Donald Trump, Mike Pence, Paul Manafort and Mitch McConnell born nine months after a purported UFO crash near Roswell, New Mexico, in 1947? No, that's not true: Although some of the four Republican Party members were born in the 1940s, none were born in 1947. Lead Stories has previously fact-checked a similar claim in 2019, in which the Republican members were swapped for Democratic Party leaders.
The claim appeared in a Facebook post (archived here) on May 10, 2020. It reads:
The year was 1947. Some of you will recall that on July 8, 1947, 73 years ago, numerous witnesses claim that an Unidentified Flying Object (UFO), with five aliens aboard, crashed into a sheep and mule ranch just outside Roswell, New Mexico. This is a well-known incident that many say has long been covered-up by the U.S. Air Force, as well as other Federal Agencies and Organizations.
However, what you may NOT know is that during the month of April, year 1948, nine months after the historic day, the following people were born:
Mike Pence
Donald Trump
Paul Manafort
Mitch McConnell
This is the obvious consequence of aliens breeding with sheep and jackasses.
I truly hope this bit of information clears up a lot of things for you.
It certainly did for me.
This is what the post looked like on Facebook at the time of writing: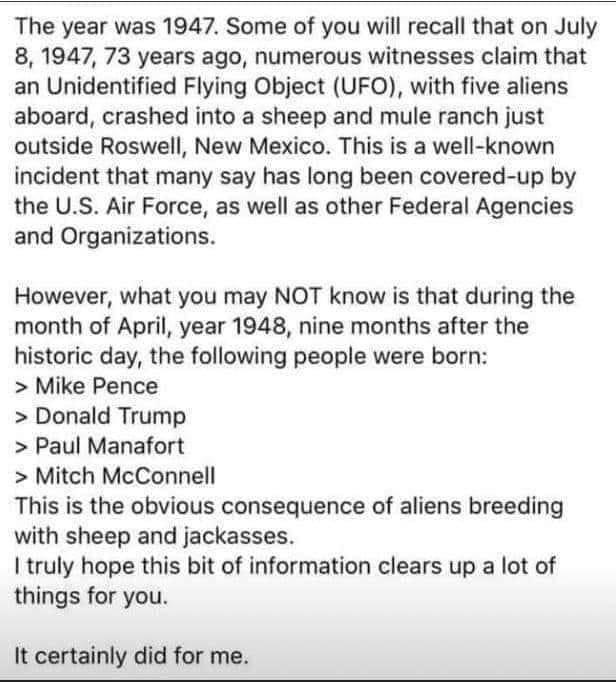 (Source: Facebook screenshot taken on Tue Jun 8 22:42:19 2021 UTC)
The false claim is a revised version of the previously fact-checked post, which Lead Stories concluded has been circulating via email and social media since at least 2006.
Since none of the birthdates are accurate and can be verified with a simple Google search, the post should be seen as satire. Here are the actual birthdays for each of the Republicans on the list who were allegedly born on or about April 1948:
Mike Pence, former U.S. vice president, June 7, 1959
Donald Trump, former U.S. president, June 14, 1946
Paul Manafort, former Trump campaign chairman, April 1, 1949
Mitch McConnell, U.S. senator from Kentucky, senate minority leader, February 20, 1942