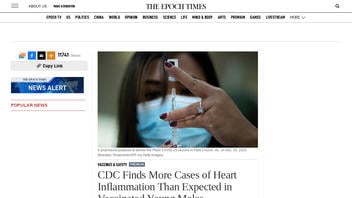 Did young males vaccinated against COVID-19 report more myocarditis and pericarditis than expected among their peers? Yes, the early data suggest that is true: Compared to the rate among the population at large, there is evidence suggesting the incidence of these heart inflammation disorders among vaccinated teenage men may be higher than among the population at large. While the number is small in the universe of millions of vaccinated people, the Food & Drug Administration (FDA) has produced new guidelines telling patients and doctors what to look for and how to treat it, but is still investigating the strength of the link. Vaccine-maker Pfizer said the reported number would make it "rare" and that no problem was documented in pre-release clinical trials.
The claim appeared in several places online, including this June 23, 2021, article (archived here) published by The Epoch Times under the headline "CDC Finds More Cases of Heart Inflammation Than Expected in Vaccinated Young Males". It opened:
More than 1,200 cases of heart inflammation in adolescents and young adults following Pfizer's or Moderna's COVID vaccine have been reported to health authorities in the United States, the Centers for Disease Control and Prevention (CDC) said on June 23 ... The case rate, based on reports to the reporting system, is higher than expected in young males.
This is what the post looked like on Facebook on July 26, 2021: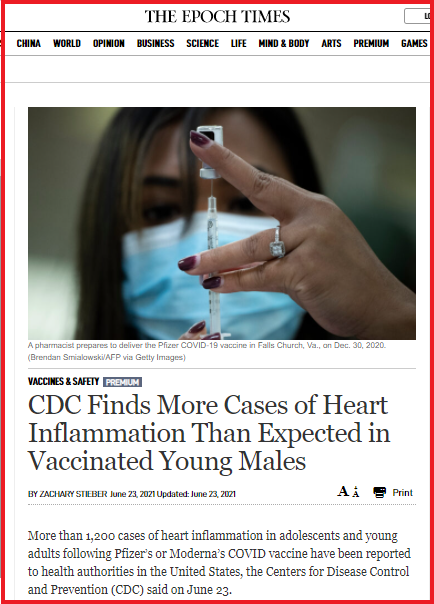 (Source: Epoch Times screenshot taken on Mon Jul 26 23:25:25 2021 UTC)
While some may read it as cause-and-effect, the article states the situation accurately, carefully noting cases have been reported without saying they are confirmed. As the CDC notes, it may be some time until a precise case rate is established, if at all, as the numbers are few and more time may be needed to more precisely quantify any risk.
On June 25, 2021, the FDA announced four safety actions, including the heart inflammation update to its standard online fact sheets for vaccinators to note the MRNA COVID-19 vaccines produced by Pfizer and Moderna may have triggered a few more cases than is typical for young men, saying: "The warning in the Fact Sheets for Healthcare Providers Administering Vaccines notes that reports of adverse events suggest increased risks of myocarditis and pericarditis, particularly following the second dose and with onset of symptoms within a few days after vaccination."
In June, 2021, Dr. Matthew Oster, a pediatric cardiologist on the CDC's COVID-19 Vaccine Task Force, produced a report describing how the Vaccine Adverse Event Reporting System worked as designed, alerting the CDC and FDA to a minor cluster of the heart inflammation conditions. Myocarditis is inflammation of the heart muscle. Pericarditis is inflammation of the lining around the heart. Myopericarditis is both conditions at once. Viral infections are the most common cause, although parasites, fungi, drug sensitivities and other causes are also documented. Even before the pandemic, the conditions were more common among teen men than women of all ages. A review of verified cases suggests they are more common among vaccinated young men than other demographics.
As seen in the following slide from Oster's report, pre-COVID studies showed it mostly affects teen males and strikes about 2 out of every 100,000 in the 15-18 age group, who suffer treatable chest pain in most cases and rarely require heart transplant.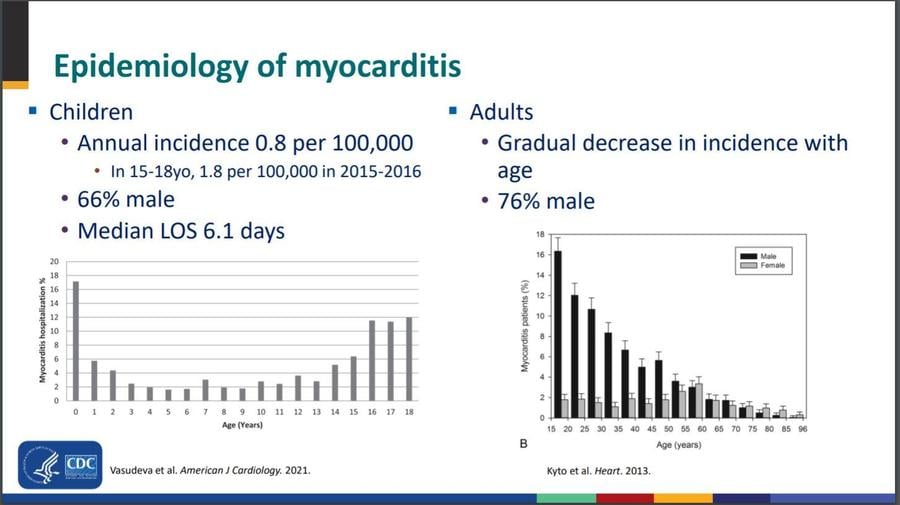 (Source: CDC.gov screenshot taken on Mon Jul 26 23:00 2021 UTC)
Additionally, the Fact Sheets for Recipients and Caregivers for these vaccines note that vaccine recipients should seek medical attention right away if they have chest pain, shortness of breath, or feelings of having a fast-beating, fluttering, or pounding heart after vaccination. The FDA and CDC are monitoring the reports, collecting more information, and will follow-up to assess longer-term outcomes over several months.
FDA Commissioner Dr. Janet Woodcock summed it up in the agency's standard risk-versus-benefit language, Tweeting that people should still get the shot, since the risks of serious illness from COVID-19 outstrip the risk of having one of the rare, and rarely fatal, cases of heart inflammation:
As part of our commitment to vigilant safety monitoring of #COVID19 vaccines, FDA updated the public on its ongoing evaluation of adverse event reports of myocarditis & pericarditis following vaccination with Moderna and Pfizer-BioNTech COVID-19 vaccines. https://t.co/xI8nzp1GEm pic.twitter.com/FlmaICfpQY

-- U.S. FDA (@US_FDA) June 26, 2021
In this slide from the CDC's report, at most, 55 cases would be expected out of 9.4 million 12-24-year-olds. After a single dose, for instance, the verified cases added up to 79 among those observed during the 21 days after vaccination.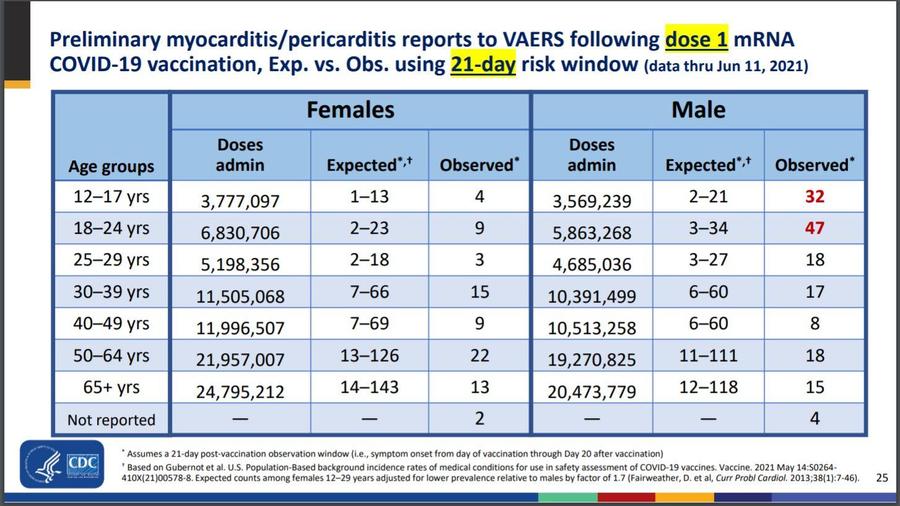 (Source: CDC.gov screenshot taken on Mon Jul 26 22:10:51 2021 UTC)
The CDC cautions against declaring causal links from the unvetted reports submitted to the Vaccine Adverse Event Reporting System (VAERS), and the CDC's report on how it sifted and verified reports in this example of how the material in VAERS should be used.
In the age group with the highest prevalence, CDC reports about 10 million have been vaccinated. In this case, the CDC notes myocarditis and pericarditis after vaccination are rare. As of July 19, 2021, 1,148 reports of myocarditis or pericarditis among people ages 30 and younger who received COVID-19 vaccine were reported to VAERS. The CDC and FDA, who jointly operate VAERS, reviewed medical records and confirmed 674 of those 1,148 reports. Any rate declared from the raw VAERS data would have been almost double the actual number of suspect cases, and the question of a direct causal link to the vaccines is still being investigated.
As noted in several prior fact checks by Lead Stories, the VAERS system accepts reports from anyone with an internet connection. Its purpose is to serve as an early warning system, not a precise measurement of adverse effects. VAERS' operators repeatedly caution people reading the data not to use it to declare cause-and-effect connections between vaccines and health conditions, nor to declare the rate at which adverse reactions occur.
Lead Stories reached out to Pfizer, maker of the vaccine most linked to the effect. Kit Longley, science media relations senior manager for Pfizer wrote in a July 26, 2021, email that the drugmaker saw no evidence of the problem in its Phase 3 clinical trial, as reported on in a peer-reviewed pre-release study. The spokesperson for Pfizer wrote:
Pfizer is aware of rare reports of myocarditis and pericarditis, predominantly in male adolescents and young adults, after mRNA COVID-19 vaccination. According to the CDC, this is an extremely rare side effect, and only an exceedingly small number of people will experience it after vaccination. Patients have typically rapidly improved with conservative treatment. It is important to note that CDC continues to strongly encourage COVID-19 vaccinations for eligible individuals aged 12 and older. With hundreds of millions of doses of the Pfizer-BioNTech COVID-19 vaccine administered globally, the benefit risk profile of our vaccine remains positive.
The material the FDA relied on to sign off on Emergency Use Approval showed no evidence of heart inflammations caused by the drug.