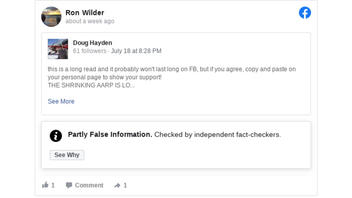 Is a letter rejecting AARP membership and criticizing President Joe Biden's "Socialist politics" from 2021? No, that's not true: The letter was written in 2009 during the administration of former President Barack Obama. A copy of the letter circulating online in 2021 included language that didn't appear in the original letter, including comments about the "Biden Regime" and "illegal perpetrators," a reference to undocumented immigrants.
The edited letter appeared in a Facebook post (archived here) published on July 19, 2021. It was introduced by the following message:
this is a long read and it probably won't last long on FB, but if you agree, copy and paste on your personal page to show your support!

THE SHRINKING AARP IS LOSING PLENTY OF SENIORS .

The lady who wrote this letter below not only has a grasp of the situation, but also an incredible command of the English language. Her letter was sent to Mr. Rand who is the Executive Director of AARP. It only takes a few days on the Internet and this message will have reached 75% of the public in the U.S.A.
This is what the post looked like on Facebook at the time of writing:
(Source: Facebook screenshot taken on Wed Jul 28 15:43:17 2021 UTC)
Contrary to what the post implies, the letter is not new. It was written in 2009 by Walt and Cyndy Miller, former members of the AARP. They had received a note encouraging them to renew their lapsed membership and wrote the letter in response. A copy of the Miller's original letter can be seen here.
It was addressed to Barry Rand, who served as AARP CEO between 2009 and 2014, when he resigned because of health reasons. He died in 2018.
In addition to being old, this version altered the original letter in several significant ways. One, Biden isn't mentioned in the original letter; he's mentioned twice in the edited version, with the phrase "Biden Regime."
Two, the altered version includes a new reference to Margaret Thatcher. It reads: "As Margaret Thatcher (former Prime Minister of Great Britain) once said 'Socialism is GREAT - UNTIL you run out of other people's money'." That quote wasn't included in the original letter.
Three, the original letter refers to undocumented immigrants as "someone." In the edited version, that word is replaced with "illegal perpetrators."
Finally, the edited version adds a section on undocumented immigrants, accusing supporters of the Biden administration of being "driven by a need to yield AMNESTY (aka-make voters out of the foreign lawbreakers so they can vote to continue the governments free handouts)." The altered letter adds:
This addition of 10 to 20 million voters who then will vote to continue Socialism will OVERWHELM our votes to control the government's free handouts. It is a 'slippery slope' we must not embark on!
Snopes did a fact check in 2009, confirming that the original letter was -- in fact -- written by Cyndy Miller. PolitiFact did a debunk of the altered letter circulating in 2021. You can read their stories here and here.
Lead Stories has also written a number of fact checks related to claims about AARP. For example, we found that the organization did not endorse Biden for president, nor did it spend millions of dollars on TV ads against Republicans. AARP is a federally approved nonprofit organization that is legally prohibited from being involved in any political campaign in favor or against any candidate.