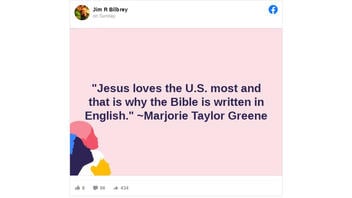 Did Marjorie Taylor Greene say, "Jesus loves the U.S. most, and that is why the Bible is written in English?" No, that's not true: There is no evidence the Republican representative from Georgia ever said that. There is evidence, though, that the quote or variations of it has been around for decades and has been misattributed to mock a range of people from an early 20th century woman governor of Texas to another Republican representative in recent years.
The claim reappeared in a Facebook post (archived here) published on July 26, 2021. The text said:
"Jesus loves the U.S. most, and that is why the Bible is written in English." ~Marjorie Taylor Greene
This is how the Facebook post looked like on July 27, 2021:
(Source: Facebook screenshot taken on Tue Jul 27 20:48:25 2021 UTC)
A Google search for "Jesus Loves The U.S. Most, And That Is Why The Bible Is Written In English" reveals no record of Greene ever making this comment. Lead Stories and other organizations previously debunked another quote referencing Jesus that also was falsely attributed to Greene on social media.
In 2014, the same quote was falsely attributed to then-Rep. Michele Bachmann, a Republican from Minnesota.
Before Bachmann, a 2006 online forum recording Texas history associated a similar quote -- "If English was good enough for Jesus, it's good enough for Texas schoolchildren" -- to Miriam A. "Ma" Ferguson, a Democrat who served as governor of Texas from 1925 to 1927 and again from 1933 to 1935. There is no record proving she ever said it, either.
A 2006 report published by Benjamin Zimmer, a language columnist at the Wall Street Journal, traced yet another version of the saying as far back as 1881.