STORY UPDATED: check for updates below.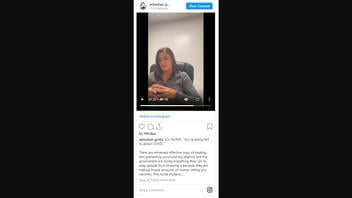 Does an ICU nurse give proof that ivermectin is effective at treating COVID-19? No, that's not true: Ivermectin, which is frequently used to treat or prevent parasites in animals, is not approved for treating or preventing COVID-19 in humans. In fact, the Food and Drug Administration (FDA) specifically warns people not to take it for those reasons. The person who claims to be an intensive care unit nurse offers no evidence that ivermectin is effective at treating COVID-19 and repeats conspiracy theories and debunked claims about the coronavirus.
The claim appeared as an Instagram video (archived here) published by Sebastian Gorka on August 13, 2021. It opens:
ICU NURSE: "You're being lied to about COVID."
Social media users saw this:
(Source: Instagram screenshot taken on Wed Aug 118 14:23:55 2021 UTC)
The video was posted by a woman who identifies herself only as Nicole and who claims -- without offering any proof of professional credentials -- she is an ICU nurse. She says she is sharing that the government and big pharmaceutical companies are keeping people with COVID-19 from taking controversial drugs ivermectin and hydroxychloroquine, neither of which are recommended to treat coronavirus.
Lead Stories has written about those treatments before, which you can read here and here, and found that claims for their effectiveness lack authority.
At :31 in the video she says:
You are being led to believe that there are no treatments for COVID. The only messaging you hear is that vaccines and masks are the only tool that we have to fight this pandemic and it is a downright lie.
She advises people to listen to the "Joe Rogan Experience podcast 1671" and claims it says ivermectin is being used around the world with astounding results to treat and prevent COVID.
And she continues at 1:37 in the video:
Ivermectin ... is an anti-parasitic drug that has been showing really promising antiviral properties.
She claims ivermectin is an "FDA-approved drug and is on the World Health Organization's list of essential medicines."
Ivermectin is approved by the FDA to treat or prevent parasites in animals. It is not approved for treating or preventing COVID-19 in humans, as the FDA website states:


What is Ivermectin and How is it Used?
Ivermectin tablets are approved by the FDA to treat people with intestinal strongyloidiasis and onchocerciasis, two conditions caused by parasitic worms. In addition, some topical (on the skin) forms of ivermectin are approved to treat external parasites like head lice and for skin conditions such as rosacea.
Some forms of ivermectin are used in animals to prevent heartworm disease and certain internal and external parasites. It's important to note that these products are different from the ones for people, and safe when used as prescribed for animals, only.

When Can Taking Ivermectin Be Unsafe?
The FDA has not reviewed data to support use of ivermectin in COVID-19 patients to treat or to prevent COVID-19; however, some initial research is underway. Taking a drug for an unapproved use can be very dangerous. This is true of ivermectin, too.
There's a lot of misinformation around, and you may have heard that it's okay to take large doses of ivermectin. That is wrong.

Even the levels of ivermectin for approved uses can interact with other medications, like blood-thinners. You can also overdose on ivermectin, which can cause nausea, vomiting, diarrhea, hypotension (low blood pressure), allergic reactions (itching and hives), dizziness, ataxia (problems with balance), seizures, coma and even death.
At 5:20 in the video she claims a study by Dr. Tess Lawrie shows ivermectin reduces COVID-19 infection by an average of 86%. Healthfeedback.org debunked the claims of Lawrie here, reporting, "As of late April 2021, there isn't reliable evidence supporting the claim that ivermectin effectively treats or prevents COVID-19."
On August 18, 2021 the Mississippi State Health Department (MSDH) reported a person was hospitalized in the state after ingesting ivermectin.
"There are potential toxicities. So it's something, you know, as you know, I think some people are trying to use it as a preventative, which I think is really kind of crazy. So please don't do that," Mississippi State Health Officer Dr. Thomas Dobbs said according to the Mississippi Free Press. MSDH Communications Director Liz Sharlot spoke during the meeting where the ivermectin ingestion was reported. "You know, for the life of me, I don't get it. Dr. Dobbs, you have a vaccine that's safe and effective. And yet people, as opposed to getting the vaccine, want to go after these kinds of things. What's your thought process on that?"
The Free Press reported Dobbs warned people not to take ivermectin to treat COVID-19:
You know, please work with your doctor. This is medical treatment. You wouldn't get your chemotherapy at a feed store. I mean, you wouldn't want to treat your pneumonia with your animal's medication. It can be dangerous to get the wrong doses of medication, especially for something that's meant for a horse or a cow. So we understand the environment we live in. But it's really important if people have medical needs to go through your physician or provider.
At the 23:49 mark, the nurse makes false claims regarding the COVID-19 vaccine trials:
Operation Warp Speed pushed this brand new experimental gene modification therapy through in 11 months ...

The only thing they tested for in the clinical trials was the presence of side effects and the presence or absence of symptoms. They didn't test them weekly, they did not do a PCR test on them or anything. They merely checked for two months if they had symptoms of COVID. That's where you get your 95% effectiveness ... if you had no symptoms or dying.
This is false. According to the New England Journal of Medicine, a Moderna vaccine trial gave PCR tests to participants during the trial.
At 27:56 she shows the screen of where she is getting her information and it is the website News Wars, which is one of Alex Jones' misinformation websites. Lead Stories has debunked multiple false claims by Alex Jones, whose lawyer argued in a divorce case that Jones is "a performance artist" and not a journalist. Readers can see other Lead Stories debunks of Jones claims here.
At 31:03 she cites "the inventor of mRNA technology Dr. Robert Malone" and says, "Virologists and doctors all over the world have been warning about the possibility of antibody dependent enhancement and Dr. Malone thinks this is happening."
Malone has become an outspoken critic of the COVID-19 vaccines. His credentials are in question as are the validity of his vaccine claims. Malone's supporters claim (archived here) that he was intellectually "raped" at the Salk Institute and not given the proper credit for his invention of the mRNA vaccine technology. But the Virginia-based M.D./pharmaceutical expert's claim that he invented mRNA vaccine technology is not recognized by independent authors writing about development of the ground-breaking method. Lead Stories has debunked claims based on Malone's claims here and here.
2021-08-20T18:07:25Z

2021-08-20T18:07:25Z

Updated to include Mississippi report of man hospitalized after taking Ivermectin.