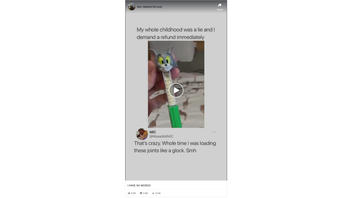 Can PEZ candy dispensers be loaded from the bottom with a wrapped candy roll? No, that's not true: The PEZ Twitter account tweeted that "you can't load a wrapped #PEZ candy roll from the bottom." Why? Because there's a spring and a piece of plastic at the bottom of the dispenser, the company said.
The claim originated from a July 30, 2021, Facebook post (archived here) in video form. Above the video was the heading, "My whole childhood was a lie and I demand a refund immediately." A second caption underneath the video read:
That's crazy. Whole time i was loading these joints like a glock. Smh
This is what the post looked like on Facebook at the time of writing:
(Source: Facebook screenshot taken on Wed Aug 18 14:46:53 2021 UTC)
PEZ's verified Twitter account, @PEZCandyUSA, tweeted the "proper way" to load a PEZ dispenser on July 29, 2021:
Myth Busters: you can't load a wrapped PEZ candy roll from the bottom. Check out the proper way. Bonus if you get all 12 tablets in the first try 😆
Lead Stories emailed PEZ for a statement on the viral "hack" that had been circulating the internet and a spokesperson replied on August 18, 2021:
The video that was making the rounds on social media shows an impossible way to load a PEZ dispenser, looks fun and easy but simply not possible. For a proper way to load a dispenser, please see our new video. Loading instructions are also included on the back of the blister card or on the insert inside the poly bag.
A blister card is the cardboard backing that comes with items that are packaged with visibility in mind. Karl Knauer, a manufacturer of packaging, goes into more detail here.
A polyethylene bag, or poly bag, is a plastic bag made for packaging.
PEZ explained why the bottom-loading method doesn't work on August 19, 2021:
Because 2 solid objects cannot pass through each other. If you have a PEZ dispenser to look at and reference, it's easy to see why. There is a piece of plastic that holds the spring at the bottom of the dispenser base when you pull up the sleeve. If you do what is shown in the Tik Tok video, it will only push the candy back out of the dispenser base. It's physically impossible.
A Smithsonian article from December 2020 shows the inner workings of a PEZ candy dispenser. It's also possible to see what the email is referring to when it talks about a "spring at the bottom of the dispenser base."