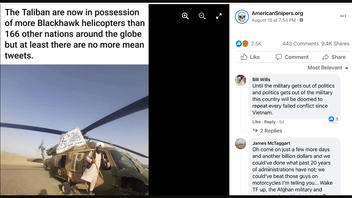 Is it true the Taliban are now in possession of more Black Hawk helicopters than 166 other nations around the globe? Yes, but context partially changes the meaning of that. For instance, images of Taliban insurgents standing near Black Hawk helicopters in Afghanistan after taking control of the country do not show a chopper ready for combat, an aerospace expert told Lead Stories. And there are only two dozen countries that have any Black Hawks, which is the main small craft the U.S. Army uses for air assault and medical evacuation.
The claim appeared as an August 15, 2021, Facebook post (archived here). It opens:
The Taliban are now in possession of more Blackhawk helicopters than 166 other nations around the globe, but at least there are no more mean tweets.
This is what the post looked like on Facebook at the time of writing: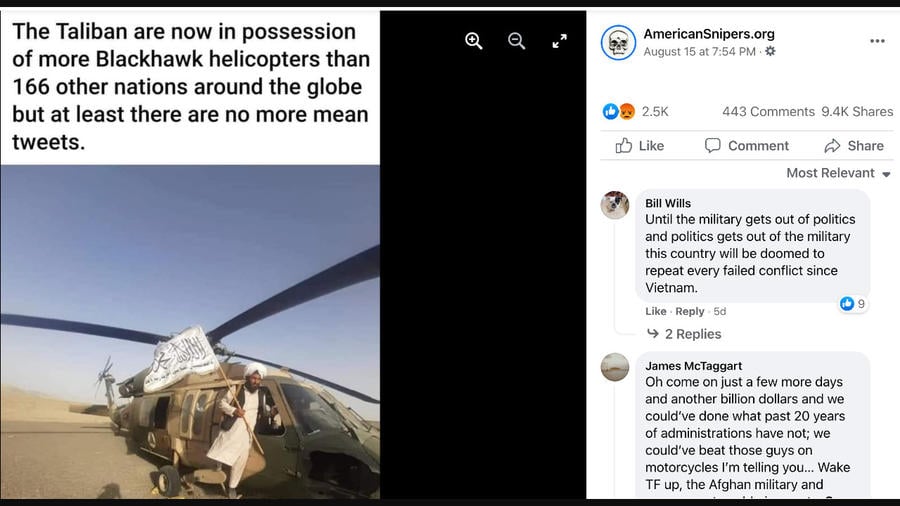 (Source: Facebook screenshot taken on Sat Aug 21 10:54:35 2021 UTC)
The United States and 28 other countries have its Sikorsky UH-60 "Black Hawk" helicopters, according to defense company Lockheed Martin:
The BLACK HAWK multirole helicopter serves with the U.S. military and the armed forces of 28 other countries worldwide as a tough, reliable utility helicopter.
There are 195 countries in the world, so the Taliban does have possession of an aircraft that 167 other nations do not, although the aerospace expert said helicopters are easy to obtain. However, the meme circulating on social media does not show a working Black Hawk helicopter that could operate to its full potential. Its avionics systems have been removed.
A July 2021 report by Special Inspector General for Afghanistan Reconstruction, or SIGAR, noted the Afghan Air Force had 33 usable UH-60s out of its 167 working aircraft, per page 80 of the 214 report found here.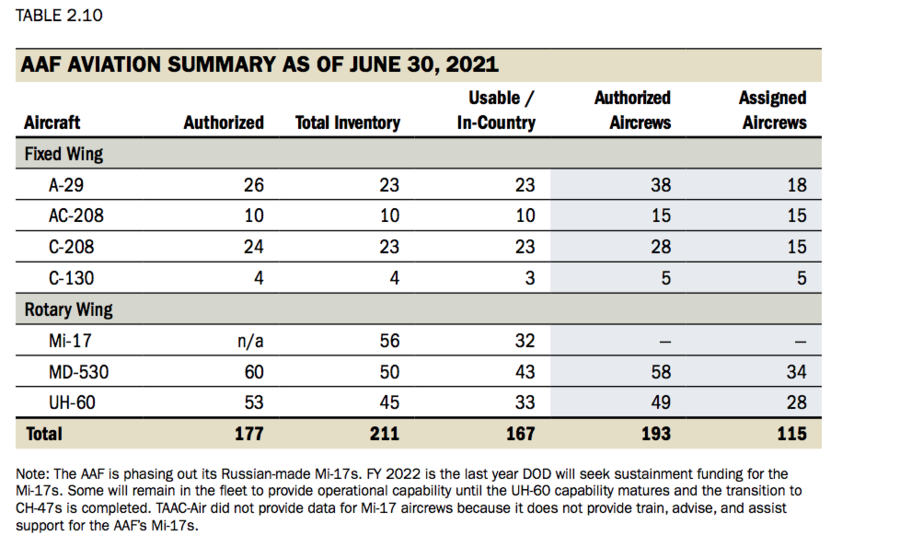 A military aircraft industry analyst with 33 years experience said the problem posed by the Afghan Air Force's Black Hawks being seized may be overstated by the meme.
"It works for people who have exactly zero knowledge of anything defense or aerospace related," Richard Aboulafia said of the meme. He is an aerospace analyst with the Teal Group, which provides investors, banks and others expert analysis of military hardware.
"It's basically a litmus test for extreme ignorance," he said in a telephone interview with Lead Stories on August 20, 2021. "An aging transport helicopter is not exactly the fast track to superpower status." Aboulafia holds a master's degree from the war studies program at King's College, University of London; writes and edits Teal Group guides to the world's war planes and lectures at the U.S. military's National Defense University.
The helicopter in the photo appears to be missing the main avionics, the man-machine interface or the person-machine interface that helps navigate the aircraft, including "black box" flight data recorders, computers and radios, Aboulafia told Lead Stories. The U.S. military gave the Afghan military older models of Black Hawks without "terribly sophisticated avionics," he said:
I mean this is not really an F-14 Shah of Iran moment. I mean if there were jet fighters involved, I think I'd be a little concerned. We never thought they had the sophistication and that was the A-team, the Afghan Air Force, they were not bad. But you know, we knew their limits and expectations. Now the Taliban, I think they might know enough to put fuel on the tank. But maybe not. And, you know, you could force people to work for you. But you're just talking about, you know, making a helicopter move. Again, anyone can buy a helicopter, heck, North Korea can buy a helicopter. It's not really a challenge.
Aboulafia expanded on the hardware the United States armed the Afghan military with:
They cannot turn this into a weapon of war. And they're also short-range. So if they wanted to make trouble with Iran, Russia, Pakistan or China, that's it. Good luck with that. The only way of making the shift would be to find people who make this shift. So, if they wanted to drop a few soldiers on the other side of the Russian, Iranian and Chinese or Pakistani borders. Yeah, this would be how they would do it. And of course, they would be killed instantly.
According to Military.com, the range of a Black Hawk helicopter is 320 nautical miles or 368 miles. The Pakistani border is approximately 200 miles away from Kandahar. While the helicopter could make it there if it were repaired or rebuilt, Aboulafia told Lead Stories he didn't believe that was a possibility.