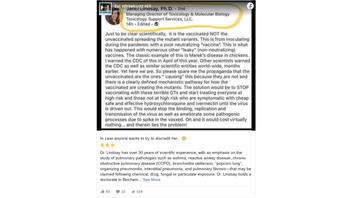 Are people vaccinated against COVID-19 "superspreaders," serving as the transmitting vectors for the virus that caused the midsummer 2021 increase in hospitalizations, and did the delta variant and other new forms of the SARS-CoV-2 virus arise in the vaccinated population? No, neither claim is true: The poisons expert who made the claims provided no vaccinology research, virology nor infectious disease studies to support the claims, similarly providing no evidence for a half-dozen other recycled and debunked claims about vaccines.
The claims were made without reference to specific cases, credible scientific observations or research. The toxicologist advertises her experience as a paid courtroom expert on toxic poison and drug reactions, not as a front-line medical worker or virology researcher.
The claims have been widely circulated online, including in this August 13, 2021, Facebook post (archived here), where it began, "Just to be clear scientifically." It continued:
... it is the vaccinated NOT the unvaccinated spreading the mutant variants ... So please spare me the propaganda that the unvaccinated are the ones "causing" this because they are not and there is a clearly defined mechanistic pathway for how the vaccinated are creating the mutants.
This is what the post looked like on Facebook at the time of writing:
(Source: Facebook screenshot taken on Thu Aug 19 21:39:46 2021 UTC)
The research on the pandemic shows the opposite of these claims, Pavitra Roychoudhury, Ph.D. wrote in an August 19, 2021, email responding to Lead Stories' questions.
In Seattle, site of the first major U.S. outbreak, she is a laboratory medicine instructor at the University of Washington (UW) and runs a team that tracks changes in the virus.
Roychoudhury was a postdoctoral research fellow in vaccine and infectious diseases, is a published co-author of scholarly articles and a conference speaker on SARS CoV-2 testing.
She wrote:
We know that unvaccinated people are more likely to be infected, more likely to transmit, more likely to get have severe illness, and more likely to die ... So if you had two people, one vaccinated and one unvaccinated, and they were in a room where they encountered an infected person, the unvaccinated person is far more likely to get infected and pass that on than the vaccinated person. The probability varies a bit with the variant that the index case has, but regardless, the risk of the vaccinated person picking it up, transmitting, getting sick, and dying, are all lower than the unvaccinated. Therefore, the unvaccinated person is more likely to spread ANY infection including those caused by variants.
Roychoudhury provided two separate scientific documents, among what she says are "lots of sources" establishing that unvaccinated people are more likely to spread infection. One comes from the Centers for Disease Control and Prevention (CDC) and the other from its counterpart in the European Union.
She said it is, on the other hand, not precisely true that unvaccinated persons are "causing" the current spike in cases: "... it would depend on the specific outbreak, but overall, the cases and hospitalizations are disproportionately among the unvaccinated." She referred readers to the Kaiser Family Foundation data accompanying an August 15, 2021, Bloomberg.com opinion piece: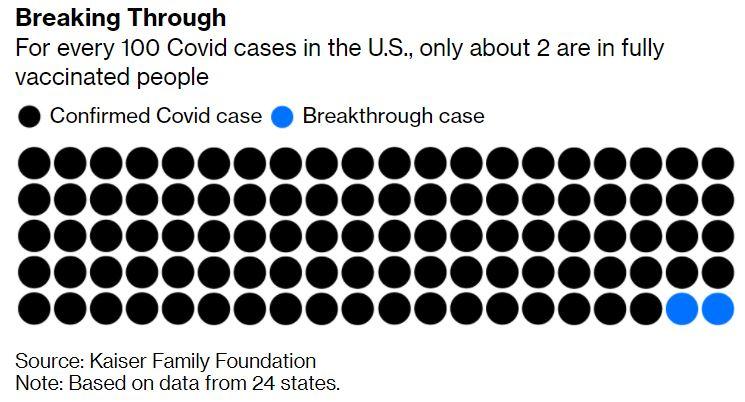 (Source: Bloomberg.com screenshot taken Fri Aug 20 19:17:59 2021 UTC)
One colleague of hers at UW was less diplomatic, calling statistics that claim vaccinated people are more at risk "classic numerical bullshit."
Carl Bergstrom, co-author of "Calling Bullshit: The Art of Skepticism in a Data-Driven World," is a biology professor at UW. His book, and the "Calling Bullshit" course based on it, points out how percentages can be used to mislead. He tweeted:
Classic numerical bullshit.

1) a large percentage increase from a low baseline looks like a big number, but a smaller percentage increase from a much higher baseline is a bigger deal overall.

2) vaxxed population is growing, unvaxxed shrinking. That caps growth in unvaxxed. pic.twitter.com/I9kBA2EMup

-- Carl T. Bergstrom (@CT_Bergstrom) August 20, 2021
This fact check addresses most, but not all, of the claims made in what appears to be a screenshot of a LinkedIn post, added to a Facebook post.
Claim: "This is what has happened with numerous other 'leaky' (non-neutralizing) vaccines."
Roychoudhury said this misstates the way vaccines work.
All vaccines are designed to elicit an immune response that fights the virus. The response is not binary and there's variability in both the strength of the response elicited within the person, and also in the effectiveness of that response against the virus. The further this virus is allowed to drift away from the version the vaccine was originally developed against, the more this effectiveness is going to drop. So in that sense no vaccine is 100% perfect but that doesn't mean there's no protection. In fact it has been shown that vaccines are effective against all variants.
Roychoudhury said the trend of hospitalizations and deaths clearly shows the power of vaccines to slow the infection's spread and reduce the numbers killed by the virus, citing a New England Journal of Medicine's informal report from COVID researchers and a peer-reviewed study in The Lancet.
Claim: "There is a clearly defined mechanistic pathway for how the vaccinated are creating the mutants."
"Yikes ... no," Roychoudhury wrote. "I think this is her mangled interpretation of this paper from 2015" [in a peer-reviewed journal of biological science]. "The answer is not 'don't vaccinate' ... The answer is don't allow infections to happen, by getting cases down to a very low level. More cases = more opportunities for mutation and selection to act." She wrote that this claim ignores the origins of the delta variant:
Let's not forget that delta arose in a population and at a time when no vaccine was available! The virus WILL accumulate mutations over time. Some of those CAN affect transmissibility and virulence. That's what pathogens do, and this is why it's so important to limit overall cases by all means possible (vaccines, masking, limits on indoor gatherings, etc.).
Claim: The vaccines are gene therapy.
The "gene therapy" claim is often used as a scare tactic by anti-vaccine activists, conjuring cinematic horror stories of genetic tinkering gone wrong.
This claim uses the abbreviation "GT" to refer to the shots. Dictionaries of medical terms and abbreviations list no shots or procedures shortened to "GT" but anti-vaccine activists often refer to the shots as gene therapy. If that's what was intended, the description of COVID vaccines as gene therapy is incorrect.
The CDC says the mRNA technology used in COVID-19 vaccines is not gene therapy, since it is not designed to alter or revise the genome of patients. The vaccines use genetic material, "messenger RNA," to induce the body to make the spike proteins found on SARS-CoV-2, training the immune system to recognize the spikes on SARS-CoV-2 and attack it, but the delivery mechanism does not penetrate the nucleus of cells, where a person's genome is found.
Claim: Hydroxychloroquine and Ivermectin safely and effectively "drive out" SARS-CoV-2 from symptomatic COVID patients.
While hydroxychloroquine likely does no harm, the Food and Drug Administration (FDA) discourages it as ineffective and sternly warns people not to take Ivermectin, which is mostly a veterinary drug used to treat or prevent parasites in animals. "Taking large doses of this drug is dangerous and can cause serious harm," the FDA warns in a guidance webpage that answers questions about it. It is not an anti-viral and is only approved for human use in small doses and creams to treat parasitic worms, head lice and rosacea, the FDA says.
The Mississippi Free Press reported August 18, 2021, that the state health department was monitoring the case of a man hospitalized for ill effects of Ivermectin he obtained from an animal feed store.
Lead Stories has reviewed multiple claims that hydroxychloroquine can be used to treat COVID-19. Early in the pandemic, the CDC followed up on politicians' claims it could cure COVID. A large-scale clinical study organized by the National Institutes of Health found hydroxychloroquine was not effective in treating adults hospitalized for COVID-19. The study was cancelled after the drug was found to be no more effective than placebos given to COVID patients. The drug has long been used to treat malaria and autoimmune conditions like rheumatoid arthritis and lupus.
Regarding the claims that hydroxychloroquine and Ivermectin are effective treatments, Choudhury took pains not to present herself as a clinical expert, writing:
I think these have both been pretty soundly shown to be ineffective against COVID. (I'm not a clinician though, just reading studies as they come).
She listed five scientific publications that have found the two drugs are not useful in treating COVID:
Claim: Ceasing vaccination would stop the virus from "binding" to patients' cells.
Roychoudhury said this claim misses key facts about virus behavior in patients with and without the vaccine:
Binding, replication, and transmission are simply steps in the life cycle of the virus. Those are going to happen in both vaccinated and unvaccinated individuals. But since vaccines help elicit immune responses that neutralize virus, the idea is that these processes are reduced in vaccinated individuals. Hence the milder illness and reduction in transmission.
SARS-CoV-2 invades human cells by a process called "binding" through which the virus attaches to specific receptor proteins on a cell membrane. A journal article indexed by the National Library of Medicine explains that binding is a kind of hack of the receptor by which the virus creates a pore for entry into a cell. Once inside, the virus reproduces to spread through the host's body. That's part of the function of the spike protein, which is targeted by the vaccines.
The toxicologist's claim about binding being encouraged by vaccinations provides no citations or clinical observations. Since the spike protein is crucial to the binding process, and the vaccine trains the body to attack the spike protein, the toxicologist's counter-intuitive claim requires extraordinary evidence. A search of the National Library of Medicine index found no peer-reviewed articles or research update letters reporting that the vaccine has been found to increase SARS-CoV-2 binding.
Claim: Ceasing vaccination would "stop the ... replication" of the virus.
Again, the toxicologist's claim is not delivered with evidence or citations.
There are rare drug treatments that reduce resistance to the infections they intend to defeat, but no instance of this has been documented with COVID. "For vaccine-induced enhanced susceptibility to infection with certain viruses like feline coronavirus, Dengue virus, and feline immunodeficiency virus, it has been shown that antibody-dependent enhancement (ADE) plays an important role," wrote the authors of a much-cited 2009 article indexed by the National Library of Medicine.
Anti-vaccine activists have declared, without supporting evidence, that COVID-19 vaccines also trigger antibody-dependent enhancement (ADE) reactions. But there is no publicly available evidence of that, and the Children's Hospital of Philadelphia published on January 5, 2021, a public information sheet saying ADE is very rare and the phenomenon has not been observed with COVID-19 vaccines.
If the COVID-19 vaccines caused an ADE response it's unlikely the FDA would have granted the Emergency Use Authorization for the vaccines.
Claim: Ceasing vaccination would "stop the ... transmission of the virus."
The toxicologist's claim was made without reference to specific cases, credible scientific observations or research. It is axiomatic among immunologists that vaccines reduce transmission, but medical experts have resisted declaring it to be the case with COVID vaccines because that was not part of the experimental design of the clinical trials, which only tested the vaccines' ability to prevent infection.
However, the Lancet, one of the most respected journals of medical science, published a study in February 2021 showing that in Israel where vaccination rates are high, the case rate dropped among the most-vaccinated populations and among health care workers, suggesting transmission was reduced by widespread vaccination.
Claim: The spike protein in vaccinated patients causes pathogenic processes.
The toxicologist's claim was made without reference to specific cases, credible scientific observations or research. Her career is as a courtroom expert on toxicology, not as a front-line medical worker or COVID lab researcher.
Anti-vaccine activists in Europe spread multiple claims early in 2021 that the COVID-19 vaccine would provoke "cytokine storms" and other dangerous reactions, killing thousands of patients. Lead Stories debunked those claims at the time. By August 2021, hundreds of millions of people in the U.S. were vaccinated with no documented evidence of cytokine storms and other predicted health disasters. A UCLA immunology physician conducted a literature review and told Lead Stories there was no sign of vaccines causing immune systems to attack patients from within.