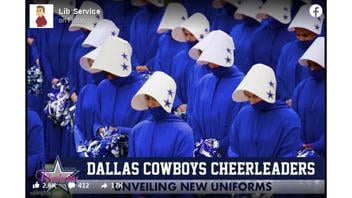 Did the NFL's Dallas Cowboys unveil a new uniform for their cheerleaders as of September 7, 2021? No, that's not true: The image of women looking down, while dressed modestly in blue cloaks with white hats displaying blue stars, carrying pom-poms, was digitally altered from a scene from a popular TV series about enslaved women. The meme is from a parody Twitter account.
The claim appeared in a Facebook post (archived here) on September 3, 2021. The meme reads:
DALLAS COWBOYS CHEERLEADERS
UNVEILING NEW UNIFORMS
This is what the Facebook post looked like on September 7, 2021:
(Source: Facebook screenshot taken on Tue Sep 7 23:17:58 2021 UTC)
As of September 1, 2021, a Texas law banning abortions after six weeks of pregnancy has gone into effect, and news coverage of criticism has followed.
Social media users are comparing this mandate to "The Handmaid's Tale," a TV drama based on a novel about women forced to live under a fundamentalist theocratic dictatorship.
The Twitter bio of the creator, @pleightx, shows it's a satirical account: "Making people laugh by any memes possible."
There is no indication the traditional uniforms have been changed recently as there would be considerable news coverage surrounding an NFL team as famous as the Dallas Cowboys. There were no recent posts concerning this claim on the Dallas Cowboys Cheerleader official Instagram page or YouTube channel.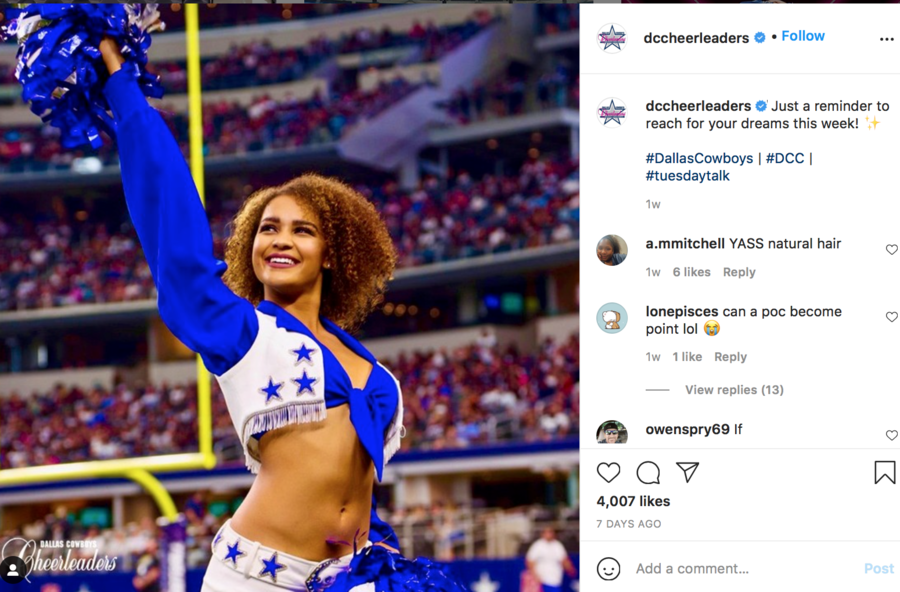 A Google search using the keywords "Dallas cowboy cheerleaders new uniforms 2021" did not yield any results, and a look at what's trending under sports on Twitter did not yield any mention of the Dallas Cowboys Cheerleading uniforms either.
A search of the Dallas Cowboys website using the keywords "New uniforms for cheerleaders" and a search on the Dallas Morning News site using the keywords "Dallas Cowboy Cheerleader New Uniforms" did not display any recent results either. A search on NFL.com had no mention of a cheerleader uniform change.
Lead Stories reached out to the Dallas Cowboys and the Dallas Cowboys Cheerleaders and will update this article as appropriate if a response is received.