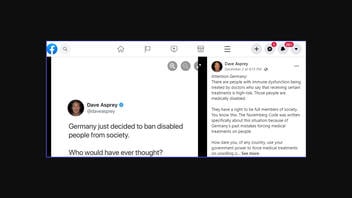 Do new restrictions for the unvaccinated in Germany ban people with disabilities from society? No, that's not true: German public health authorities advise that there are only few medical reasons not to get one of the COVID vaccines currently approved in the European Union but if, in an individual consultation with their doctor, patients find that they should not get vaccinated, they can get a medical exemption. A doctor's note proving the exemption is valid in all 16 federal states of Germany and replaces the vaccine passports for those vaccinated or immunized by a previous infection. Several German associations for people with disabilities have released statements demanding accessible vaccination appointments or have even spoken out in favor of vaccine mandates.
The claim that Germany is banning disabled people from society appeared in a Facebook post (archived here) on December 3, 2021, including comments on a re-post of a tweet which read: "Germany just decided to ban disabled people from society. Who would have ever thought?" The caption of the Facebook post elaborated on the claim:
Attention Germany:
There are people with immune dysfunction being treated by doctors who say that receiving certain treatments is high-risk. Those people are medically disabled.

They have a right to be full members of society. You know this. The Nuremberg Code was written specifically about this situation because of Germany's past mistakes forcing medical treatments on people.

How dare you, of any country, use your government power to force medical treatments on unwilling or medically exempt people?

The 20% of my German DNA is hanging its head in a mix of shame and bewilderment.
This is what the post looked like on Facebook at the time of writing:
(Source: Facebook screenshot taken on Mon Dec 6 10:01:20 2021 UTC)
The background of the post are new restrictions decided by the German federal government together with the state premiers of the 16 Länder on December 2, 2021. The federal government published the new regulations on their website in German, and an English translation was posted on deutschland.de, a service in cooperation with the Federal Foreign Office.
The new restrictions come in the wake of a fourth wave of coronavirus infections, and tighten previous restrictions both for the vaccinated and the unvaccinated. Up until this point, access to public facilities in Germany was regulated on the basis of a "3G" model, standing in for "geimpft, genesen, getestet," German for vaccinated, recovered or tested. Those who had not gotten two doses of a vaccine approved by the European Medicines Agency or could show a previous infection detected by a positive PCR test had to show a negative test to enter many facilities, with many restaurants and bars providing service only on a "2G" basis for vaccinated or recovered people. On December 2, 2021, the outgoing chancellor, Angela Merkel, and the 16 state premiers decided to impose what many media outlets have called a "lockdown for the unvaccinated." The unvaccinated will only be allowed to enter essential businesses such as grocery stores, pharmacies and drugstores and will have to limit their social contacts to two members of a different household at a time. At the same time, the new regulations also impose new restrictions on the vaccinated: businesses have the option to introduce a "2G+" model, allowing only vaccinated and recovered patrons who can also show a negative test result. If the 7-day average of new infections per 100.000 people exceeds 350, nightclubs will have to close down for everyone.
The full text of the resolution, as published on the federal government's website on December 2, 2021, explicitly states the option for medical exemptions in subsection 6. Here is a translation from the original German:
6. Throughout Germany and independent from infection rates, access to culture and leisure institutions and events (movie theaters, theaters, restaurants, etc.) is only possible for vaccinated and recovered persons (2G). Additionally, an up-to-date test can be required (2GPlus). Here, exceptions for persons that cannot be vaccinated or for whom the vaccine has not been generally recommended, are to be provided. In addition, exceptions for children and adolescents up to 18 years of age are possible.