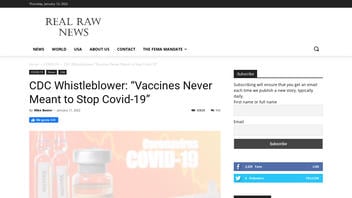 Did a CDC whistleblower say "vaccines were never meant to stop COVID-19"? No, that's not true: The purported whistleblower claim was published on a website with a disclaimer warning readers not to take its content at face value.The Centers for Disease Control and Prevention website says getting vaccinated against COVID can lower your risk of getting and spreading the virus that causes COVID and that vaccines can also help prevent serious illness and death.
The claim appeared in an article (archived here) published by Real Raw News on January 11, 2022, titled "CDC Whistleblower: 'Vaccines Never Meant to Stop Covid-19' - Real Raw News," which opened:
'The current Covid-19 vaccinations are no more effective at preventing Covid than Robitussin is a preventing a person from catching the common cold,' were the words spoken to Real Raw News by a former CDC research scientist who in October was fired for questioning agency protocol.
This is how the article looked on the Real Raw News website on January 13, 2022: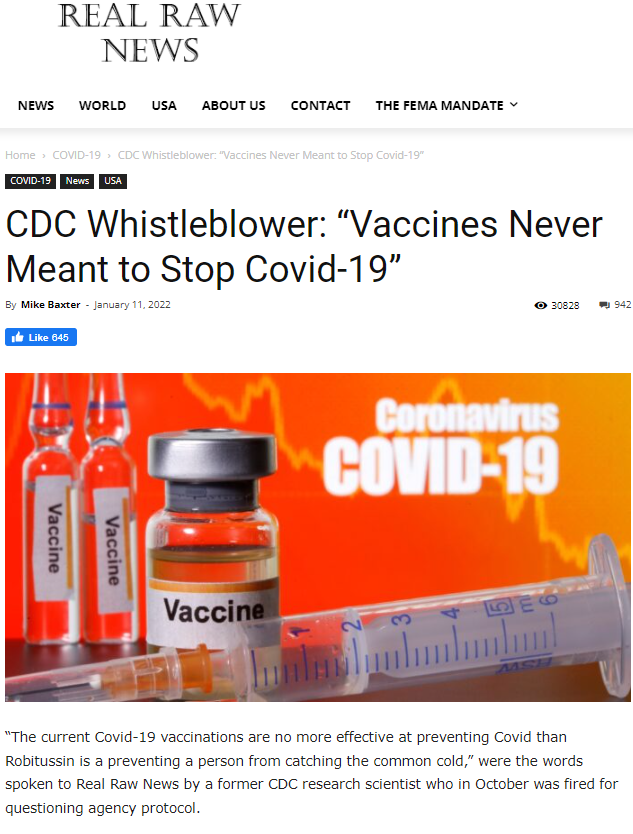 (Source: Real Raw News screenshot taken on Thu Jan 13 21:45:50 2021 UTC)
The CDC lists the following as benefits of getting a COVID-19 vaccine:
What You Need to Know

Getting vaccinated against COVID-19 can lower your risk of getting and spreading the virus that causes COVID-19. Vaccines can also help prevent serious illness and death.
All steps have been taken to ensure that vaccines are safe and effective for people ages 5 years and older.
If you already had COVID-19, you should still get a COVID-19 vaccine for added protection.
When you are up to date on COVID-19 vaccination, you can resume many activities with proper precautions (e.g., mask wearing in indoor public spaces).
The CDC website also says the COVID vaccines remain effective against the virus and its variants. A graph charting studies done throughout 2021 shows vaccines remain more than 80% effective against hospitalization: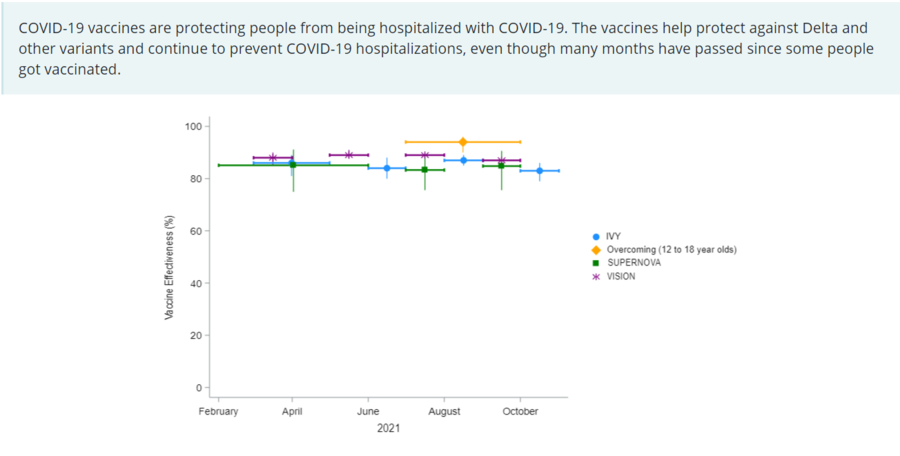 (Source: CDC website screenshot taken Thu Jan 13 23:36:01 2022 UTC)
Real Raw News has a long history of publishing false claims in mock news stories, many of them about convictions and executions of various public figures at Naval Station Guantanamo Bay in Cuba. For example, the site reported former Secretary of State Hillary Clinton was hanged (she wasn't); former White House Chief of Staff John Podesta was executed (he wasn't); and that "the military" convicted former Attorney General William Barr on charges of treason (it didn't).
The website for Real Raw News includes a disclaimer that warns readers not to take its content too seriously. Specifically, it says:
Information on this website is for informational and educational and entertainment purposes. This website contains humor, parody, and satire. We have included this disclaimer for our protection, on the advice on legal counsel.

(Source: RealRawNews.com screenshot taken Tue Aug 3 16:39:48 UTC 2021)
Lead Stories has covered claims published by Real Raw News in the past. Previous Lead Stories debunks of Real Raw News items are collected here.