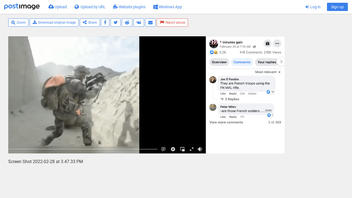 Does a video of soldiers firing weapons show the ongoing conflict between Russia and Ukraine? No, that's not true: The video -- a version of which has circulated online since at least 2010 -- actually appears to show French soldiers in Afghanistan and has no connection with the Ukraine invasion.
The claim appeared in a Facebook post (archived here) on February 25, 2022. It included a video more than eight minutes long of soldiers firing weapons in what looks to be a desert. The caption of the post reads:
Ukraine vs Russia army fight live war updated
This is what the post looked like on Facebook on February 28, 2022:
(Source: Facebook screenshot taken on Mon Feb 28 19:31:24 2022 UTC)
Fact Crescendo, an independent fact-checking publication, found that footage used in the video posted to Facebook dates back to at least 2010, which predates the ongoing Russia-Ukraine conflict by more than a decade. A video published to YouTube on December 21, 2010, includes footage that is almost identical, except that the perspective is flipped horizontally. The YouTube video is titled "AFGHANISTAN LEGION." The opening slide has text that reads:
Accrochage
durant l'Opération Île bleue
Vallée d ' Uzbeen
29 Novembre 2009
Lead Stories used Google Translate to convert the text to English:
Snap
during Operation Blue Island
Uzbeen Valley
November 29, 2009
Although Google Translate used just one of its meanings, "accrochage" can also translate to "clash," "skirmish" or "encounter," among other words.
Beginning at the 3:33 mark, the video posted to Facebook shows a soldier working out of what looks to be a combat vehicle. The soldier has a patch on their sleeve that features the flag of France, although the perspective of the video appears flipped and shows the blue of the flag to the right instead of the left. For comparison, this is the flag of Ukraine and this is the flag of Russia.
Other Lead Stories fact checks about the Russia invasion of Ukraine can be found here.