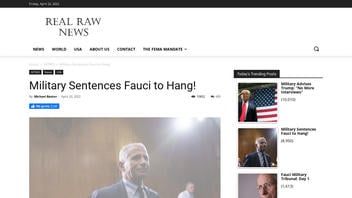 Did the U.S. military sentence Dr. Anthony Fauci to hang at Guantanamo Bay? No, that's not true: A duty officer from the Pentagon said this story was fabricated. Fauci, the director of the National Institute of Allergy and Infectious Diseases, made a public appearance on CBS News one day after this Real Raw News article was published. Real Raw News has a history of writing stories about public figures that are not evidence-based. A disclaimer on their website tells visitors that the information seen there is for "entertainment purposes."
The story originated in an article published by Real Raw News on April 20, 2022, titled "Military Sentences Fauci to Hang!" (archived here), which opened:
GITMO, 19 April, 2022. 1200 Hours EST.

The panel of officers chosen to weigh JAG's case against Anthony Stephen Fauci rendered a verdict of guilty after listening to Vice Adm. Darse E. Crandall's evidence, which summarized 6-hours of witness testimony and hard evidence proving beyond reasonable doubt that Fauci committed treason for profit, betrayed his Hippocratic Oath, caused immeasurable suffering, sickness, and death, preyed on disadvantaged children, and conspired to overthrow President Trump in hopes of seating a president more sympathetic to vaccine mandates.
Users on social media saw this title, description and thumbnail:

Lead Stories reached out to the Pentagon for more information about this claim. A duty officer from the Pentagon told Lead Stories in an April 22, 2022, email that this story is "a fabrication."
Fauci has made a public appearance since this article was published. He spoke with CBS News on April 21, 2022, one day after the article was published.
Real Raw News has a long history of publishing false claims in mock news stories, many of them about convictions and executions of various public figures at Naval Station Guantanamo Bay in Cuba. For example, the site reported former Secretary of State Hillary Clinton was hanged (she wasn't); former White House Chief of Staff John Podesta was executed (he wasn't); and that "the military" convicted former Attorney General William Barr on charges of treason (it didn't).
The website for Real Raw News includes a disclaimer that warns readers not to take its content too seriously. Specifically, it says:
Information on this website is for informational and educational and entertainment purposes. This website contains humor, parody, and satire. We have included this disclaimer for our protection, on the advice on legal counsel.

(Source: RealRawNews.com screenshot taken Tue Aug 3 16:39:48 UTC 2021)
Lead Stories has covered claims published by Real Raw News in the past. Previous Lead Stories debunks of Real Raw News items is collected here.