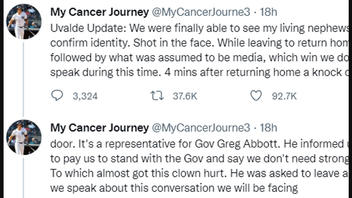 Did a representative of Texas Gov. Greg Abbott follow a family home after they identified the body of a child killed in the Uvalde, Texas, school shooting and offer to pay them to stand with him to oppose stronger gun laws -- as reported in a May 26, 2022, Twitter thread by an account called @MyCancerJourne3? No, that's not true: This bizarre claim has now been denied by the person behind the @MyCancerJourne3 Twitter account that originally posted the claim. They say that "somebody somehow got into my account" and that they didn't make the baseless claims that they were an uncle of one of the child victims or that an Abbott representative had followed the family home after they had identified the body.
The claim was posted on May 26, 2022, in a thread on Twitter by an account called @MyCancerJourne3. The text of the three tweets together reads:
Uvalde Update: We were finally able to see my living nephews body to confirm identity. Shot in the face. While leaving to return home we were followed by what was assumed to be media, which win we do not wish to speak during this time. 4 mins after returning home a knock on the door. It's a representative for Gov Greg Abbott. He informed us he's willing to pay us to stand with the Gov and say we don't need stronger gun laws. To which almost got this clown hurt. He was asked to leave and said that if we speak about this conversation we will be facing

charges and possibly worse. We responded with fuck you, try me and find out. Then we were told people get hurt and disappear all the time. Fuck Greg Abbott and this harassment while we all mourn.
This is how the post appeared at the time of writing: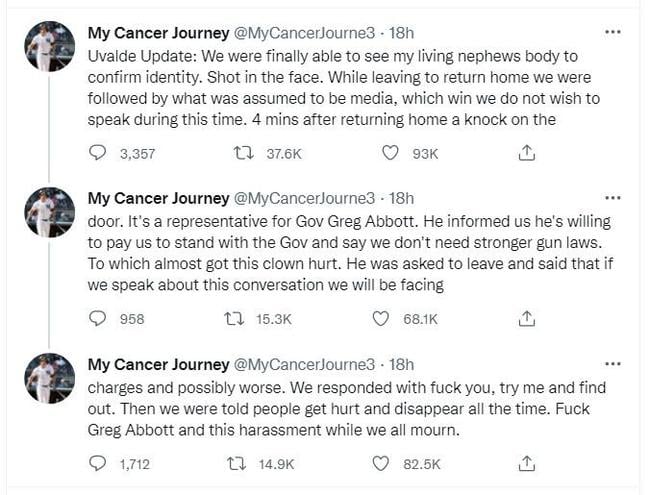 (Image source: Twitter screenshot taken on Fri May 27 16:08:54 2022 UTC)
On May 27, 2022, the Twitter account @MyCancerJourne3 changed from public to a protected privacy level where only approved followers can see the tweets.
Shortly after the unlikely story was posted by @MyCancerJourne3 and the tweets started to get attention, Twitter users began questioning the veracity of the "uncle" story and other past narratives published by the account. They pulled up past tweets that showed unusual patterns going back years and posted screenshots calling attention to the questionable nature of the account's narratives. One tweet by @rachelmillman, the first in an extensive thread of screenshots, pointed out, "this account loves to claim a dead nephew occurred after a tragedy." She posted a screenshot of a July 23, 2021, tweet from @MyCancerJourne3 that said:
Ozzie is a terrible sheriff, he'd.rather kill someone then help them. Please explain why he lost his lawsuit over killing my nephew? Cost Spokane millions and not 1 news outlet condemned his actions. Shot and.killed a young vet, was sued and list. Oh wait thats normal right?
A long list of questions piled up unanswered. The person claimed to have been a first responder on 9/11, a veteran who had done tours in Iraq and Afghanistan, was a prisoner of war for 31 days, was awarded a Purple Heart, was an Army Ranger and a hacker, received two liver transplants since June 14, 2021, had colon cancer, is occasionally a black man, and has Cash App and GoFundMe accounts that are tied to the name of a white man who lives in Spokane, Washington.
On May 26, 2022, thedailybeast.com published an article titled, "Texas Gov. Greg Abbott Trashes Bizarre, Viral Massacre Claim." The Daily Beast deduced the man's identity, in part through a now-deleted Facebook account, and contacted him:
The account has also tweeted the CashApp handle of a man residing in Washington State, whose Facebook page reflected the same sports team allegiances as @MyCancerJourne3, and shows the same given name the account has used to refer to itself. The Facebook page was deleted after The Daily Beast reached out to the man, and he called shortly after publication to claim an unknown interloper had hijacked his social media, and that he had contacted Twitter to have the page disabled.

'Somebody somehow got into my account,' he said, insisting he had no relatives or associates in Uvalde. 'It's got nothing to do with me or my family in any way.'
Lead Stories reached out to Abbott's press office and will update this article if appropriate.