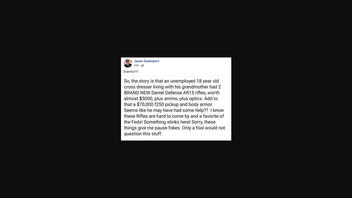 Does a viral post about Salvador Ramos, the Texas school shooter, contain only verified and proven facts? No, that's not true: Although the post contains some true statements, it also includes some false and unsubstantiated claims. For example, there is no proof that Ramos dressed in women's clothing, just as there is no evidence that he had any help in carrying out the deadly attack.
An example of the post appeared in a Facebook post on May 26, 2022. It opens:
So, the story is that an unemployed 18 year old cross dresser living with his grandmother had 2 BRAND NEW Daniel Defense AR15 rifles, worth almost $5000, plus ammo, plus optics. Add to that a $70,000 f250 pickup and body armor. Seems like he may have had some help?? I know these Rifles are hard to come by and a favorite of the Feds! Something stinks here!
This is what the post looked like on Facebook at the time of writing:
(Source: Facebook screenshot taken on Fri May 27 21:03:01 2022 UTC)
Some of the statements in the post are true. Ramos was 18 and was reported to be living with his grandmother in the months immediately preceding the attack. He also bought two AR-style rifles shortly after his birthday.
But other statements in the post are unconfirmed or false. First, although various media outlets reported that Ramos worked at Wendy's, it was not immediately clear whether he was "unemployed." An unnamed employee told the Los Angeles Times that Ramos had stopped showing up about two weeks before the shooting.
Second, there is no evidence that he dressed in women's clothing. That claim seems to stem from false reports that linked Ramos' image to photographs of unrelated trans people. Lead Stories has previously debunked those allegations, as can be seen here and here.
Third, authorities have said Ramos took the pickup truck that he crashed near the school from his grandmother. There is no evidence that the 18-year-old owned the truck himself.
And, finally, there is no proof that he had any help in carrying out the attack, which claimed the lives of 19 students and two adults in Uvalde, Texas. According to Pete Arredondo, chief of police for the Uvalde Consolidated Independent School District, Ramos is believed to have acted alone. The viral post says that "something stinks," implying that Ramos had help, perhaps from the "Feds."
As Lead Stories has previously reported, it's common for "false flag" claims to pop up in the wake of mass shootings. A false flag is an operation or attack that's made to look like it was carried out by someone other than the person who is responsible. There is no evidence that federal agents, or anyone else besides Ramos, were behind the Texas attack.