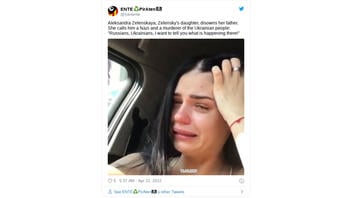 By Uliana Malashenko
Is it true that the Ukrainian president's daughter, Oleksandra Zelenska, called her father, Volodymyr Zelenskyy, a "Nazi" and a "murderer"? No, it's not true: The image of a crying woman that circulated on social media in spring 2022 is a screenshot from a 5-year-old video of another Russian-speaking woman who was caught on camera crying about not getting a new iPhone.
The claim appeared on Twitter on April 22, 2022 (archived here). The tweet began:
Aleksandra Zelenskaya, Zelensky's daughter, disowns her father.
It continued: "She calls him a Nazi and a murderer of the Ukrainian people: 'Russians, Ukrainians, I want to tell you what is happening there!'"
This is what the tweet looked like:
​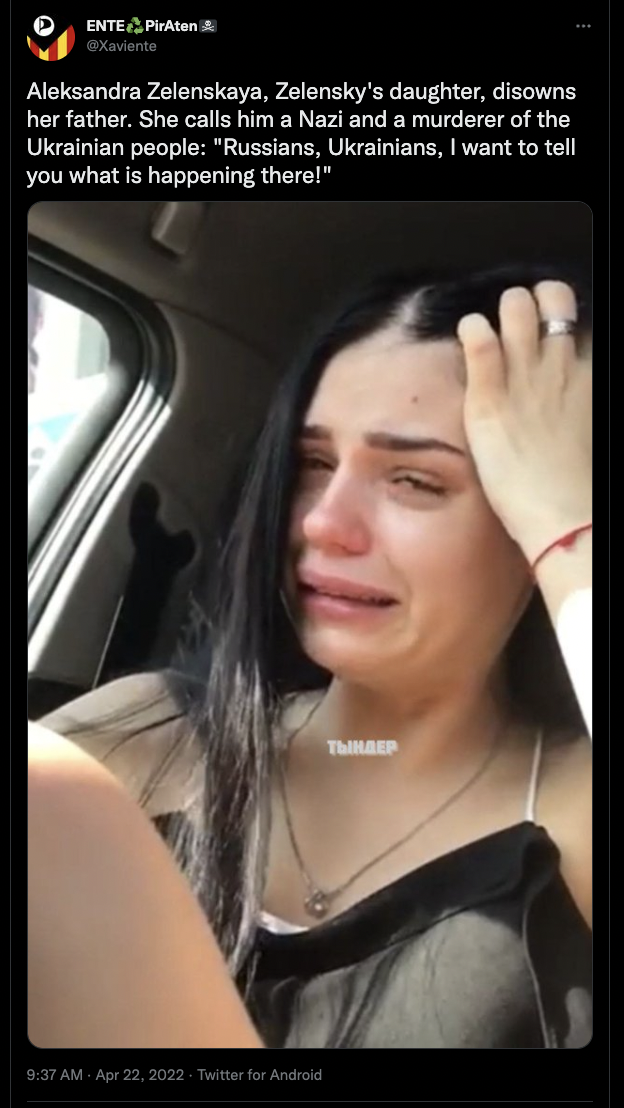 (Source: Twitter screenshot May 23, 2022 22:59:31 UTC)
It's noteworthy that the daughter's name, as used in this tweet, was spelled in the Russian fashion. The Ukrainian spelling would look and sound differently: Oleksandra Zelenska.
Similar tweets were posted here and here. Other examples of this claim in Russian can be found here, here and here.
On May 13, 2022, the statement about Zelenskyy's daughter appeared on Instagram. The post was quickly deleted, but Lead Stories kept a screenshot. This Russian post not only repeated the claim that Oleksandra Zelenska allegedly called her father a "Nazi" and "murderer of the Ukrainian people," but also stated that she fled to Poland and shot "a secret video" telling "the whole truth" about him. Here is what this post looked like: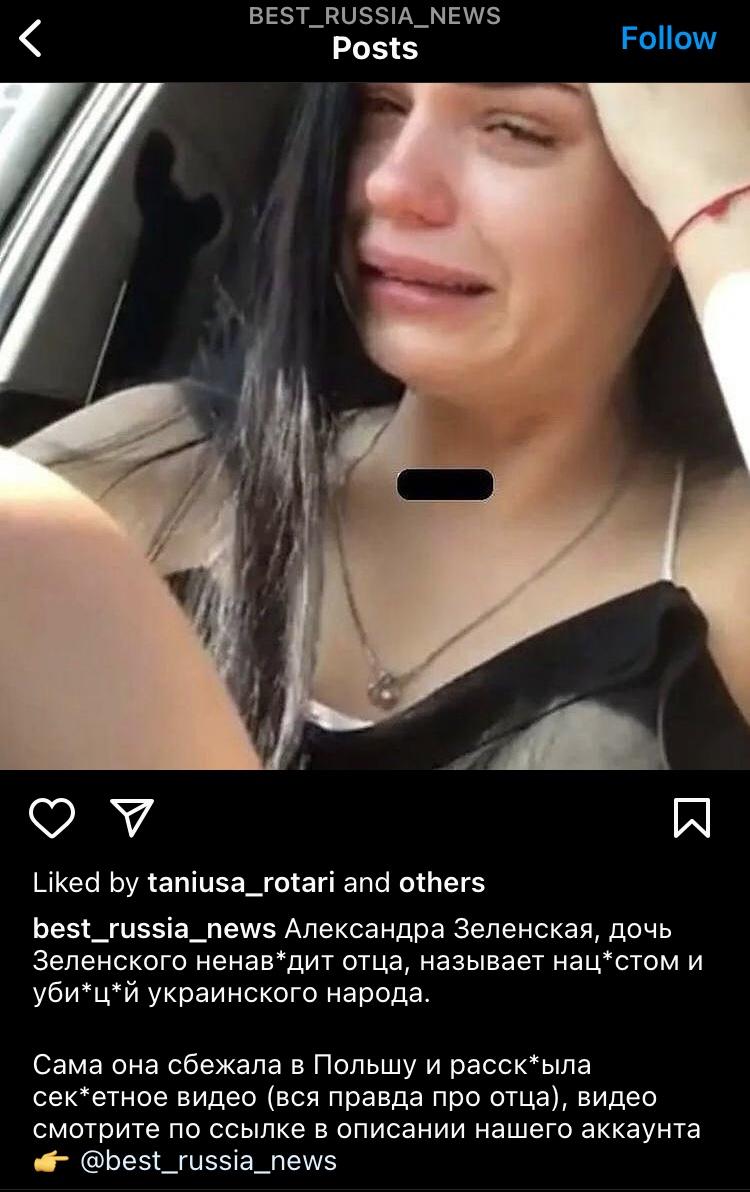 (Source: Instagram May 13, 2022 12:06 UTC)
As you can see in the screenshot above, some letters are replaced by stars, although no obscene language is used. The New York Times previously reported that incorrect or strange spelling might not be accidental in disinformation campaigns -- it makes finding textual false claims more difficult for fact checkers and search engines.
Nevertheless, a reverse image search quickly leads to this 2017 YouTube video containing the same screenshot as the post on Instagram. Thus, the clip has nothing to do with the February 2022 Russian invasion of Ukraine. It also does not show Zelenskyy's daughter. Instead, the video captured another Russian-speaking woman, who burst into tears after her boyfriend hadn't brought her a promised gift. The caption said, "I have already told everyone that you'll buy me a new iPhone." Here is what it looked like: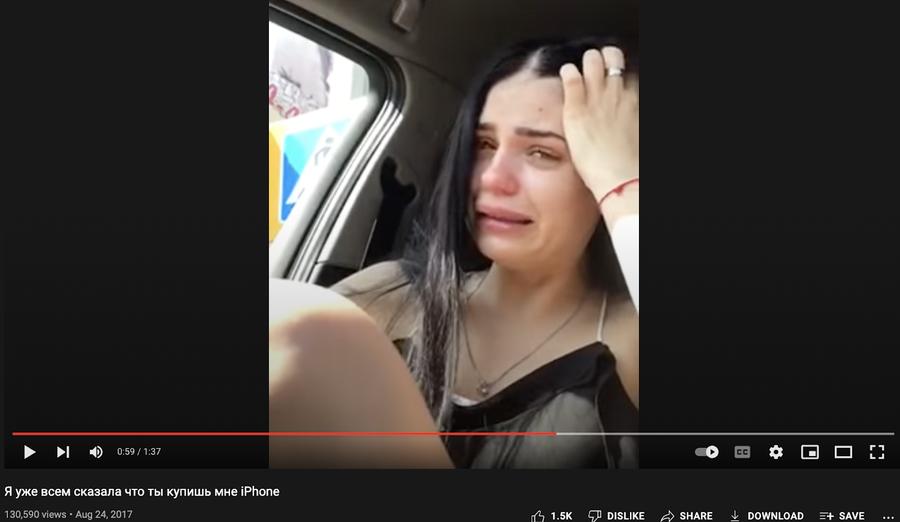 (Source: YouTube screenshot May 20, 2022 18:22:51 UTC)
Additionally, the real Oleksandra Zelenska looks very different. Here is one of her pictures posted on her mother's Instagram account in 2019, the same year Zelenskyy became president: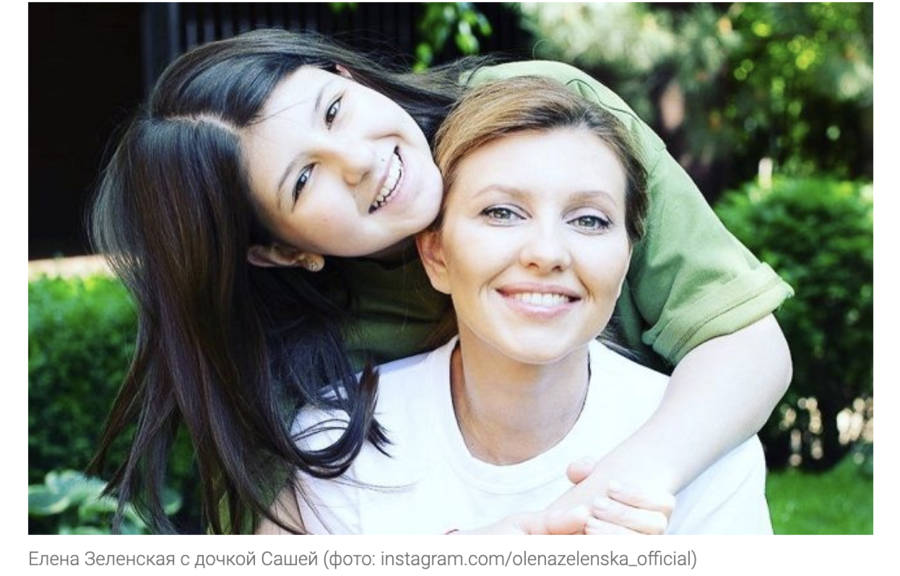 (Source: Rbc.ua screenshot May 20, 2022 18:31:16 UTC)
And here are other screenshots from the YouTube video that give a better view of this woman's facial features: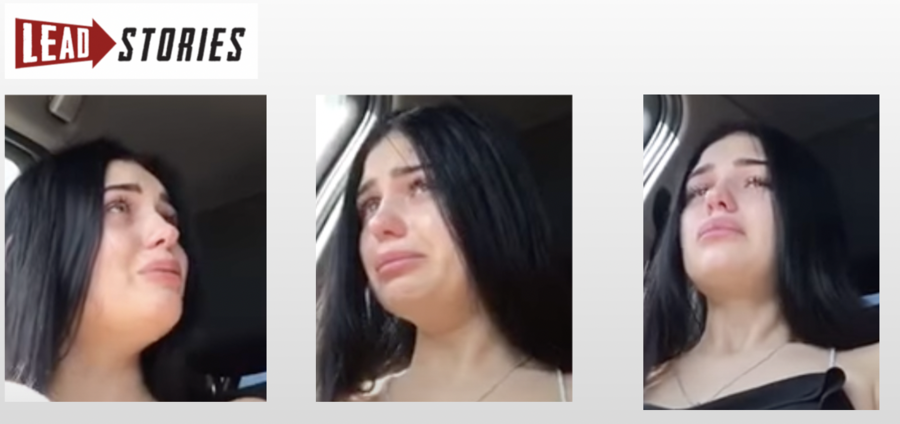 (Source: YouTube screenshots; collage - Lead Stories)
Other Lead Stories fact checks related to the 2022 Russia-Ukraine conflict can be found here.