STORY UPDATED: check for updates below.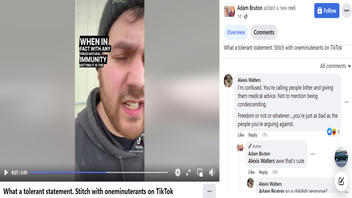 Is getting a virus and acquiring natural immunity the "best thing you can do for your body," rather than getting a vaccine? No, that's not true: The only way vaccines get Food and Drug Administration (FDA) approval is if they provide protection against illness and death associated with natural infection while presenting a proportionally very low risk of adverse events. According to Dr. James Lawler with the Division of Infectious Diseases at the University of Nebraska Medical Center, "It is important to understand that the FDA (and medical science in general) has a very low risk tolerance for vaccines." Bottom line: The benefits have to greatly outweigh the risks.
The claim appeared in a Facebook post and video on July 26, 2022. In a key section of the video on-screen text and a man speaking says:
With any virus, natural immunity, getting it, is the best thing that you can do for your body. You don't need to get a vaccine.
This is what the post looked like on Facebook at the time of writing:

(Source: Facebook screenshot taken on Wed Jul 27 16:12:43 2022 UTC)
Natural immunity versus vaccination
In a July 27, 2022, email to Lead Stories, Lawler explains why natural immunity isn't the best choice:
Humans do well with simple rules of thumb, but we live in a world that is inherently complex. Biology and immunology are incredibly complex. Simple rules - such as 'natural immunity is always better' really don't make sense. ... HIV is a great example - we have developed a vaccine that does give partial immunity to HIV, but natural infection is lifelong (until you die). There essentially is no natural immunity. Rabies is another example where we have excellent vaccines that provide virtually perfect protection against disease. I guess it is also true that natural infection with [the] rabies virus imparts 100% protection against reinfection. Because you are dead. But that's not the strategy I would prefer to prevent rabies.
Dr. Richard Kennedy, co-director of the Mayo Clinic Vaccine Research Group, said this about natural immunity in a July 28, 2022, email to Lead Stories:
This phrase has been co-opted as a fancy marketing gimmick by anti-vaccine groups. They use it because the unspoken corollary is that vaccine-induced immunity must therefore be 'unnatural'. The immune system uses the same cells, the same tissues, the same molecules within your body to create a response to the antigen (foreign component of the vaccine that we want a response to) regardless of whether or not it enters by infection or vaccination. The process of developing an immune response uses the same machinery and molecular processes - vaccine and infection-induced 'immunity' are both natural.
Lawler says not all viruses behave the same way:
The degree to which natural infection provides long-standing immunity depends very much on the virus. Some virus infections give very poor immunity to reinfection (either with the exact same virus or with closely related strains). Coronaviruses (the ones that cause colds as well as COVID) are great examples where infection produces immunity that is only temporary. Norovirus (the cause of winter vomiting disease) is another example. Smallpox, on the other hand, generally gave lifelong immunity (if you survived).
Kennedy says vaccination is typically the better decision:
The only time natural immunity would be better is if there is a known risk for that person for the vaccine. Examples include: severe allergy to a vaccine component or a known contraindication (pregnant women shouldn't get rubella vaccine). In virtually every other situation, the vaccine is the safer route.
Ultimately, Lawler says, the standards for vaccines are extremely high because of how they're used by the medical community:
They [vaccines] are essentially one of the only medical interventions we give to completely well people - therefore we have a very low tolerance for adverse events. The fact is that ANY vaccine that is FDA approved is demonstrated to have a much lower risk of significant adverse events than the disease it is designed to prevent.

Chickenpox is a great example. Some people think that since chickenpox in kids is generally a mild infection, it makes more sense to avoid the chickenpox vaccine and intentionally infect kids with wild-type virus at chickenpox parties. The problem is that while chickenpox is USUALLY mild, it is not always so. Prior to widespread vaccination, kids would get hospitalized with complications of chickenpox - such as serious secondary bacterial infections and inflammation of the brain. This happened in roughly 1 in 1000 kids. On an individual basis, that may sound like low odds. But in a decent sized city, that ends up being many kids every year - since essentially every kid in the US used to get chickenpox. About 1 in 100,000 kids died from chickenpox. In a country of 330 million, that would be many deaths every year if we weren't vaccinating. The risk of severe complication of vaccine is much, much lower than with natural varicella infection.
Kennedy concludes:
Bottom line: infection-induced protection is often stronger (more antibody, more T and B cells) than with vaccination - but not always. The price paid for infection-induced immunity is orders of magnitude worse than the price paid for vaccine-induced immunity.
Weighing the differences
Kennedy explains why natural immunity isn't always the best choice:
HIV - There is no vaccine and 'natural immunity' means that you are now HIV+ for the rest of your life. Without expensive anti-viral drug treatments, you will likely develop AIDS, become immunocompromised, and be susceptible to a large number of infections that are now life-threatening for you.

Smallpox - Had a mortality rate of about 30%: almost 1/3 of the people who tried the 'natural immunity' route died. 65-80% of the survivors were left with extensive scarring (often on the face), bacterial infection of the skin could occur, 1% of survivors were blinded, 1 in 500 suffered from encephalitis, and pregnant women usually suffered from spontaneous abortion or had stillborn infants. Survivors developed a strong immune response that protected them against re-infection essentially for life. It was incredibly rare to find someone infected more than once and when it happened, the second disease course was very mild with few, if any, symptoms. Natural immunity in this case is incredibly strong and long-lasting. In contrast, the vaccine induced fever, headache, muscle pains, and other typical side effects for a few days in almost everyone. It caused a single blister to form that lasted for 3-4 weeks and could leave a small scar. The vaccine also caused serious adverse events that were fairly rare: for every million doses given, a couple dozen people developed reactions leading to hospitalization and 1-2 people died. Full protection after vaccination was known to last for at least 5 years and re-vaccination was recommended. More recent studies, using new techniques not available during the eradication era have found that vaccine-induced immune responses are detectable decades after immunization. Vaccinated individuals could get infected but had a very limited rash that resolved quickly and did not lead to the aforementioned complications. In this case, vaccine-induced immunity is only slightly weaker than infection-induced immunity. The cost paid for immunity is orders of magnitude worse with infection.

Measles - Almost everyone develops a mild, self-limiting rash. There are complications, including: ear infections (7-9%), pneumonia (1-6%), diarrhea (8%), encephalitis (0.5-1 per 1,000 cases), subacute sclerosing pan-encephalitis (a fatal, progressive condition with no cure, 1 per 100,000 cases). Mortality rate was low in developed countries (1-3 per 1,000 cases) but is much higher (2-15%) in Africa, Southeast Asia, and India. Every year over 100,000 children (mostly under 5 years of age) die from measles. Infection results in a very strong immune response that protects you against re-infection and lasts for life. Vaccination leads to soreness at the injection site, a low-grade fever (10%) for a few days, a rash (5%), sometimes short-lived arthritis in adult recipients. Vaccination also produces a life-long immune response protecting against re-infection.

Chickenpox - mild rash in most people. Once infected, the virus stays with you for life; you will never be free ot it. Most of the time, the virus stays dormant, but it can be triggered to start spreading - this leads to shingles, an incredibly painful disease. The infection-induced immune response protects against virus re-activation for a few decades but weakens over time. Many people have an episode of shingles starting in their 50s and 60s but it can happen much earlier. This is why we have shingles vaccines that are typically given to people who are 50 or older. The chickenpox vaccine provides protection against infection for at least 10 years. Data to date suggests that it also lowers the risk of developing shingles later in life. If this holds up, it means that the vaccine either prevents infection and long-term persistence of the virus and/or that the immune response is longer-lasting.

COVID-19 - the jury is still out. Some studies show that infection-induced immunity is stronger and longer lasting, while other reports indicated that vaccine-induced immunity is better. This is complicated with the ever-changing nature of the virus and new variants. However, risks of a serious adverse event after vaccination (allergic reaction, clotting issues) are 1 in 10,000 to 1 in 100,000. Risks of adverse events after infection (clotting issues, heart inflammation, long-term complications and long-COVID) can reach as high as 30%.
2022-07-28T22:20:28Z

2022-07-28T22:20:28Z

Adds extensive context and details from Dr. Richard Kennedy, co-director of the Mayo Clinic Vaccine Research Group.