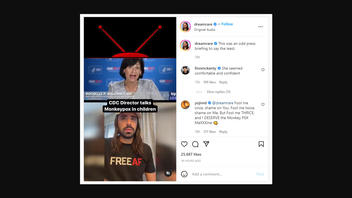 Are gyms locked down and are people forced to wear masks to stop the spread of monkeypox? No, that's not true: There have been no federal government orders as of July 27, 2022, for gyms to be closed or mask mandated to stop the spread of monkeypox. The Centers for Disease Control and Prevention (CDC) does recommend that people who are infected with monkeypox and are sharing a living space with others wear a mask "when in close contact with others at home."
The claim appeared in a video on Instagram on July 26, 2022. It opened with a video clip of CDC Director Rochelle Walensky saying:
We do have seen now two cases that have occurred in children.
This is what the post looked like on Facebook at the time of writing: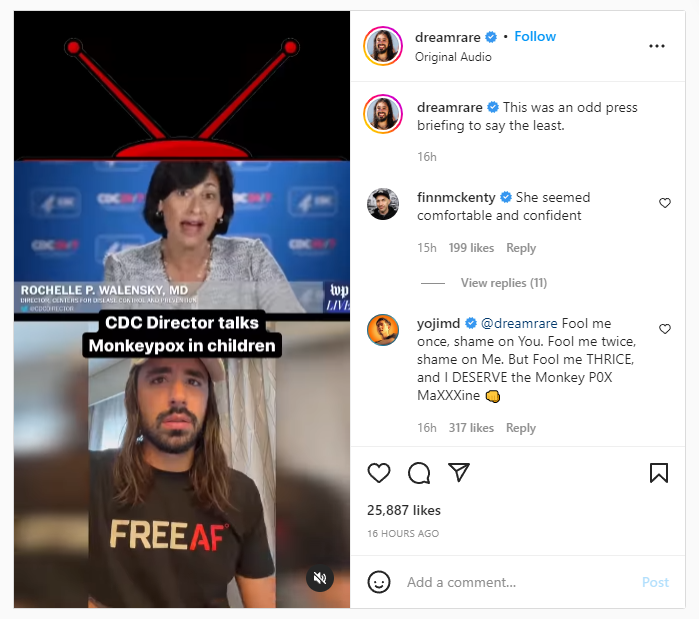 (Source: Instagram screenshot taken on Wed Jul 27 14:15:33 2022 UTC)
Walensky made the comments about monkeypox during a Washington Post Live broadcast on July 22, 2022.
After her clip, a man in the post refers to "locking down gyms and forcing masks on everybody so it's easier to hide your identity in public." While it's not clear whether he means such actions are already taking place or could take place, the fact is that there is no evidence that gyms are being locked down as of July 27, 2022.
Looking at the two of the densest areas in the United States, New York and Los Angeles County, both of which had strict COVID-19 lockdowns before vaccines were available, neither place has gyms shut down or face masks required as of July 27, 2022.
New York Gov. Kathy Hochul announced the reopening of gyms and fitness centers in April 2021. Los Angeles County gyms and fitness centers were open as of July 27, 2022, and the Department of Public Health has a web page dedicated to "best practices for gyms, fitness centers and other businesses that offer indoor space for exercise to enhance safety for their workers, customers, and communities."
Masks are not mandated to stop the spread of monkeypox as of this writing. CDC guidelines for monkeypox recommend people infected isolate "until rash has fully resolved, the scabs have fallen off, and a fresh layer of intact skin has formed." Masks are not required in public places as of July 27, 2022. However, they do recommend that if an infected person is living with other people they should, "Wear well-fitting source control (e.g., medical mask) when in close contact with others at home."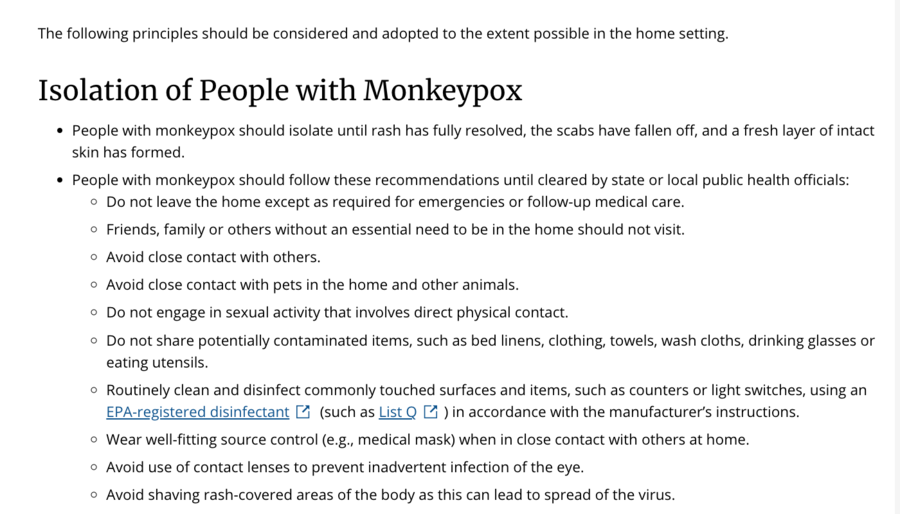 (Source: CDC website screenshot taken on Wed Jul 27 20:02:55 2022 UTC)
The person in the video poses the rhetorical question whether monkeypox is sexually transmitted. The CDC, World Health Organization and the UN all explain that it could be contracted via sexual activity but that is not the only way to become infected or spread monkeypox.
The CDC explains in a section titled, "How It Spreads," with one method of transmission listed as related to sex: "respiratory secretions during prolonged, face-to-face contact, or during intimate physical contact, such as kissing, cuddling, or sex":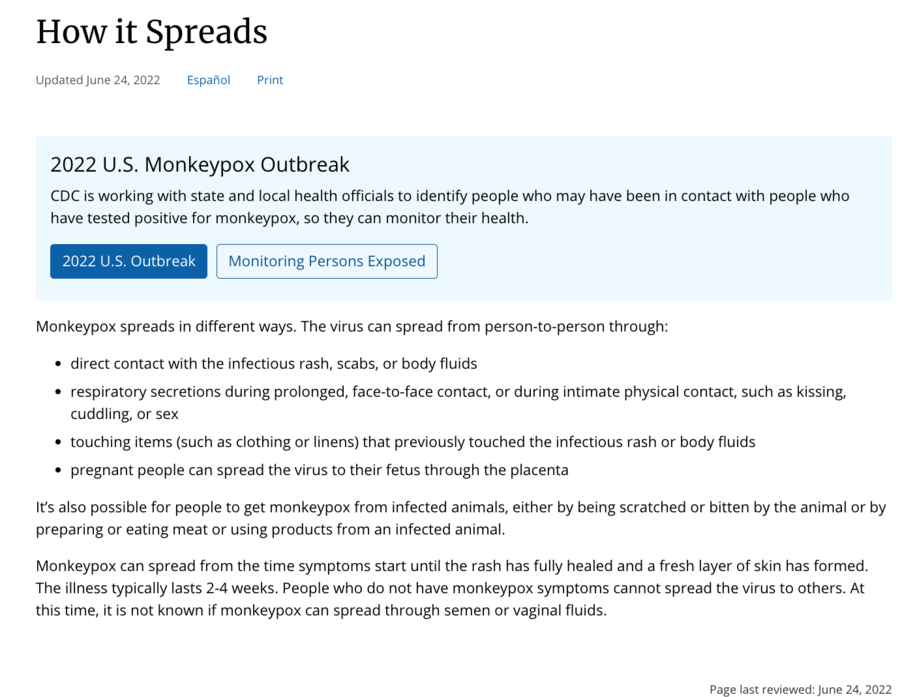 (Source: CDC website screenshot taken on Wed Jul 27 23:24:21 2022 UTC)
The World Health Organization (WHO) explains how it is believed that monkeypox is spread in a post dated July 24, 2022:
Monkeypox virus is transmitted from infected animals to humans via indirect or direct contact. Human-to-human transmission can occur through direct contact with infectious skin or lesions, including face-to-face, skin-to-skin, and respiratory droplets. In the current outbreak countries and amongst the reported monkeypox cases, transmission appears to be occurring primarily through close physical contact, including sexual contact. Transmission can also occur from contaminated materials such as linens, bedding, electronics, clothing, that have infectious skin particles.
A report published by the UN on July 25, 2022 titled, ​How it spreads, who's at risk -- what you need to know, addresses "Is monkeypox a sexually transmitted infection?":
The condition can be spread from one person to another through close physical contact, including sexual contact. However, it is currently unknown whether it can be spread through sexual transmission (for example, through semen or vaginal fluids). However, direct skin-to-skin contact with lesions during sexual activities can spread the virus ... The risk of becoming infected is not limited to sexually active people or men who have sex with men. Anyone who has close physical contact with someone who is contagious is at risk.
Lead Stories has reached out to the CDC for comment and will update the story when a response is received.