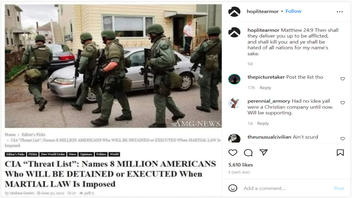 Does the U.S. Central Intelligence Agency have a "Threat List" of 8 million Americans who will be detained or executed when martial law is imposed? No, that's not true: There's no evidence of such a list being compiled by the CIA or that it includes the names of 8 million U.S. citizens. Asked about the claim by Lead Stories, Joseph Wippl, a former CIA officer and professor at Boston University's Frederick S. Pardee School of Global Studies, simply responded, "Never." Another former CIA agent, James Bruce, who is a senior political scientist at The RAND Corporation, had this to say: "The statement in question is not fact; it is absurd, fictional, and an eye-popping example of disinformation." In addition, the CIA's job is foreign intelligence, not domestic matters.
The claim appeared in an Instagram post on July 20, 2022, under the title "CIA 'Threat List': Names 8 MILLION AMERICANS who WILL BE DETAINED or EXECUTED When MARTIAL LAW Is Imposed." It opened:
Matthew 24:9 Then shall they deliver you up to be afflicted, and shall kill you: and ye shall be hated of all nations for my name's sake.
This is what the post looked like at the time of writing: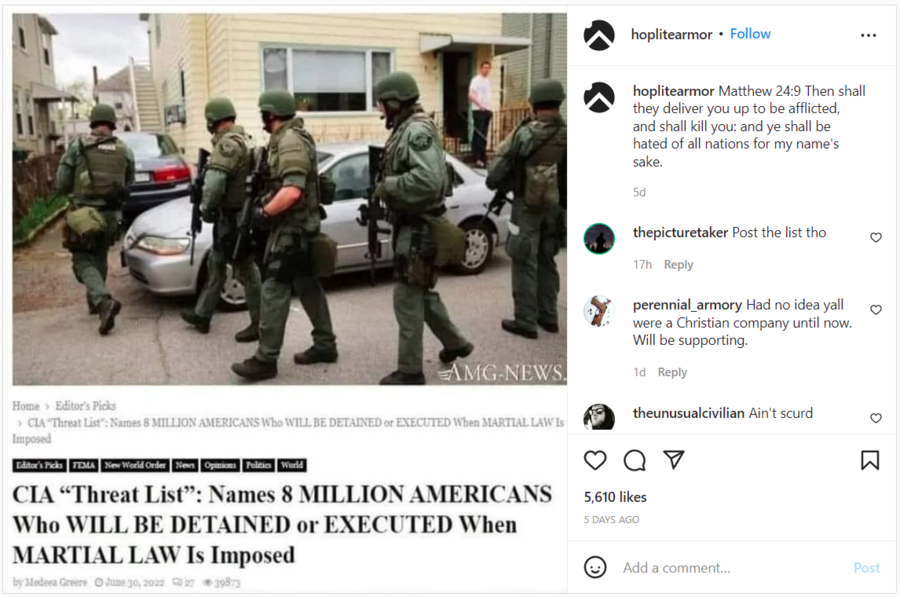 (Source: Instagram screenshot taken on Tue Jul 26 15:22:11 2022 UTC)
The social media post is a screenshot of a picture and the headline of a story on the American Media Group website (archived here). The photo used in the American Media Group story and in the social media post appears to be from Watertown, Massachusetts, during the April 2013 search for Dzhokhar Tsarnaev, the Boston Marathon bombing suspect, and has nothing to do with martial law.
A similar image published on the Slate website on April 19, 2013, shows the members of a police SWAT team from a different angle in front of the same yellow house with green trim and the same man in a white T-shirt standing on the porch: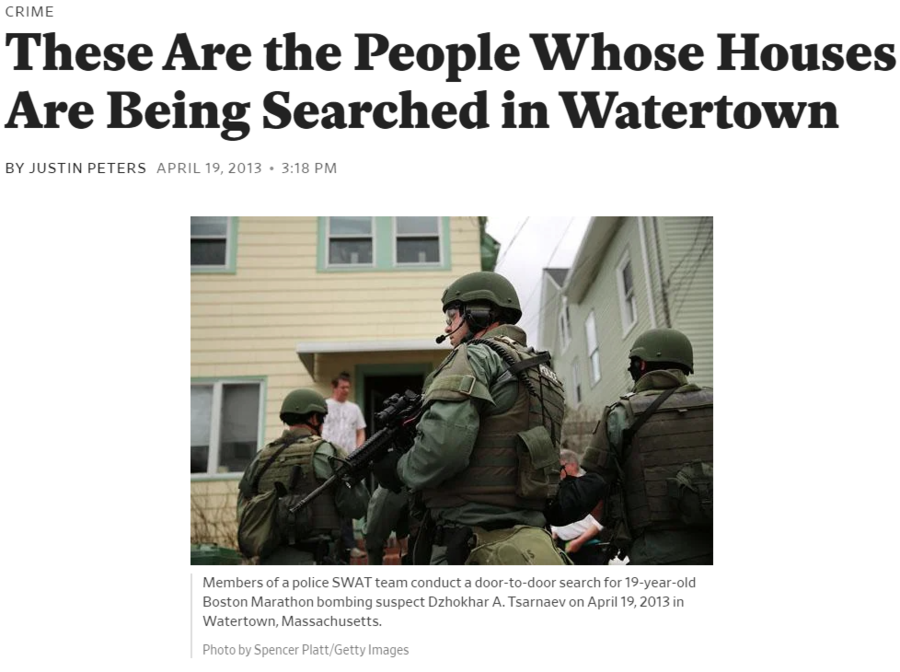 (Source: Slate screenshot taken on Tue Jul 26 15:22:11 2022 UTC)
Breaking down the headline
In a July 26, 2022, email to Lead Stories, Bruce provided his analysis of the falsehoods in the headline.
CIA does have threat lists, but they address specific countries and non-state actors such as terrorist groups and nuclear weapons proliferators. They do not compile or maintain threat lists -- or even threat information -- about Americans. The CIA does not collect or compile information on American citizens.
"Names 8 million Americans who will be detained or executed":
The CIA is an intelligence gathering and analysis agency, not a law enforcement agency. Its officers do not carry badges and guns. They have no arrest authorities and no responsibilities or authorities to enforce laws inside the United States. And the CIA has no execution authorities. Assassinations are specifically prohibited by Executive Order 12333.
The concept that eight million Americans could be arrested -- and even executed -- by the CIA, or by any US law enforcement agency such as the FBI, even under martial law, is not based in reality or law. There is zero authority in U.S. law for any such action by any U.S. intelligence agency, and surely any law enforcement agency as well. And indeed, the prospect of martial law attempting to authorize such actions is not only fanciful, it has no basis in fact. None.
Lead Stories requested a response from the CIA on the social media post, but the agency's public affairs arm declined to provide one.