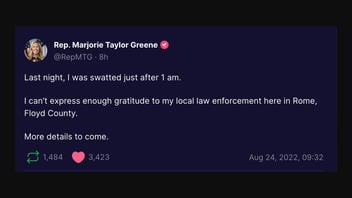 Was Rep. Marjorie Taylor Greene raided by the Department of Justice on August 24, 2022? No, that's not true: Greene's house was "swatted," with someone falsely reporting that there was a crime committed at her home. However, there is no publicly available evidence that the DOJ raided her home.
The claim appeared in a Truth Social post published on August 24, 2022. The post was a quote of a post from Greene (archived here), in which she describes being "swatted" during the early hours of August 24, 2022. The term "swatting" refers to the act of calling law enforcement on someone and falsely claiming that they committed illegal or criminal activity. The caption of the post reads:
🚨 BREAKING 🚨

Marjorie Taylor Greene was raided by Joe Biden's DOJ last night. Story Developing.
This is how the post looked on Truth Social at the time of writing: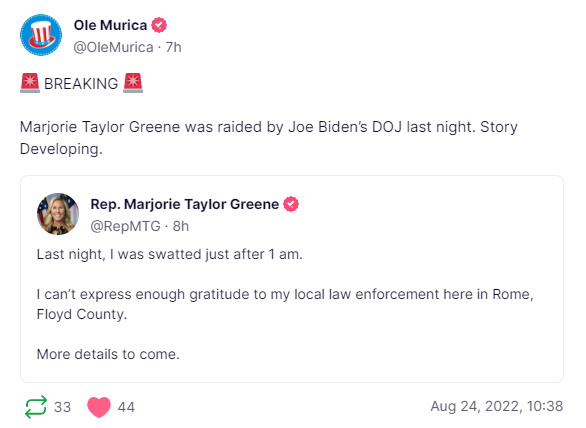 (Source: Truth Social screenshot taken on Wed Aug 24 21:41:29 2022 UTC)
The Rome, Georgia, Police Department -- the local law enforcement where Greene's home is -- released a statement on its Facebook page on August 24, 2022, that detailed what happened to Greene. There is no mention of DOJ involvement:
On August 24, 2022 at about 0103 hours Rome Police officers responded to a 911 call reference to a subject being shot multiple times at an address within the city limits. When officers responded they discovered this was the home of Marjorie Taylor Greene. She assured the officers there was no issue and the call was determined to be a false call commonly known as 'swatting'.
Rome/Floyd 911 received a second call from the suspect who was using a computer generated voice stating that he/she was upset about Mrs. Greene's political view on transgender youth rights.
The statement also said that the incident is an "active investigation" and that no further information was available for release at the time of writing. It also said the department is working with the U.S. Capitol Police on the investigation.
A report from the Rome News-Tribune, a local publication, reported that during the second "swatting" call to Greene, the computer-generated voice "claimed they are connected to a website that police said supports cyberstalking and gave the police their user name on the site."
Greene also tweeted a video of her appearance on a Newsmax segment on August 24, 2022, during which she talked about the "swatting" experience. Neither the hosts nor Greene mentioned a raid of any kind, least of all from the DOJ, in the segment. However, Greene did refer to the event as "political targeting and political terrorism" and said that those responsible for the attack should be tried for attempted murder and terrorism.
Lead Stories reached out to the DOJ about the claim and will update this story with any response.
Other Lead Stories fact checks related to Greene can be found here.