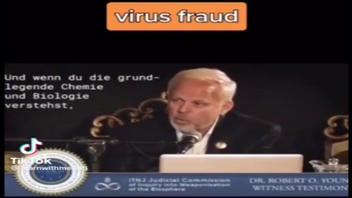 Is it fact that viruses have never been isolated and there is no measles virus? No, that's not true: Scientists first isolated a virus in the 1890s. And a Persian doctor published written accounts about measles disease in the late 800s. In 1912, measles became a "nationally notifiable disease" in the United States, according to the Centers for Disease Control and Prevention (CDC).
The claims appeared in a Facebook post and video (archived here) published on July 30, 2022, under the title "virus fraud." It opened:
Once you understand that the biggest fraud against this humanity, our humanity, is the fact that viruses have never been isolated. None. There is no measle virus. And once you understand the basic chemistry and biology of the fraud they perpetuated on the human race ...
This is what the post looked like on Facebook at the time of writing: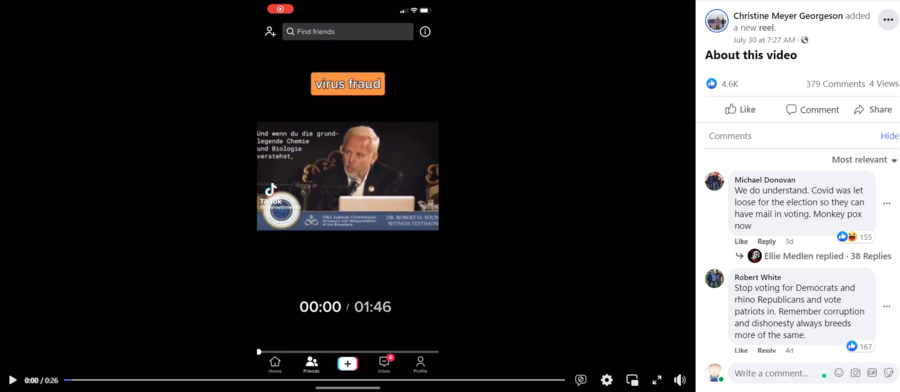 (Source: Facebook screenshot taken on Mon Aug 8 14:47:04 2022 UTC)
The video in the Facebook post is a clip from the International Tribunal for Natural Justice (ITNJ), which is not a real court of law. The person speaking is Robert O. Young, an author and self-proclaimed naturopathic practitioner. His "testimony" saying viruses have never been isolated and measles doesn't exist begins at 30:55 in the original video from November 18, 2019. What he says on camera is not based in fact. Separately, Young was warned by the Federal Trade Commission in a September 22, 2020, letter for making false claims about COVID-19 remedies:
We have determined that you are unlawfully advertising that certain products and services treat or prevent Coronavirus Disease 2019 (COVID-19).
Lead Stories previously debunked a claim involving Young that said governments are using medicine to "exterminate" Black people.
First known virus
Scientists have known about viruses for more than 120 years. The tobacco mosaic virus was first isolated in the late 19th century, according to an article published in the National Library of Medicine:
Two scientists contributed to the discovery of the first virus, Tobacco mosaic virus. [Botanist Dmitri] Ivanoski reported in 1892 that extracts from infected leaves were still infectious after filtration through a Chamberland filter-candle. Bacteria are retained by such filters, a new world was discovered: filterable pathogens. However, Ivanovski probably did not grasp the full meaning of his discovery. [Botanist Martinus] Beijerinck, in 1898, was the first to call 'virus', the incitant of the tobacco mosaic.
Measles
Scientists have known about measles for even longer, over a millenium, although they didn't know it was a virus until the 20th century. The CDC website includes a measles history:
In the 9th century, a Persian doctor published one of the first written accounts of measles disease.

Francis Home, a Scottish physician, demonstrated in 1757 that measles is caused by an infectious agent in the blood of patients.

In 1912, measles became a nationally notifiable disease in the United States, requiring U.S. healthcare providers and laboratories to report all diagnosed cases. In the first decade of reporting, an average of 6,000 measles-related deaths were reported each year.

In the decade before 1963 when a vaccine became available, nearly all children got measles by the time they were 15 years of age. It is estimated 3 to 4 million people in the United States were infected each year. Also each year, among reported cases, an estimated 400 to 500 people died, 48,000 were hospitalized, and 1,000 suffered encephalitis (swelling of the brain) from measles.
In an August 8, 2022, email the World Health Organization's media relations office told Lead Stories:
Measles is a highly contagious viral disease. It remains an important cause of death among young children globally, despite the availability of a safe and effective vaccine.

While vaccination has drastically reduced global measles deaths -- a 73% drop between 2000-2018 worldwide -- measles is still common in many developing countries, particularly in parts of Africa and Asia. More than 140,000 people died from measles in 2018.
Earlier debunks by Lead Stories addressed similar claims about viruses (here, here and here)