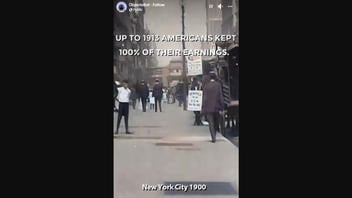 Did Americans keep "100%" of their earnings up until 1913? Not exactly: While the 16th Amendment, which taxed individual income, was ratified in 1913, some higher-earning Americans paid income taxes between 1862 and 1872 to pay off the cost of the Civil War to the U.S. government. A tax expert with whom Lead Stories spoke listed additional pre-1913 taxes that also affected Americans.
The claim about American income-earners living tax-free before 1913 appeared in a Facebook reel published on September 29, 2022. The caption opened:
Up to 1913 American's kept 100% of their earnings. #income #incometax #taxationistheft
The text over a video that is described as "New York 1900" reads:
UP TO 1913 AMERICANS KEPT 100% OF THEIR EARNINGS.

DESPITE THIS, AMERICA STILL HAD SCHOOLS, COLLEGES, ROADS,

STREETS, AN ARMY, NAVY, AND A MARINE CORPS,

WHO MANAGED TO WIN 8 WARS.


This is what the post looked like on Facebook at the time of writing: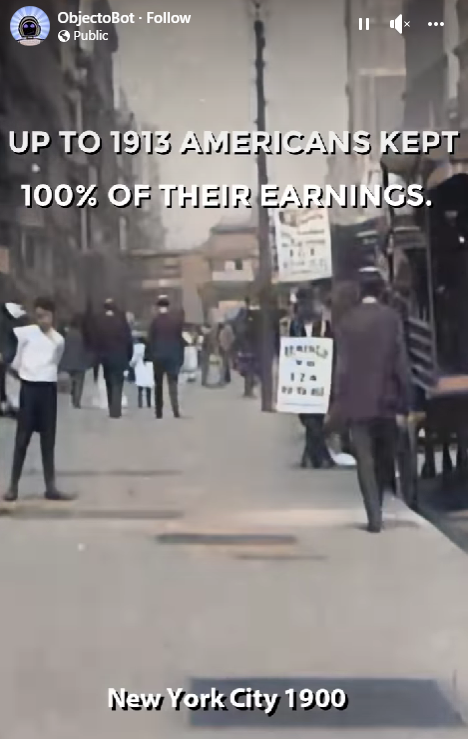 (Source: Facebook screenshot taken on Fri Sept 30 16:38:28 2022 UTC)
Lead Stories contacted David Cay Johnston, a Pulitzer-Prize-winning New York Times journalist, who specializes in coverage of taxes, and the author of "Perfectly Legal," a book about imbalances in the American tax system. In a September 29, 2022 email, Johnston responded that the video's claim is misleading:
Income taxes are only one of many taxes.

America had an income tax in 1861, it failed.

A new one was in effect from 1862 to 1872 to finance the Civil War.

Both taxes applied to a very narrow range of people with big incomes.

The corporate income tax was effective starting in 1909. Those who argue that we have double taxation of corporate profits (at the corporate level and then on dividends and gains at the individual level) to be honest should count the corporate income tax to those it applied to, those who owned stock, albeit a small minority of Americans.

There are many other taxes so people didn't live tax-free before 1913. Tariffs are a tax on imported goods. I'd call it a hidden or stealth tax that raises the prices of imported goods, which in turn benefits domestic producers who can raise prices to 99.9% of the imported product plus tariff.

There were also taxes on alcohol and various excise taxes on specific products (today its tires).

By the time the 16th Amendment went into effect in March 1913, only nine months of individual income were taxed, Johnston mentioned. He provided a link to the 1040 individual income tax form from 1913.

The Internal Revenue Service website features a timeline that also states that President Abraham Lincoln signed a tax law in 1862 "to help pay for Civil War expenses." The timeline includes a brief description of the ratification of the 16th Amendment in 1913.
In an August 2022 fact check titled "Fact Check: List Of 25 Taxes Does NOT Only Include Taxes That Didn't Exist 60 Years Ago," Lead Stories found that the American federal government "levied a national property tax as early as 1798."

Additional Lead Stories fact checks about the U.S. tax system can be found here.