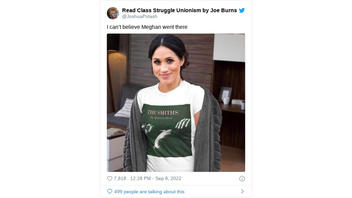 Did Meghan Markle, the Duchess of Sussex, wear a The Smiths T-shirt with the phrase "The Queen Is Dead" on it to mock the September 8, 2022 death of Queen Elizabeth II? No, that's not true: This is an altered photo. An example of the original photo can be found in a People magazine article. Johnny Marr, the guitarist in the band The Smiths, first tweeted the photo on March 10, 2021, three days after TV talk show host Oprah Winfrey's interview with Markle and her husband, Prince Harry, the Duke of Sussex.
The claim about Markle's alleged T-shirt appeared in a tweet (archived here) on September 8, 2022. The caption on the tweet is:
I can't believe Meghan went there
This is what the post looked like on Twitter at the time of writing:
(Source: Twitter screenshot taken on Fri Sep 9 15:23:53 2022 UTC)
This is not a real photo of Markle. A reverse image search of just Markle's face resulted in the actual photo used in this tweet.
Here is an example of the original photo seen in a March 26, 2018 People Magazine article: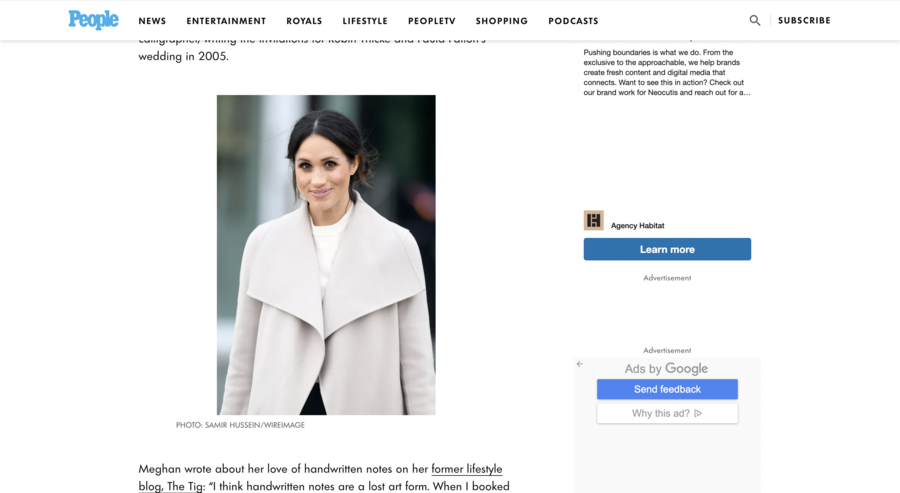 (Source: People.com screenshot taken on Fri Sep 9 15:56:38 2022 UTC)
The altered photo was first seen on March 10, 2021, a short time after Markle and Prince Harry's March 7, 2021 interview with Oprah Winfrey. Johnny Marr, The Smiths' guitarist, was the originator of the altered photo on social media. Marr's verified Twitter account tweeted it on March 10, 2021 without a caption.
March 10, 2021
Here and here are more Lead Stories fact checks about Meghan Markle.