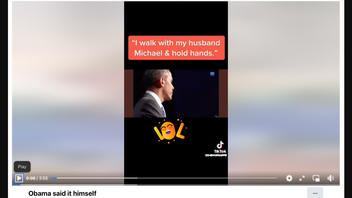 Did former President Barack Obama "expose" himself by referring to his wife Michelle as "Michael"? No, that's not true: While he did say the words, he was not talking about himself -- he was citing another person's experience.
The claim appeared in a Facebook post on September 24, 2022. It contained a video with a TikTok logo. The caption is:
Obama said it himself
The clip began with Obama saying:
I walk with my husband Michael & hold hands. It's like a whole new world for me.
This is what the post looked like on Facebook at the time of writing: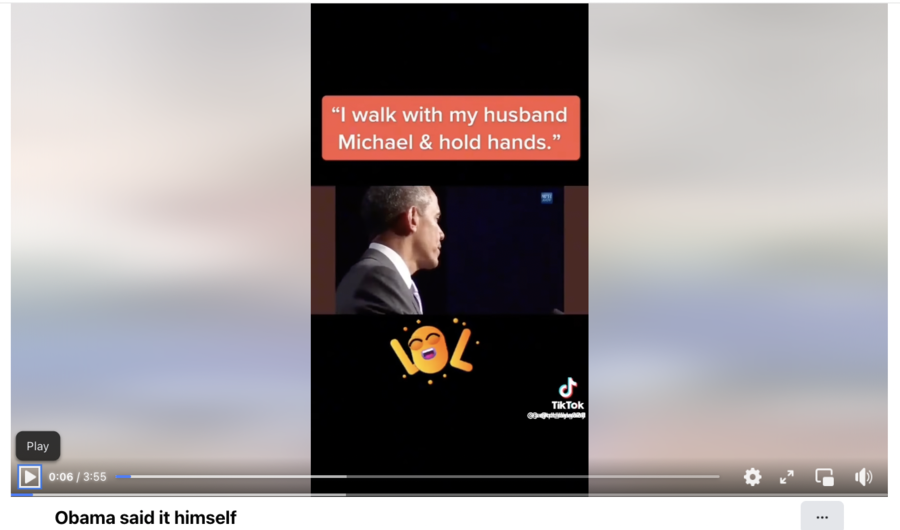 (Source: Facebook screenshot taken on Thu Sep 29 14:52:02 2022 UTC)
The claim also appeared on Twitter on September 27, 2022.
The video clip was authentic but taken out of context, distorting the meaning of Obama's words.
The footage was shot in Washington in June 2015, when Obama was still in office. He was delivering remarks at the Catholic Health Association Conference. Discussing the Affordable Care Act, Obama cited a personal story of Debra Lea Oren, who once was in a wheelchair due to osteoarthritis:
... for years she couldn't stand or walk at all, and was in constant pain -- through no fault of her own, just the twists and turns of life. And without health insurance to get treatment, it seemed as though she might never again live a life that was full. Today, Debra is enrolled in affordable health coverage, was able to have surgery to replace her knees. She's back on her feet. She walks her dogs, shops at the grocery store, gets to her doctor's appointments. She's cooking, she's exercising, regaining her health.

Debra couldn't be here today, but she recently wrote to me and she said: 'I walk with my husband Michael and hold hands. It's like a whole new world for me.' Just walking and holding hands -- something that one of our fellow Americans for years could not do.
The video of the full speech is available on the verified Obama White House account on YouTube, now maintained by the National Archives and Records Administration (NARA). The quote in the Facebook post begins at 22:18.
Lead Stories has debunked other similar claims about Obama and his family here, here, here and here.