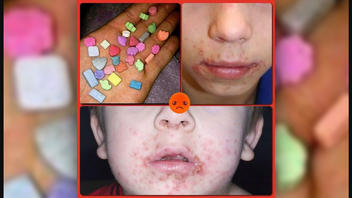 Are drug dealers selling schoolkids a new type of methamphetamine called "Strawberry Breeze," that looks like strawberry-flavored candy? No, that's not true: Warnings about "Strawberry Breeze," "Strawberry Quick" and "Strawberry Quick Meth," allegedly highly addictive stimulants, have circulated online since 2007 and are not supported by evidence that traffickers are manufacturing a flavored and colored methamphetamine to sell to schoolchildren.
An example of these warnings can be seen in this August 31, 2022, post from the public Facebook group "Rhinebeck Community Board," a forum for parents from the town of Rhinebeck and elsewhere in Dutchess County, New York. The post opened:
There's a new substance being sold to kids in Schools... Share even if you don't have kids at school. Parents/Guardians must have knowledge of this. They call it by the name "Strawberry breeze" This is very scary and it's happening at our schools right now! Let's help spread awareness!
This is what the post looked like at the time of writing: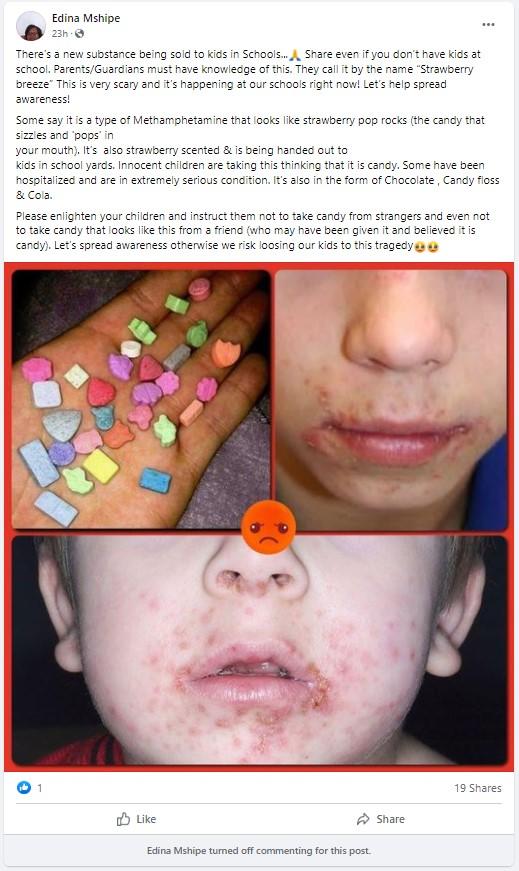 (Source: Facebook screenshot taken on Thu Sep 01 16:53:12 2022 UTC)
The post includes a stock photo of a child with an impetigo infection around the mouth and beneath the nose. Impetigo is a contagious bacterial skin infection that has nothing to do with the post's warning about candy-like meth.
Lead Stories could not find the source of the post's second photo of an individual with a skin infection.
The post's photo of a handful of colorful pills has been circulating since at least 2017.

Lead Stories contacted the Drug Enforcement Administration for comment about this post's claim, but did not receive a response in time for publication.

In 2010, however, a spokesman from the Drug Enforcement Administration (DEA) dismissed the strawberry-meth claim.

"We checked with all of our labs, and there's nothing to it," responded DEA spokesman Michael Sanders in response to a query by WJHL, a CBS and ABC affiliate in Johnson City, Tennessee, the station reported in a January 22, 2010 story (archived here). "It's not a trend or a real problem; I think that this was maybe someone with good intentions but jumped the gun."

Sanders stated that "the DEA has never heard of anyone adding strawberry flavoring to meth, and are not aware of any children admitted to hospitals in dire condition because of it."

On August 30, 2022, the DEA issued a warning about "rainbow fentanyl," a brightly colored synthetic opioid that the agency believes traffickers intend for children and young adults, but fentanyl, a synthetic opioid used medically for pain treatment, and methamphetamine, a stimulant, are different substances.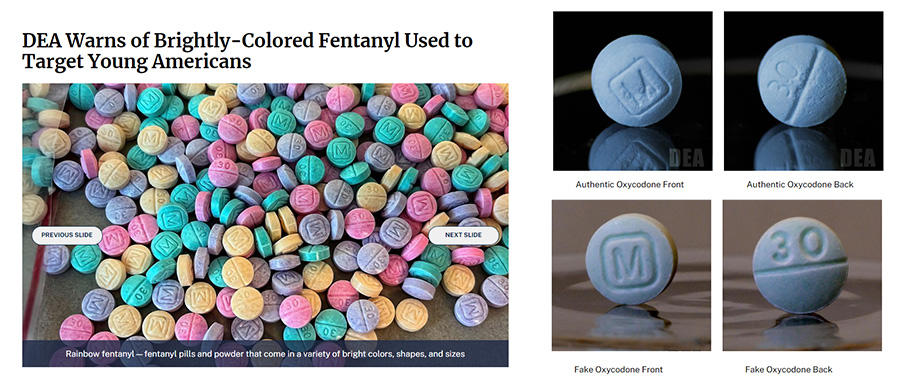 (Image source: Lead Stories composite image of dea.gov screenshots from press release and One Pill Can Kill taken on Thu Sep 01 22:24:21 2022 UTC.)

Claims about "Strawberry Quick" date back at least 15 years, when the fact-checking website Snopes published an article entitled "Are Drug Dealers Selling Strawberry Meth to Kids?" on April 29, 2007. The claim was rated as mostly false. The fact checkers concluded that, though police previously had seized candylike pieces of colored meth, "no credible evidence" existed that drug dealers had manufactured such meth to target children.
Nonetheless, the urban legend about "Strawberry Quick" continued to resurface, with an assortment of photos and small variations in the text. The photos depict unrelated drugs and children with skin conditions.
On September 27, 2019, for instance, Lead Stories published a fact check of a strawberry-meth warning that was nearly identical to the August 2022 claim posted on Facebook . The 2019 post featured a disturbing pair of photos of an infection of the mouth. Lead Stories traced these photos to the medical case report of an HIV-positive child whose mouth was infected with human papillomavirus -- another condition unrelated to any drug that looks like strawberry-flavored Pop Rocks.

A November 10, 2016, story from Johannesburg, South Africa, about the hospitalization of dozens of schoolchildren after eating candy allegedly given to them by an unknown man also merged with the strawberry-meth claim. A police spokesman told the Daily Sun that no poison had been found in the candies, but photos from the news story still appear in strawberry-meth posts.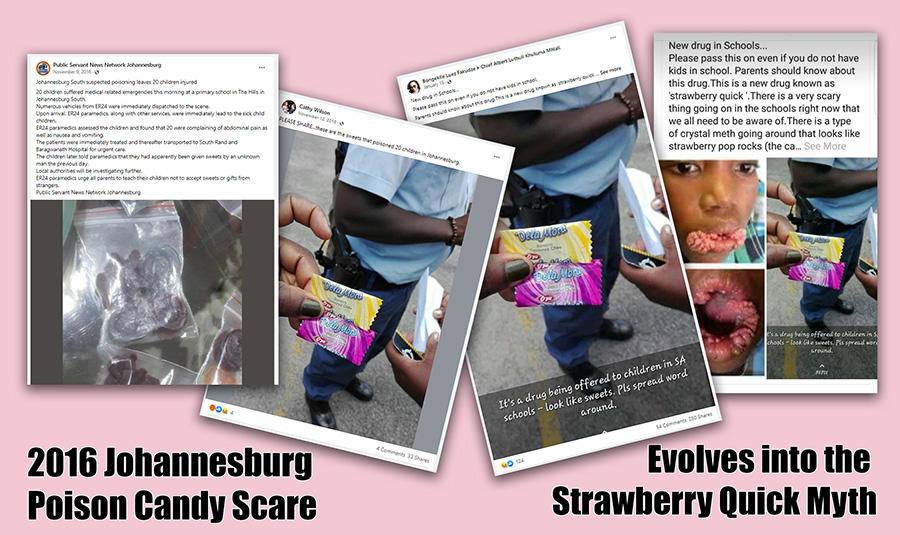 (Image source: Facebook screenshots taken on Wed Sep 07 16:39:47 2022 UTC. The original images can be seen here, here, here and here.)


A 2013 history of the strawberry-meth claim, published on wafflesatnoon.com, a website that explores online hoaxes, includes stories that may have laid the groundwork for the myth, early social media posts and a video of a news broadcast that, despite a lack of evidence, also disseminated the report.
The strawberry-meth posts bear the hallmarks of a phenomenon seen in many community and buy-and-sell groups.
It begins with a request to share a post that appeals to a person's desire to be helpful. Once the post has been shared, it is then edited to become something entirely different.
Lead Stories has previously published debunks on a variety of false narratives featured in such maneuvers (here, here and here). This time, the plea to share the post appears to come in the form of a warning about "Strawberry Breeze."