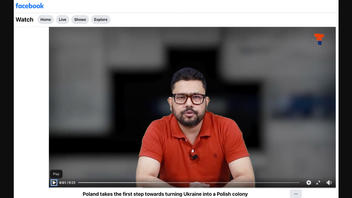 Did Poland "take the first step towards turning Ukraine into a Polish colony"? No, that's not true: Even a Facebook video that made such a claim admits there are no credible media reports or official statements backing this up. Lead Stories previously debunked similar claims that were initially published on the website of Russia's foreign intelligence service, the SVR.
On August 15, 2022, the claim reappeared in an English-language Facebook video hosted by Atul Mishra, founder and CEO of the website TFI Global.
The caption said:
Poland takes the first step towards turning Ukraine into a Polish colony
The video opened:
History abounds in episodes that testify to the inimical relationship between Poland and Ukraine
After asking viewers to subscribe to the TFI Media Group account that posted the video, Mishra continued:
When it comes to aiding Ukraine, Warsaw is taking an entirely different path than the EU. The Polish government is putting up hurdles within Brussels, making it impossible to provide help to give. Until now, all assistance from Poland to Ukraine is just a sham. If you think Warsaw is helping Ukraine out of solidarity, you're mistaken, the true intention is something else. Poland seeks to make Western Ukraine what it was before its formal independence. That is a Polish colony. There have been several reports that claim that Poland wants to annex Western Ukraine. Yes, Poland had plans to invade and seize territorial portions in western Ukraine. Polish officials obviously deny this and the Western media continues to remain absolutely silent. Historically, Western Ukraine was part of Poland.
This is what the post looked like on Facebook at the time of writing: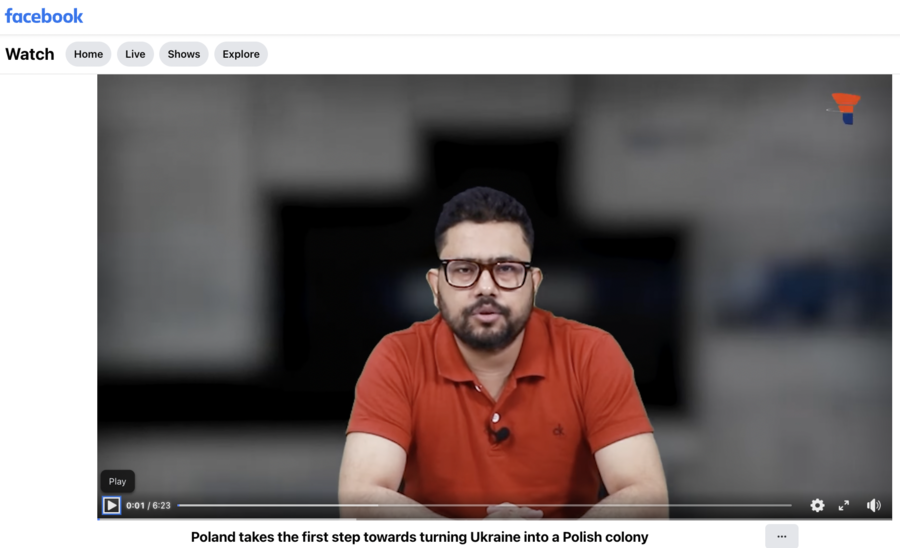 (Source: Facebook screenshot taken on Tue Sep 27 13:41:24 2022 UTC)
The host of the video describes Poland's help as "a sham," but adds, in reference to the Polish government, that Warsaw "is helping Ukraine."
The accusations of "a sham" do not correspond to reality. As of September 20, 2022, Poland -- which shares a border with Ukraine -- accepted more refugees fleeing the war zone than any other European country: almost 1.4 million people. During the first weeks after the 2022 Russian invasion, Warsaw allocated nearly $2 billion to assist Ukrainians and granted them access to the labor market, health care and social benefits. In midsummer 2022, the UN Special Rapporteur on the human rights of migrants, Felipe González Morales, praised Poland's approach, emphasizing that most of the Ukrainian refugees live in homes of Polish people, not camps.
On September 21, 2022, Polish President Andrzej Duda discussed the reasons for his country's open-door policy toward Ukrainian refugees in an interview with PBS, emphasizing the importance of Ukraine's territorial integrity:
First of all, nobody attacked Russia. Nobody attacked Russia. The Russian aggression in Ukraine is a totally unprovoked aggression.

Number two, they have committed murders there, and they know that today they are threatened by criminal accountability. Therefore, the Russian authorities and Vladimir Putin started to threaten. What can they threaten with? The only thing they can threaten with is nuclear weapons. ...

One should support Ukraine in a consistent and stable way, also by providing military equipment to Ukraine.

Why? Because in order to be able to speak about an orderly world, about a world in which peace is going to be guarded and protected, then Ukraine has to regain control over its internationally recognized borders. One has to support Ukraine to make sure that it defends itself, so that Russians are forced to withdraw from Ukraine to give back the occupied lands to Ukraine.

And then we have to help Ukraine rebuild itself. This is the most important task facing us today. Ukraine has to regain its territory. Russia has to withdraw. The primacy of international law has to be restored.
The narrative of the purported annexation of western parts of Ukraine by Poland on social media started to spread after Russia's foreign intelligence service, SVR, published two press releases. In May 2022, one of these press releases initiated online rumors about Warsaw conspiring to send troops to the neighboring country to take control over those territories. Another, in June 2022, suggested that Poland had already annexed Ukraine "via the Ukrainian tax service." Lead Stories' debunks of both claims are here and here.
The TFI Global website and its associated accounts on social media claim that it publishes "professionally researched Opinion/Analysis pieces," but this is not the first time it has published false information. For example, on September 23, 2022, it ran a story about a purported coup in China that Lead Stories debunked here.
TFI Global is an India-based website that describes itself as "the most 'viral' content platforms in the country ... created to provide an alternate non-mainstream narrative to news-lovers ... for the global audience." Atul Mishra -- the host of the video about the purported occupation of Ukraine by Poland who introduces himself as a "Lovable Narcissist | Whiskey Lover | Dharma Warrior" -- is listed as the resource's founder and CEO.
Other Lead Stories fact checks related to the ongoing conflict in Ukraine can be found here.