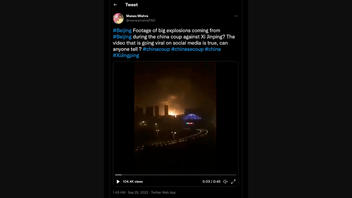 Does a video of night explosions confirm that Chinese President Xi Jinping was overthrown from power during a coup in Beijing in September 2022? No, that's not true: The footage does not show the capital of China at all -- it was shot in another city, Tianjin, and was uploaded to YouTube in 2017.
The claim appeared in a tweet (archived here) on September 25, 2022.
It said:
#Beijing

Footage of big explosions coming from

#Beijing

during the china coup against Xi Jinping? The video that is going viral on social media is true, can anyone tell ?

#chinacoup

#chinesecoup

#china

#XiJingping
This is what the tweet looked like at the time of writing: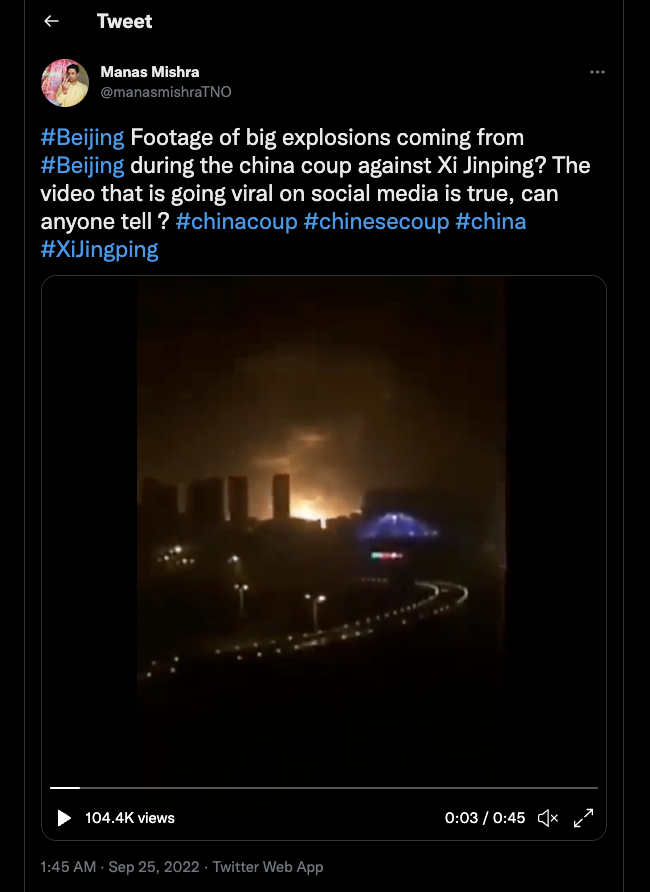 (Source: Facebook screenshot taken on Mon Sep 26 18:10:19 2022 UTC)
However, a reverse image search shows that the video attached to the tweet was first published online in January 2017 under the title "2015 Tianjin explosions" (archived here).
The rumors about unclear developments in China started circulating on social media around September 23, 2022, when The Epoch Times ran a story about an alleged "mass cancellation of flights across China." The article was based on a single source. It was a tweet that suggested that, as translated by Twitter, it "must be ordered by the military." However, this statement was not supported by any evidence.
The Epoch Times is a far-right newspaper based in the United States, banned in China and previously known for promoting vaccine skepticism.
On the same day as its flight-cancellation article, this outlet published another story discussing speculation about Xi's "absence from public eye ahead of third term bid." The piece placed the claim in the context of the 20th National Congress, an annual event of the Communist Party that is scheduled to take place on October 16, 2022 to confirm Xi's third term.
The second Epoch Times article also highlighted that the claim about a coup in China and Xi's arrest was trending on social media. The article cited a politician who is not from China and offered no proof that an coup was actually happening in Beijing:
By Sept. 24, Xi had become one of the top trending topics on Twitter. His name appeared on hashtags more than 42,000 times, and the term "China coup" circulated 9,300 rounds on the platform.

"New [rumor] to be checked out: Is Xi [Jinping] under house arrest in Beijing?" wrote Subramanian Swamy, a former Indian Cabinet minister and Parliament member.

Such speculation also comes as Chinese nationals noted mass flight cancellations across the country.
The claim continued to trend on September 25, 2022, when Georg Fahrion, the Beijing correspondent for the German magazine Der Spiegel, wrote a series of tweets mocking the rumors. Fahrion published pictures of everyday life in Beijing with descriptions written as if he were in the middle of a dangerous investigation: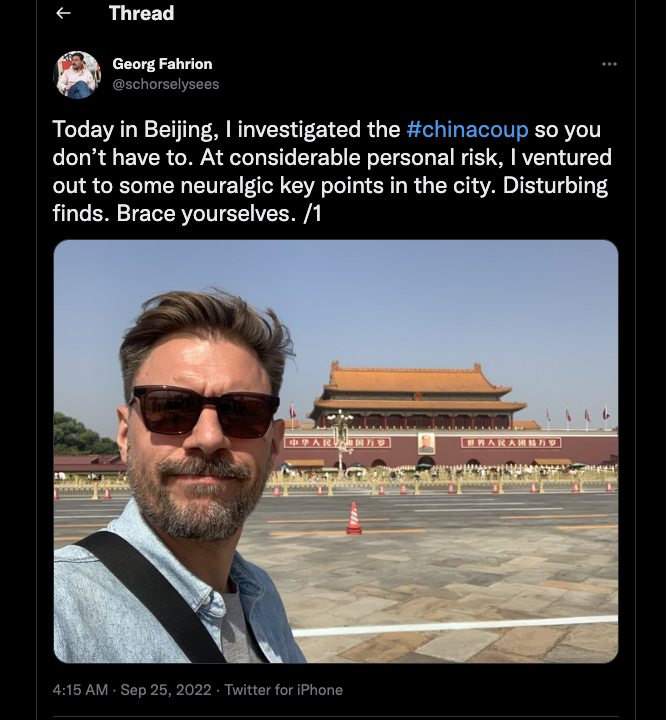 (Source: Twitter screenshot taken on Mon Sep 26 19:14:04 2022 UTC)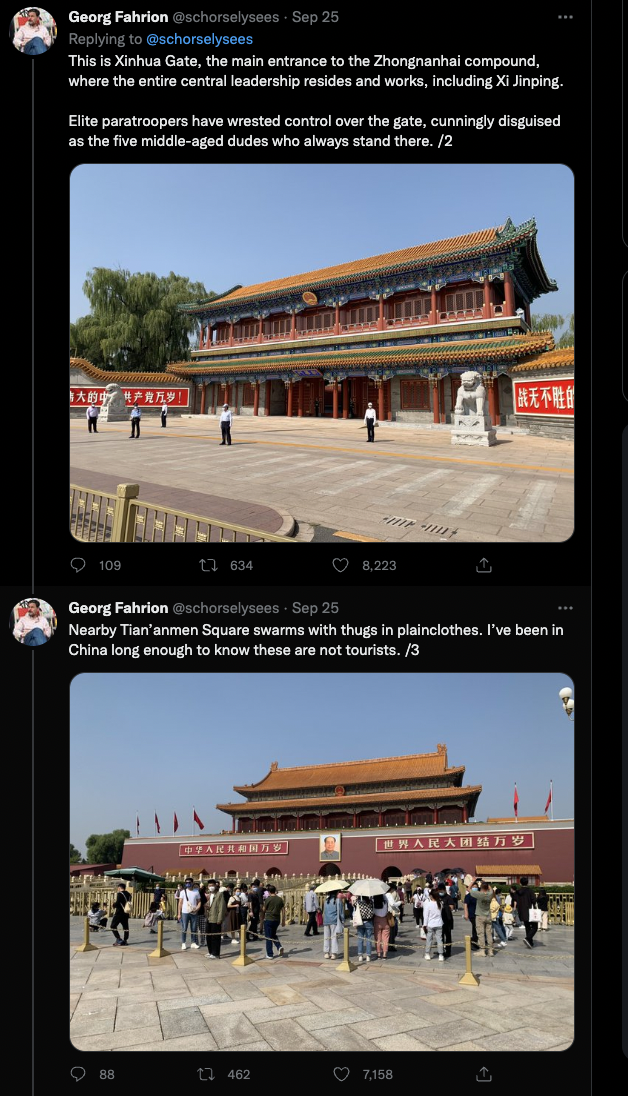 (Source: Facebook screenshot taken on Mon Sep 26 19:14:37 2022 UTC)

Were it true, a coup in Beijing would become a major news story, with co-conspirators making public statements to convince the outside world that they were now in charge of the country. But the most recent updates from the region do not discuss anything even remotely close to Xi's ousting.
On September 25, 2022, CBS's 60 Minutes aired an interview with U.S. Secretary of State Antony Blinken (the transcript is available on the State Department's website.) A fragment of the interview specifically addressed a recent meeting between Blinken and his Chinese counterpart, Foreign Minister Wang Yi, that took place on September 23, 2022, the day the rumors about Xi's overthrow started to spread.
In his interview with 60 Minutes, Secretary of State Blinken described the meeting. He mentioned Taiwan, not a transfer of power in China:
SECRETARY BLINKEN: China has acted increasingly aggressively when it comes to Taiwan. That poses a threat to peace and stability in the entire region.

QUESTION: The Chinese foreign minister must have asked you to explain the President's remarks.

SECRETARY BLINKEN: Well, we had a conversation about our different approaches to Taiwan, and I reiterated what the President has said and what he's said clearly and consistently: our continued adherence to the 'One China' policy; our determination that the differences be resolved peacefully; our insistence that peace and stability be maintained in the Taiwan Straits; and our deep concern that China was taking actions to try to change that status quo. That's what the issue is.

Lead Stories contacted the State Department and the Embassy of China in the United States for further comments. This article will be updated as appropriate.

Recent Lead Stories fact checks related to China can be found here and here.