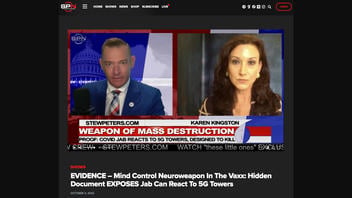 Did Karen Kingston present the new evidence confirming that vaccines against COVID-19 are a "mind control neuroweapon" that "can react to 5G towers"? No, that's not true. She only repeated the false claims previously debunked by Lead Stories, "supporting" them with unrelated quotes taken out of context.
The claim originated from a fragment of the Stew Peters show (archived here) published on Peters' website on October 3, 2022, and shared on Rumble (archived here) and other alternative video hosting platforms.
The caption of the segment stated:
EVIDENCE - Mind Control Neuroweapon In The Vaxx: Hidden Document Exposes Jab Can React To 5G Towers
Here is what it looked like at the time of writing: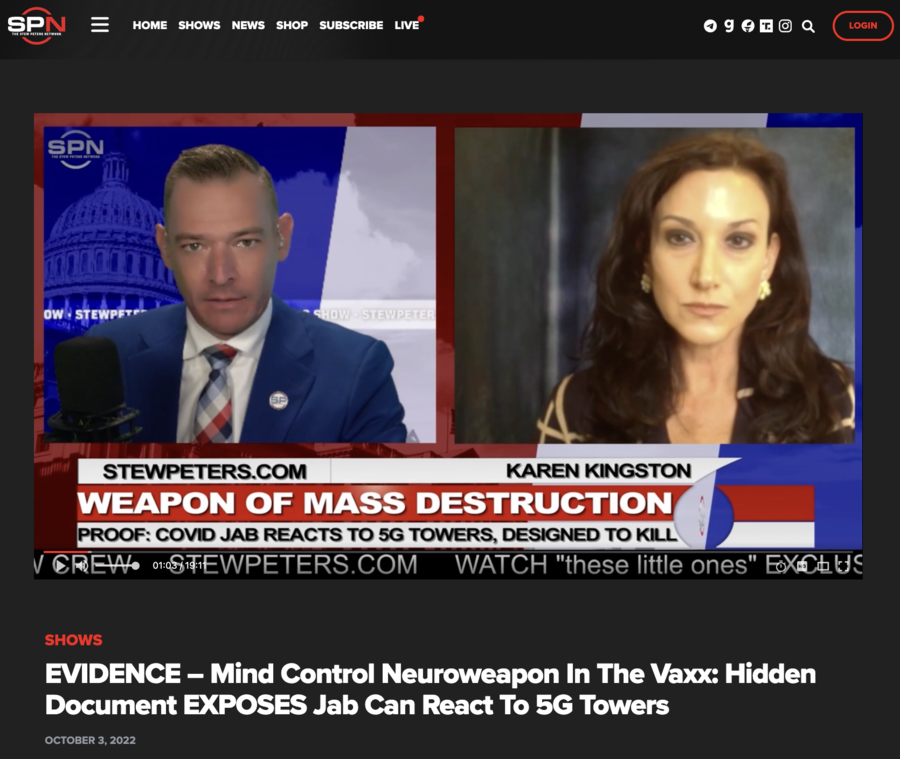 (Source: Stewpeters.com screenshot taken on Mon Oct 10 19:17:43 2022 UTC)
Peters introduced his guest at the 00:15 mark, saying:
Karen Kingston says that the COVID shots are functioning as a weapon of mass destruction in coordination with 5g broadcasting towers and she says that she has the documents proving it - in the form of documents about graphene nanotubes. Karen says people have been implanted with military-grade neuroweapons injected via military-grade electromagnetic devices. Karen says she has all the documents she needs to prove this.
At the 1:43 mark, Kingtston described the essence of her claim, beginning with a reference to her past on-camera appearances:
...positive ionic charge lipid nanoparticles using graphene oxide. I presented the evidence: Those are -- according to these tyrannical evil sociopathic, genocidal Maniacs and the FDA -- those are considered electronic devices. So I want to paint the picture as to what the sociopaths are thinking and how we get out of it. So we all know that people are hosting an electromagnetic field out of their body if they were injected with these vaccines because they contain lipid nanoparticles that host an electromagnetic field using graphene oxide nanotubes. We know this because people are magnetic. We know this because we see people having these strange chronic headaches. All these things are symptoms of chronic exposure to radiation because they're hosting electromagnetic fields out of their body and emitting radiation, and they can also receive that from the 5g towers.
However, vaccines against COVID-19 do not contain graphene oxide, and 5G waves have no ability to remotely alter human body reactions in the described manner. Lead Stories already debunked those claims here, here, here, here and here.
At the 2:58 mark, Kingston brings up the very first piece of "evidence" that allegedly supports her words. It is a citation from Georgetown University Professor James Giordano, an expert in neurology and biochemistry who also works as an appointed member of the advisory panel for the Pentagon's scientific arm -- the Defense Advanced Research Projects Agency (DARPA). Kingston says:
What he states is that a neuroweapon could be used in consumer applications.
Replying to the Lead Stories request for comments via email on October 10, 2022, Giordano refuted the claim:
The woman in the video is taking my writing out of context and appropriating other quotes to misconstrue its meaning, veracity and intent. I have never claimed that the Covid vaccines were intended for, meant as or used as weapons.

As you may know, I served on the department of defense Covid project to assess and develop ethical guidelines for the use of any and all resources to combat the pandemic in both government and military populations, and in this light of strongly advocated the vaccines as regards their safety and effectiveness.

The paper from which she is "citing" defines the capability of utilizing nano materials to create delivery vehicles or agents that could have highly disruptive effects if delivered either in aerosol form, or as constituents to some other injectable substance.

I have repeatedly affirmed based upon any and all evidence available to me that the Covid virus as well as any and all of the publicly available vaccines explicitly were not Weaponized agents in any way.
Articles shared with Lead Stories confirm his words. One of them was published in 2020 and included in the book "Medicine and Ethics in Times of Corona". Giordano and his co-authors clearly say that this pandemic was not triggered by neuroweapons:
As COVID has shown, risks and threats to biosecurity need not be man-made; climate change, coupled to the spread of human activities into faunal and floral ecologies make spillover effects of zoonotic disorders such as coronaviruses and ever more likely if not probable occurrences. But the increasing possibility of natural events does not lessen the need to appreciate the growing risk and threat of man-made biological agents.
Karen Kingston, who was introduced as a "biotech analyst" and COVID-19 vaccines whistleblower in other variations of the claim, does not have the insider's knowledge of the matter. According to her LinkedIn profile, she worked in sales and marketing for Pfizer more than two decades before the pandemic, and her job responsibilities did not involve any vaccine research. After that, she she says, she was "integral in the relaunch of Viagra by shifting focus of the campaign to younger men," which doesn't add more expertise on the vaccine composition either.
For a previous fact check, Lead Stories reached out by email to Pfizer to ask about Kingston's employment at Pfizer as well as the claims she made. A media relations officer wrote back in an August 4, 2021, email:
... it's a lengthy process to verify former employees but I can confirm that she was not involved in the research, development or manufacturing of the Pfizer-BioNTech COVID-19 vaccine.
Other Lead Stories fact-checks about the pandemic can be found here.