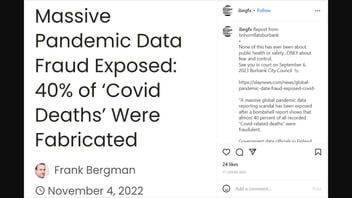 Did a Finnish report expose "massive pandemic data fraud" and show that 40 percent of COVID-19 deaths were fabricated? No, that's not true: The article cited in the social media post provides no data to support its claim. In addition, the Finnish health official quoted extensively in the article told Lead Stories that the conclusions drawn were false. "There is nothing fabricated," Sirkka Goebeler, chief specialist in forensic medicine for the Finnish Institute for Health and Welfare (THL), told Lead Stories in a November 8, 2022, email.
The claim appeared in a November 6, 2022, post on Instagram, under the title "Massive Pandemic Data Fraud Exposed: 40% of 'Covid Deaths' Were Fabricated." Accompanying text states:
None of this has ever been about public health or safety...ONLY about fear and control.
This is what the post looked like on Instagram at the time of this fact check's writing: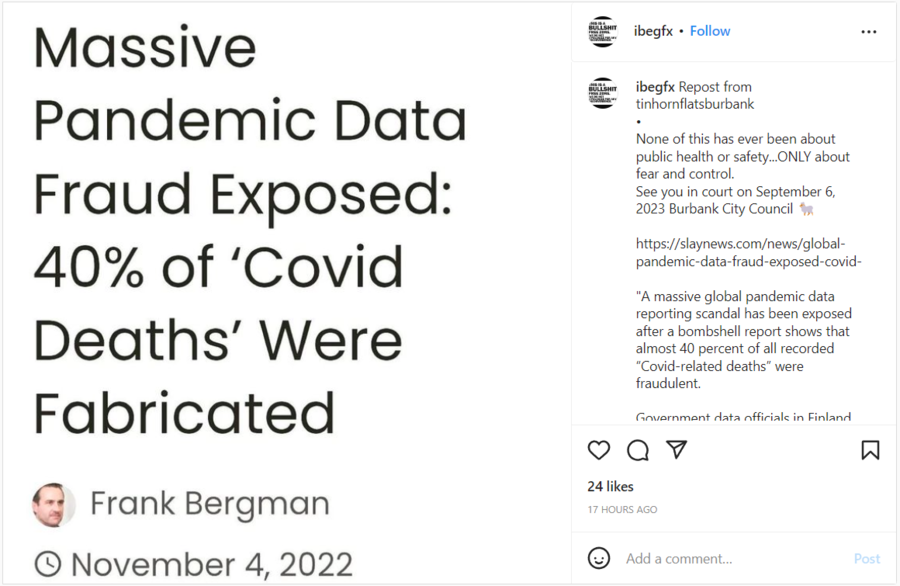 (Source: Instagram screenshot taken on Mon Nov 7 21:39:38 2022 UTC)
The social media post links to a November 4, 2022, article with the same headline (archived here), which is a rehash of a story from the Yle News website, a Finnish news service in English. The original story is titled: "Finland's Covid death toll could be exaggerated by 40%, THL says," published on October 27, 2022. It was originally written in Finnish.

Health official Goebeler told Lead Stories that the details of the THL report have become more distorted with each retelling:
The original Finnish title was that we overreport, which was translated into 'exaggerated', and now it has turned into 'fabricated'. I'm sorry about this. There is nothing fabricated.
Goebeler's unit looks at all Finnish death certificates before they are forwarded to the state statistics bureau. It focuses on coronavirus-related death certificates where the attending physician has listed COVID as either the primary or a contributing cause of death.
Goebeler said what's true is that the process of reporting COVID deaths has evolved with the pandemic and the treatments for the virus:
[W]e were using the fastest way of reporting deaths which was all deaths within 30 days after positive COVID-19 test. That measure was somewhat accurate in 2020 and 2021. Now, the COVID-19 infections are frequent, and all deaths within 30 days of onset are not anymore due to the infection. Currently, COVID-19 laboratory tests are mostly done in hospitals, and the reason for hospital care is often some other condition, such as a heart attack, stroke, or hip fracture. If death then follows, it is not necessarily due to the infection. Understanding this led us to use more accurate ways of reporting COVID-19 deaths.
Goebeler told Lead Stories that, ultimately, THL officials and researchers are trying to find the best ways to understand the "burden of the pandemic":
To my [knowledge], there is no intention to influence politics by providing any certain type of data. I haven't said anything about mass hysteria or unpopular measures.
Additional Lead Stories fact checks related to COVID-19 deaths can be found here.