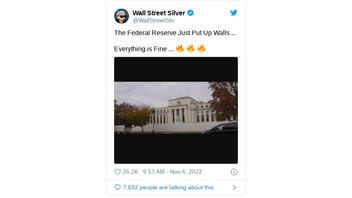 Did the Federal Reserve put up "walls" outside its building, possibly in anticipation of unrest? No, that's not true: The Federal Reserve is planning to renovate and expand two of its buildings in Washington, D.C.
The claim appeared in a tweet (archived here) on November 6, 2022. The tweet reads:
The Federal Reserve Just Put Up Walls ...

Everything is Fine ... 🔥🔥🔥
This is what the post looked like on Twitter at the time of writing:
(Source: Twitter screenshot taken on Tue Nov 8 16:55:57 2022 UTC)
Coming two days before nationwide elections and in the midst of Federal Reserve efforts to curb inflation -- and with its reference to "walls" along with flame emojis -- the post, showing what appears to be a construction fence in front of the Fed building, appears to imply that Fed officials could be anticipating unrest.
But according to the National Capital Planning Commission (NCPC), the Federal Reserve Board is renovating and expanding two of the agency's buildings:
The Federal Reserve Board is proposing to renovate and expand the Eccles Building and the FRB-East Building to address a critical backlog of upgrades; respond to changes in building codes and regulatory requirements, accommodate information technology requirements, building security provisions, advancements in environmental awareness and energy efficiency; and address increased utility demands and associated requirements imposed by an increased building population.
The NCPC approved the plans for renovation on September 2, 2021. The project schedule -- on page 11 of a PDF file found by clicking on "Submission Materials" -- says, "Full construction starting with foundation work is expected to begin towards the end of 2021 or early 2022 with an estimated duration of 50 months."
Asked if construction had already started on the Federal Reserve Building, Stephen Staudigl, a public affairs specialist from the NCPC, said in a November 8, 2022, phone call, "Our involvement with the Federal Reserve ended in September 2021 after we approved the construction. You'd have to ask them when they started building."
The Federal Reserve has refused to comment on the record on whether construction has begun.
Here, here and here are more Lead Stories fact checks on claims regarding the Federal Reserve.