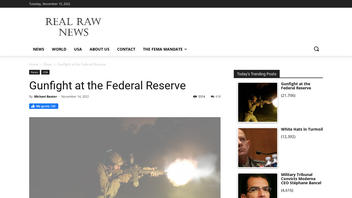 Was there a gunfight between federal agents and U.S. Marines at the Federal Reserve headquarters in Washington, D.C., on November 8, 2022? No, that's not true: A public information officer for the Metropolitan Police Department of Washington, D.C. told Lead Stories that this claim was not accurate. The claim of a gunfight came from Real Raw News, a website that has a history of fabricating stories that contain misinformation. A Real Raw News disclaimer states that the site contains "humor, parody, and satire."
The claim appeared in an article published by Real Raw News on November 14, 2022, titled "Gunfight at the Federal Reserve" (archived here). It opened:
While most Americans sat glued to televisions and electronic devices on the evening of November 8, a blistering firefight between U.S. Marines devoted to restoring order to the Republic and federal agents loyal to the criminal Biden regime took place at the Federal Reserve headquarters in Washington D.C., with the Marines suffering a crushing defeat, Real Raw News can now report.
Users on social media only saw this title, description and thumbnail:
The article mentions that "treasury agents" and IRS snipers participated in this fight; presumably, these are the "federal agents" to which the story refers in its opening.
In a November 15, 2022, phone call with Lead Stories, Washington D.C. Metropolitan Police Department public information officer Paris Lewbel denied that this claim is accurate. Lewbel added that the police department had not heard any such report.
Lead Stories contacted the U.S. Marines, the Federal Reserve, the U.S. Department of Treasury, the Internal Revenue Service and the Pentagon. We will update this story accordingly if responses are received.
Such a "gunfight" would be major news, but no national media outlets have reported on this alleged event. The websites of The Washington Post and ABC News, for instance, show no results related to the supposed clash.
Real Raw News has a long history of publishing false claims in mock news stories, many of them about convictions and executions of various public figures at Naval Station Guantanamo Bay in Cuba. For example, the site reported former Secretary of State Hillary Clinton was hanged (she wasn't); former White House Chief of Staff John Podesta was executed (he wasn't); and that "the military" convicted former Attorney General William Barr on charges of treason (it didn't).
The website for Real Raw News includes a disclaimer that warns readers not to take its content too seriously. Specifically, it says:
Information on this website is for informational and educational and entertainment purposes. This website contains humor, parody, and satire. We have included this disclaimer for our protection, on the advice on legal counsel.

(Source: RealRawNews.com screenshot taken Tue Aug 3 16:39:48 UTC 2021)
Previous Lead Stories debunks of Real Raw News items can be found here.