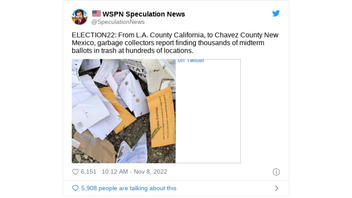 Did garbage collectors "from L.A. County California, to Chavez County New Mexico," find "thousands of midterm ballots" in the trash before the 2022 midterm elections? No, that's not true: The photos used in this claim are from news articles from 2020. Both photos indicated that U.S. postal mail had been diverted from its standard route, but neither photo was from California or New Mexico. One incident occurred in New Jersey; the other was in Wisconsin. Neither of the incidents occurred in connection with the 2022 midterm elections.
The claim is from an apparent parody account, @SpeculationNews, on Twitter. Its account description says, "Speculation News, because it's all made up anyway."
The claim appeared in a tweet published on November 9, 2022 (archived here). The tweet opened:
ELECTION22: From L.A. County California, to Chavez County New Mexico, garbage collectors report finding thousands of midterm ballots in trash at hundreds of locations.
This is what the post looked like on Twitter at the time of this fact check's writing:
(Source: Twitter screenshot taken on Mon Nov 14 16:36:02 2022 UTC)
The tweet from @SpeculationNews was copied and shared elsewhere, including here and here.
Lead Stories reverse-image-searched the two images featured in @SpeculationNews' tweet. The photo on the left can be found on NBC 26 Northeast Wisconsin's website in a 2021 article titled, "Authorities release photos of mail, including ballots, found in ditch last year." A screenshot of the news article is below: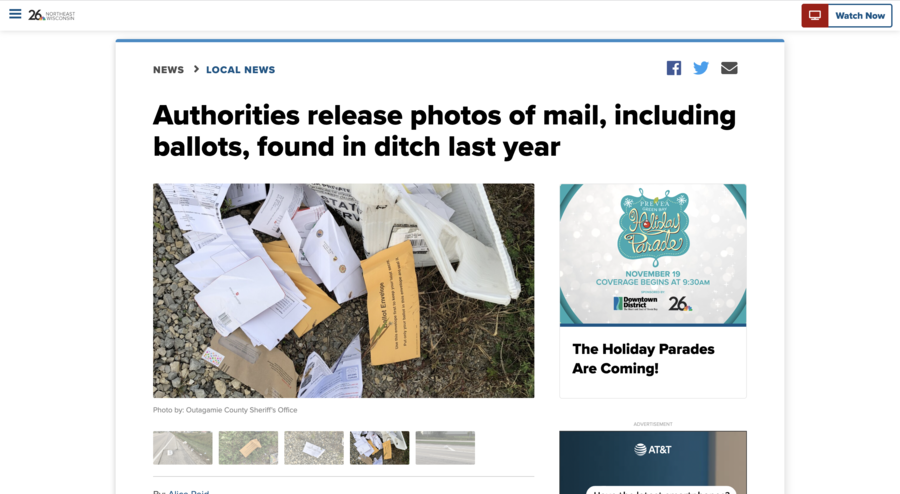 (Source: NBC 26 screenshot taken on Mon Nov 14 14:47:54 2022 UTC)
According to the article, three trays of mail were found in a ditch in Greenville, Wisconsin, in mid-September 2020, a few months before the 2020 presidential election. The article notes that the state's election officials said that no Wisconsin ballots were in the lost mail, but one of the photos released shows a Minnesota ballot on the ground.
Capt. Ryan Carpenter from the Outagamie County Sheriff's Office, which handles law enforcement in the Wisconsin county where Greenville is located, told Lead Stories in a November 14, 2022, email that this case was forwarded to the U.S. Postal Service (USPS). Any further information would have to come from the USPS, Carpenter said.

In a November 15, 2022, email to Lead Stories, the United States Postal Inspection Service sent the link of the U.S. Department of Justice press release for this crime. That statement can be found here.
The second image seen in this tweet was reverse-image searched as well and found in a CNN Politics article. The 2020 article was titled, "DOJ charges mail carrier for dumping mail and ballots in New Jersey dumpsters." A screenshot from that story is below: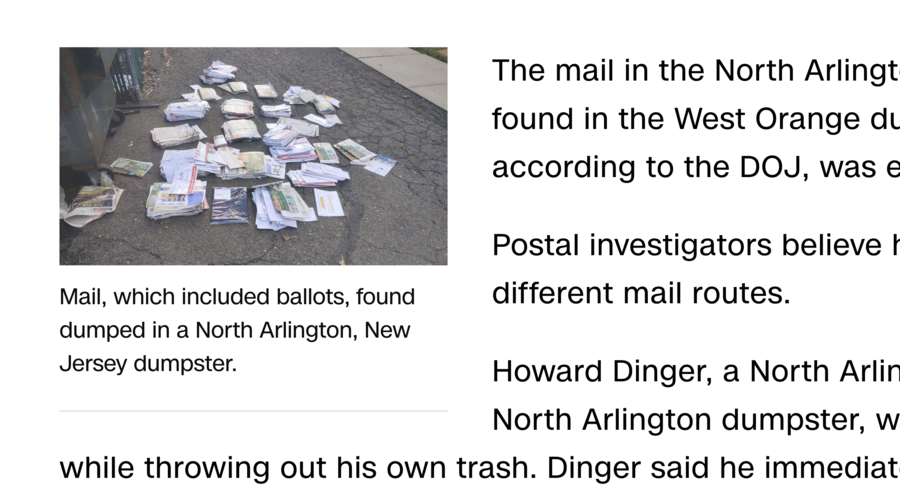 (Source: CNN screenshot taken on Mon Nov 14 14:50:46 2022 UTC)
According to an October 7, 2020, Department of Justice statement, a 26-year-old postal carrier was arrested and charged with one count of delay of mail and one for obstruction of mail. The carrier was accused of not delivering 1,875 pieces of mail. A May 2021 statement from the Department of Justice said that the carrier pleaded guilty to one count of desertion of mail.
Additional Lead Stories fact checks of claims about the 2022 midterm elections can be found here, here and here.