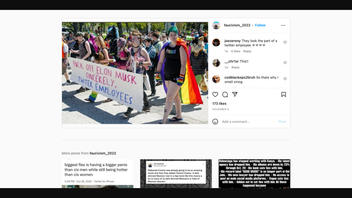 Did Twitter employees protest Elon Musk by marching in gay pride regalia with a banner after he became the owner of Twitter? No, that's not true: There have been no reports of Twitter employees protesting Musk's ownership by marching with this banner. This altered photo of marchers with a Pride flag originally is from a June 2, 2013, Pride parade in Winnipeg, Manitoba, Canada.
The claim appeared in an Instagram post on November 6, 2022, with no caption but the timing of the post -- given Musk's takeover of Twitter in late October 2022 and ensuing developments within the company -- and the altered wording on a banner in the photo made the clear implication that the protesters were Twitter employees. The banner in the photo read:
FUCK OFF ELON MUSK

SINCERELY,

TWITTER EMPLOYEES
This is what the Instagram post looked like at the time of writing:

(Source: Instagram screenshot taken on Mon Nov 21 14:30:30 2022 UTC)
The post did not cite a source for this picture.
A reverse image search of this image revealed that this is a photograph of Gay Pride Furries marching in a 2013 Pride parade in Winnipeg, Manitoba, Canada. The original banner reads, "WILD PRAIRIE FURS & Friends."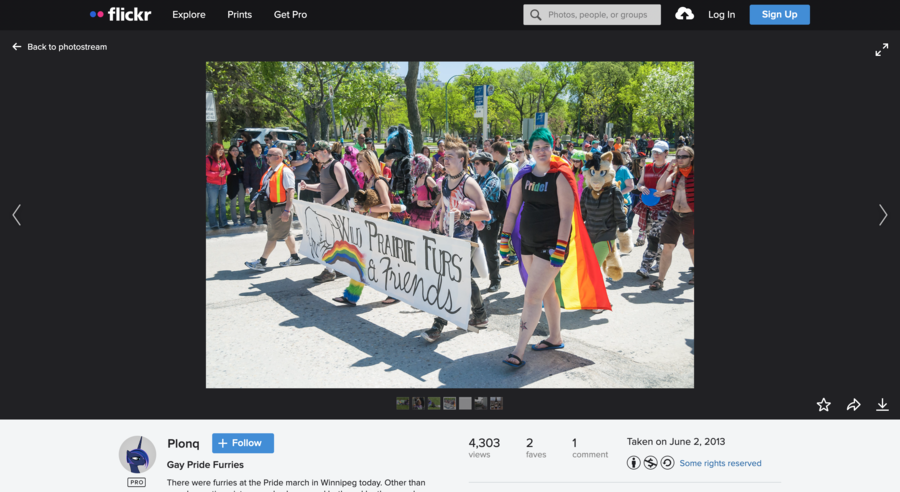 (Source: Flickr screenshot taken on Mon Nov 21 14:51:29 2022 UTC)
There have been no reports from reputable media outlets that Twitter employees have protested in the form of a march in response to Musk's ownership of the social media site (example of search here). Twitter employees protested plans to fire 75 percent of the workforce in the form of an "open letter," according to a TIME article. The Washington Post wrote that as another form of protest hundreds of Twitter employees refused to sign a pledge that would require them to work longer hours.
More Lead Stories fact checks about Elon Musk can be found here, here, here and here.