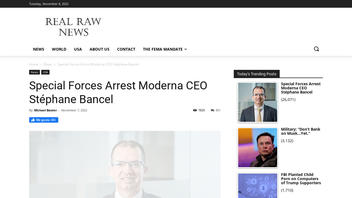 Did U.S. Special Forces arrest Moderna CEO Stéphane Bancel to charge him "on many counts of murder" for deaths caused by Moderna's COVID-19 vaccine? No, that's not true: This claim is made on a website that publishes false claims and identifies itself as a satirical website. No official news sources support this claim. U.S. Special Forces also do not have any role in civilian law enforcement, under the Posse Comitatus Act of 1878.

The claim appeared in an article published by Real Raw News on November 7, 2022, titled "Special Forces Arrest Moderna CEO Stéphane Bancel" (archived here). It opened:
U.S. Special Forces on October 30 arrested Moderna CEO Stéphane Bancel on charges of murder as the pharmaceutical mogul and eugenicist exited a posh restaurant on the outskirts of D.C.
This is what the article looked like online at the time of this fact check's writing: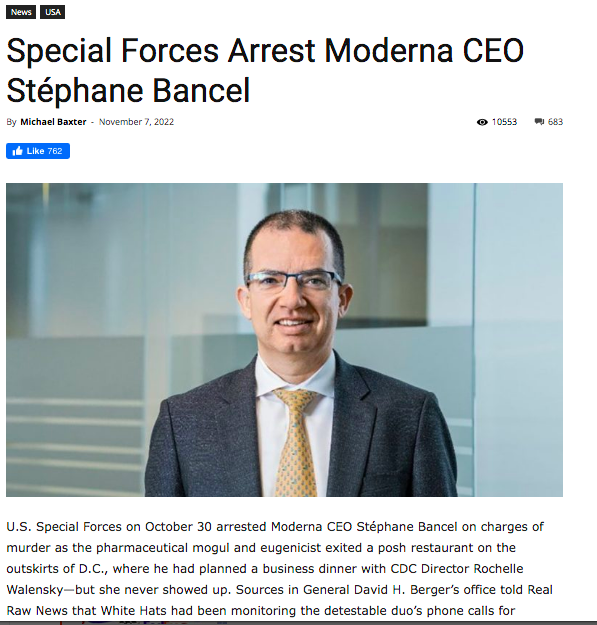 (Source: Screenshot of Real Raw News taken on Wed Nov 9 at 18:03: 57 2022 UTC)

In reality, the U.S. Special Forces, part of the U.S. military, are not allowed to participate in any civilian law enforcement activity, including arresting or detaining foreign nationals like Stéphane Bancel on U.S. territory. The Posse Comitatus Act of 1878 reads:
Whoever, except in cases and under circumstances expressly authorized by the Constitution or Act of Congress, willfully uses any part of the Army or the Air Force as a posse comitatus or otherwise to execute the laws shall be fined under this title or imprisoned not more than two years, or both. -Title 18, U.S. Code, Section 1385
The Real Raw News story claims that the 5th Special Forces Group, a highly decorated Army unit that has fought in World War II and Vietnam, among other conflicts, arrested Bancel in coordination with the U.S. Marine Corps.

But, according to Title 10 U.S. Code, Chapter 18:
... military personnel shall not participate in searches, seizures, arrests, or similar activities unless such participation is otherwise authorized by law.

While exceptions to these provisions do exist (for instance, nuclear materials, insurrections), the Real Raw News story does not include such situations.

Lead Stories emailed Moderna as well as the 5th Special Forces Group and U.S. Marine Corps public affairs offices for comment about this story's claim. We will update this post accordingly, if we receive a response.
Mainstream news outlets, both within the D.C. area and more broadly, also have not reported what would be a major news event.
Real Raw News has a long history of publishing false claims in mock news stories, many of them about convictions and executions of various public figures at Naval Station Guantanamo Bay in Cuba. For example, the site reported former Secretary of State Hillary Clinton was hanged (she wasn't); former White House Chief of Staff John Podesta was executed (he wasn't); and that "the military" convicted former Attorney General William Barr on charges of treason (it didn't).
The website for Real Raw News includes a disclaimer that warns readers not to take its content too seriously. Specifically, it says:
Information on this website is for informational and educational and entertainment purposes. This website contains humor, parody, and satire. We have included this disclaimer for our protection, on the advice on legal counsel.

(Source: RealRawNews.com screenshot taken Tue Aug 3 16:39:48 UTC 2021)
Additional Lead Stories fact checks of Real Raw News items can be found here.